Welcome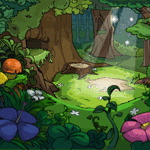 You find yourself wandering around one day with nothing much in mind. The flowers are blooming and birds chirping and the clouds are all white and fluffy. My, what a stereotypically nice day, you think to yourself as you continue on. You find yourself following a small path, through some trees. Up ahead you hear a small stream and see cute fluffy woodland creatures frolicking around. What is this place? you wonder as you scuff your shoes on the ground. Is it a dream?. You half expect an alarm clock to wake you up at any second.
Suddenly, out of nowhere, a doglefox jumps out at you, knocking you down into the stream. Your head hurts and slowly everything fades to black.
You start to come to, and there are blurry shapes looking down at you, poking you with a stick.
Do you think it's still alive? one asks.
I dunno, another replies. You feel them shaking you, and the world spins. You try to tell them to stop, but your mouth isn't quite working yet.
All at once everything comes into focus. You're lying on your back in a small room. Posters and bookshelves cover the walls. Three people stand above you, looking down at you in mild concern, as the doglefox nudges your side.
I told you it was alive, the first one hisses. The second one laughs, but doesn't comment.
Smiling and kneeling down, the third extends a hand. Welcome to Cornuiro, she says, I'm Kay, and these're Megan and Annie. We're so glad you could make it!
top
Preview
Members: 28
Post Count: 4500+
Opened: Oct. 18, 2012
Last updated Dec. 1, 2012
Past Guild Layouts
top
About Us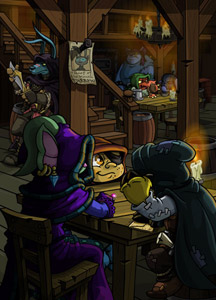 Sorry about your head, a little ice and it should be all better. Now that you're here, you may find yourself wondering what exactly is Coniuro?
Well, it's a bit hush hush if you know what I mean, but if you promise not to tell, we'll let you in on it. We're a super secret group, can't let everyone in, or else it's not much of a conspiracy. But, Coniuro is a fun, literate place for Neopians to hang out and chat about their plans for neopian domination, work on achieving their goals (however far reaching those might be) and improving their accounts. Almost everything is more fun to accomplish when you have friends to talk to you about it, help you out and support you. After all, what's the fun in taking over the world without any left to marvel at your accomplishment?
Unlike other guilds that restrict membership on arbitrary avatar counts or the number of painted pets, we're here for anyone who just wants to have a friendly, supportive place to chat, while we work towards our goals many and varied, goals.
On this page you'll find rules, ranks and everything else you need to know about who we are and how you can join our awesome family. Hope to see you soon
top
Rules
Before posting anything on the guild boards, please make sure you've read these. We're not asking for a whole lot so it should be pretty easy follow them:
No chat speak. We are a fully literate guild. While the occasional lol is fine, try not to use much more than that.
No spamming. Keep your posts at least two sentences long, we don't want the guild boards full of one word replies, it gets confusing and doesn't really add much to the conversation. Also, don't post more than twice in a row.
No drama. Personal messages exist for a reason. If you have a problem with someone talk to them privately. No one else needs to know about it.
There are also a few guild policies you should be aware of:
Follow all of TNT's rules
No harassing or bullying other members. If you're caught doing this you will be banned from the guild
Include everyone in the conversation, no one likes being left out
All the rules are here to make Coniuro a fun place to relax. While we're a pretty relaxed group of people, it is important that you do your part to keep Coniuro awesome.
top
Ranks
Unlike other guilds, we don't have concrete guidelines to attain each new rank. When we feel you've been around long enough and we know you well enough, you'll probably get promoted. If you think we somehow missed you send a message to Kay and she'll sort it out.
Minion: This is your starting rank, you've just joined and are ready to go. As a minion it might be a good idea to check out the Mentor Program so you can be paired with an awesome mentor who'll answer your questions and help you learn more about the guild.
Apprentice: You're eligible for this rank after you meet one of two requirements. You've either learned a bit about the guild and bagged some guild points by completing the New Member Challenge OR you've been hanging with us and chatting on the guild board for two weeks. Either way, we know you've learned a bit about the guild and we've gotten to know you a bit more, and can trust you with more of our secret plans
Accomplice: Wow, you've been a member of the guild for some time now, are a regular part of conversations and have participated in the guild activities. Great job, you're now ready to help out with more of the action. You can also apply to be a board monitor.
Conspirator: Now, you're one of us, a full fledged Conspirator. You're part of the guild and we know you mean business. You're an active part of the guild, regularly participate in activities and maybe even host some pages. You're pretty much awesome.
Conqueror: You've done it, made it to the top. At this point we can't remember a time you weren't with us, you've become an essential part of the guild and constantly contribute to the guild. You're also eligible for a sub-council position.
Council/sub-council: If you've reached the rank Conqueror and want to apply for the sub council, feel free to neomail Kay or Taylor. We don't have a set application, so it'll be up to you how to impress us.
top
Activity
We're a chill guild, we understand you can't be on every day, and that's cool. We'd still like to know the guild members though. New members should post at least once in the first week after joining. If you don't we aren't sure if you really want to be part of the guild, and might delete you. If you're going to be gone for a while, more than a week or two, and you know it, please tell us. We don't plan on having regular member sweeps, but if none of us can remember the last time we've seen you, you could be deleted. Everyone up for deletion will be given a warning first. If you are deleted, we'll gladly have you back. Just tell one of the council what happened and we'll invite you. It's pretty simple.
top
Application
Before you apply make sure you've read all the rules. Everything you need to know is right above.
So, if you're reading this, I assume you are at least interested in becoming one of us. I applaud your noble goal. The application process is very straightforward. Simply fill out the application, using complete sentences where appropriate, and either neomail it to Kay or Taylor
The Application
Name:
Username:
Age (optional):
Timezone:
When are you online_
Your greatest ambition:
Why you want to join Coniuro:
What's our literacy policy?
Sample Application
Name: Kay
Username: kitisol
Age (optional): 21
Timezone: EST (+3 NST)
When are you online_ I'm typically online most weekdays for a little during the day, and longer at night. Weekends I spend a good deal of time online as well.
Your greatest ambition: I'm currently working on training an army of fedora-wearing doglefoxes to take over all of Neopia! Once my plan is complete we will be unstoppable.
Why you want to join Coniuro: I was looking for a nice place where no one would notice me training my army. This guild was just such a place.
Please note we only allow one account per member, unless there are extenuating circumstances, contact a council member with any questions
top
All coding done by Kay Content belongs to Coniuro