Hi! I'm
Kippardie
(pronounced kip-er-dee) the Flotsam. Flotsams are
the
cutest Neopet, even though my sisters
Snocream
,
Sereka
, and
Bienett4
would disagree. At 11 cms tall and weighing in at 27 lbs, how could you say otherwise?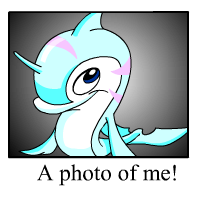 But just because I'm tiny and adorable doesn't mean I can't be big and strong either! I'm a level 112 and I've got 0/196 hit points, 216 strength, 181 defence, and 189 agility. I don't like to fight, but it's enough for me to stick up for myself. And if my enemy is too strong, I can just hurt them with my brain power. =P I'm the strongest of my sisters, and I'm the one who always stands up to the Pant Devil! *beams*
But I haven't been to the battledome much lately. Nor have I been training. Don't bother challenging me, I will not respond! Being 44119 hours old, working out is getting tougher. I still like reading books though. 4498 intelligence and growing! I want to be the smartest pet in Neopia if I'm not so already. Please
let me know
of smarter pets; I want to talk to smart pets. =P
I was adopted by
lemonberri
and born on August 10, 2000. Since I'm her first pet, I'm the spoiled one. I was a hyperactive little green flotsam, swimming around all over the place. Of course, since we moved to Terror Mountain (
3349 Summit Strip
), I learned to snowboard instead of swim. I miss riding the waves, but shredding snow is fun too. =) As a matter of fact, that's why I'm painted striped -- it resembles ice! Maybe you don't think so, but it looks that way to me. I've never been touched by the lab ray for fear of messing up my shiny skin. I don't want to be morphed into something else, it sounds scary! But sometimes I wonder what it's like to be furry...

That reminds me, I should introduce you to Icicle ( > ), my Miamouse, but she got a makeover one day and it just wasn't the same. I've got a picture of her before her makeover, wasn't she the cutest?
I like a lot of things. Sometimes my favorites keep changing, but it hasn't been changing that much lately.

Color: Icy Blue
Game:
Gormball
!
Petpet: Squeakie! (my old miamouse)
Sport: Snowboarding
Food:
Cloud Muffin
Book:
Flotsam Legend
I don't have that many, but I have earned a few trophies.

I won the
Site Spotlight
on July 3, 2001 (Flotsam Day). My page has been revamped since then, so it's not quite the same as that winning petpage. My owner was at camp when I won. She didn't even find out until a week later!

I placed 3rd for flotsams in the
Beauty Contest
once! After that I never bothered to enter again. It's too much of a pain to dress up and look good all the time. I'm much better at being lazy and comfortable. =)

I'm not totally sure what this was from. A while ago there was a faerie league in the Battledome, where you could fight the Earth Faerie, Fire Faerie, Air Faerie, Dark Faerie, and Light Faerie. I fought them and beat them, and got some nifty prizes (sceptres) too!

With a lot of patience, I beat up Punchbag Bob! He's not hard, but it's a good workout. 5000 hitpoints is a lot.
Normally I probably wouldn't even bother putting this here, but I
love
my room to no end. It's on the second floor (
Floor 1
) in the top left corner. Have I mentioned that lemonberri loves to spoil me? I have a super expensive room. It cost her almost a million neopoints! I insisted on getting glowing furniture because my favorite color was neon green at the time.
I haven't gotten anymore questions lately, but I did way back in the day. So just in case anyone wants to ask me about this again, the answer is here. If you have a question that is not on here, feel free to
Neomail me
although I cannot guarantee a response.
How did you get so smart?
Some of it is from reading books, but most of it is from playing games.
Faerie Crossword
and
Cliffhanger
give out intelligence sometimes. Poogle Solitaire (an old game) also used to give out intelligence sometimes. Most of my intelligence points are from Cliffhanger. I know, I played it
a lot
.
Can I buy you?
Absolutely no way. For starters, it's against
Neopets Terms and Conditions
to sell pets. Secondly, I love my owner and my sisters too much to part with them.
How did you get rich?
Ummm... I'm not sure, I'll go ask my owner. [lemonberri speaking] I'm not considered rich anymore, but a few years ago I used to be pretty well off. You earn a sufficient amount of neopoints by playing games, but unless you're very lucky, you won't get much. Restocking is the best way to make neopoints. Of course, you have to know which items are high in demand and worth a lot. Another way is playing the market. For example, when the Wheel of Excitement started giving out Bloaty Belly as a disease, I went to the shop wizard and bought all the cheap ones to resell at a slightly higher price. You can do this because the demand goes up. Also, if you have the time, inflation affects the prices of items. My Christmas Paint Brush which was worth less than 10,000 np when I first got it is now worth almost 100,000 np. [/end lemonberri] Okay. So that's where all our neopoints come from.