Wandering through the night...
A cold chill whips your hair back as you walk through the
blackness
of a cold winter night. You rub your nose and pull your brown wool scarf up closer to your cold face, pushing against the fierce winds. The moon is the only
light
that guides you through the darkness. The wind is no help, pulling you backwards, freezing you to the bone, and slightly blurring your vision as you half-walk, half-stumble. Your mind is surprisingly
clear
, however, despite the night's brutalness. The cold wind is almost blowing away the sticky clumps of worry and drowiness from your mind, letting you think clearly about your
purpose
for pushing through this cold night: To again discover the little purple thornberry named
Kiiohshii
and find out his story. You aren't entirely sure why you are going through all this trouble to find him. You aren't sure
if
you will even find him. He was a tiny little berry, after all. But you do know that when you saw him last week in the forest, it wasnt that he had eyes, a mouth, and arms and legs that made you believe he was a special berry. It was something
different
. Something bigger. Something that made you want to know more about him, something that made you want to
care
about him. Maybe if you continue on, you will discover what that is.
Welcome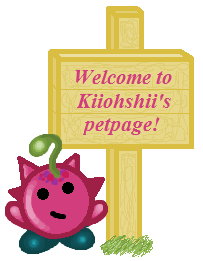 This page is under construction!
By entering this petpage you are agreeing to:
A) Not steal any of my art that's on this page
B) Not steal anyone else's art that's on this page
C) Not steal my ideas of Kiiohshii's character or story
Now that we got that out of the way, enjoy Kiiohshii's petpage!
Profile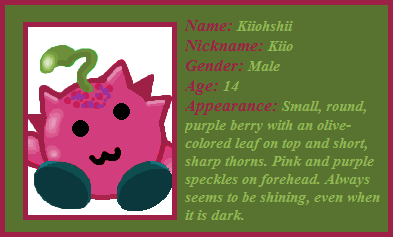 Kiiohshii is a friendly thornberry who had lived in a thornberry bush up until he was 14.
Kiio had a great life there, surrounded by friends and his younger sister Thoriina. The bush was unnaturally
large
, letting hundreds of thornberries live in it. Three tall oak trees surrounded the bush, making it a safe and peaceful home. Kiio was a bright pink thornberry at this time, with long, sharp thorns and bright eager eyes. He had a job, like most thornberries, to clear pathways in the bush by pulling away unnecessary vines. It seemed like a boring job, but Kiio loved it. Anyway, Kiio was as happy as a thornberry could be, living in that bush. Until on his birthday when he turned 14, and a
terrible
incident happened that seperated Kiio from the thornberry bush and forced him to go out into the cold, outside world. His skin turned purplish, his leaf darkened into olive. Kiio had absolutly no memory of his past. The only thing that gave him a
clue
was his sister Thoriina's petpet Bowla that she had liked to put in her leaf sometimes. The Bowla had somehow been blown to the same place Kiio had awoken. She seemed to turn on a switch in Kiio's mind when he saw her. He remembered his name, what he was, and the word,
Thoriina.
Now Kiio travels through Neopia with the Bowla to discover exactly who he is, his past, and hopefully return
home.
~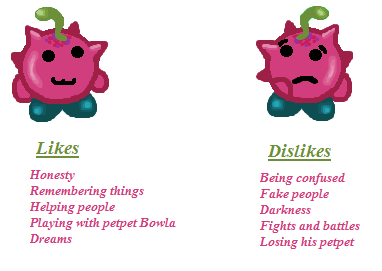 Kiio is very helpful and tries to make others happy whenever he can. He is slightly timid sometimes, and worries often about harmless things. However, Kiio is also very clever when he's in sticky situations. He hasn't been gobbled up by a lupe yet, so you can tell! His favorite thing to do is make little makeshift homes for himself as he travels.
Chapter 1
Kiiohshii yawned and stretched his little stubby arms and legs. He smiled to himself as bright sunlight flickered in through the tangle of vines he was underneath. The vines were smooth and cool, while the sunlight was bright and warm; it was a nice feeling on his skin. Kiio yawned again and slowly sat up in his soft leaf-and-vine bedspread. He popped his head out through the tangle of vines and gazed around him. The three tall oak trees guarding his berry bush were as tall and sturdy as always. The sun beamed softly on them and around the quiet forest. The sky was a baby blue color, with only a few feathery clouds drifting through its soft depths. The quiet chirping of a small purple pteri filled the morning with song. It was a beautiful day.
Kiio popped back into the bush and walked through its leaves for a few minutes to where his little sister Thoriina slept. She was only a couple younger than Kiio, but he still felt he needed to take care of her. When Kiio got to the small mass of leaves that served as Thoriina's bed, he saw a glint of bright, shining pink poking out from under them. Kiio rolled his eyes with a slight smile on his face and pulled the leaves off. Thoriina was sleeping, her eyes closed tight, her pink thorns sparkling in the sun, and the green leaf protruding from her head as glossy as always. Kiio looked down at his little sister, leaned in close to her face, and let out a solid scream. Thoriina's eyes jolted open, she screamed back, shot up like a rocket out of the bush, and fell back in with a low thud. Kiio thought this was hysterical and began rolling around, laughing. Thoriina glared at Kiio fiercely as she sat up and brushed herself off. "What in Neopia was that for?!" She shouted at him. Kiio kept laughing and eventually pulled himself to his feet. "Hmm, maybe I did that to
help
you?" He replied. Thoriina turned her head to the side and gazed at Kiio in confusion. "What are you talking"-- Then her eyes grew wide. "Oh no…oh no, oh no, oh no…" she whispered. Kiio nodded smugly and said, "Better get ready!" Thoriina glared at him again and raced away to fix herself up.
Kiio smiled and sat on a leaf, to wait for his sister to be ready. After a few minutes, she popped out of a damp clump of vines and said quickly, "I'm ready! Where's the place I need to go to?" Kiio hopped to his feet and motioned for Thoriina to follow him. He slipped easily through the jumble of leaves, vines, and stems that made up the berry bush, while Thoriina stumbled through them blindly, getting her thorns caught in them more than once. "How do you do this every day?" She whined. Kiio shrugged and continued going. "Ya get used to it after a while"
After a few minutes of walking in silence through the bush, a clearing came into view. This particular part of the bush had been stripped of its leaves so that the berry bush residents could wander freely around it without fear of getting stuck in vines and stems. This was the busiest part of the bush, also, for this was where the berries that had just turned 12 could get a job in the bush. There were lots of berries crowding the clearing, all waiting for their turn to talk to the Job Master, who gave out the jobs. He was a friendly, plump thornberry, who at the moment, looked very stressed out from the number of people crowding around him. Kiio and Thoriina waited patiently in the clearing as the Job Master hastily asked people questions and gave out jobs.
After about 10 minutes, Kiio walked up to the Job Master and gave him a smile. He smiled back and said, "Kiiohshii, welcome back! I feel like it was just yesterday when I gave you your job!" He gave Kiio a pat on the back. Kiio laughed and said, "Two years is like yesterday?" The Job Master laughed back and shrugged. "So, what brings you here today?" Kiio nudged Thoriina a little and said, "My sister Thoriina here just turned 12 about a week ago. She's ready for a job" The Job Master turned to her and smiled. "It's very nice to meet you, Thoriina! I'm just going to ask you some questions to figure out what kind of job you'd be best suited for." Thoriina nodded shyly.
So, what are your hobbies?"
Um…I like to create things. And draw."
He wrote down her answers on his clipboard. After a few more questions, the Job Master said "Alright, that's it! You did a great job." He paused for a minute and checked the clipboard. Kiio waited nervously to hear what he would say. What if Thoriina got one of the dangerous jobs? What would he do then? The Job Master looked up and turned to Kiio. "I think your sister would be perfect for Food Gathering and Preparing." Kiio blinked for a moment, not processing the thornberry's words. Then he felt a huge wave of surprise flood through his body. "Oh geez, are you serious?" He burst out. The Job Master nodded and said, "I think she'll be able to handle it. Is this job ok?" Kiio gulped. He was so proud of Thoriina for "being perfect" for the job, but Food Gathering and Preparing was probably the most dangerous of all the jobs. Kiio looked over at his sister, into her deep, dark eyes. She nodded at him, a nod that said, "I can do this". After a few moments, Kiio sighed and turned back to the Job Master.
The job is great; thank you so much."
Chapter 2
I'll write this as soon as I stop being lazy.
Chapter 3
I'll write this as soon as I stop being lazy.
Chia Adoptables
Here are some little adoptables that Kiio created just for you!
RULES:
Dont enter them in the BC, dont claim them as your own, remove the credit, dont edit them.
Enjoy! If the color you want isnt here, just neomail me and I'll tell Kiio to make one of that color for you. x3




Request
Do you want a custom Chia Adoptable of YOUR chia? Just neomail me, Neobeanie, this:
Name:
Chia's name:
Requests are
Open!
Customs
Completed Chia Adopt requests:
Kiiohshii
Leaving So Soon?
Well, bye now! I hope you enjoyed your visit to Kiiohshii's thornberry bush. Why not come again sometime?
Awards
So, do you think you have an awesome petpage about your pet? Do you have what it takes to win a Thorn Award? As well as giving these awards out randomly, I also let you apply for one to show off on your petpage!

To apply for one of the awards above, fill out this form and neomail it to Neobeanie:
Name:
Award you are applying for: (Gold, silver, bronze)
Name of petpage:
I'll give you the award based overall. If you have a lot of very good art, a nice layout, creative stories and a good pet character, then you should go for it and apply for the gold one. If you have a few pieces of good art, a nice layout, and some good writing, then apply for silver. If you think your page is ok overall, then go bronze. Its all your choice what to apply for, but remember, you could be rejected. B)
WINNERS:

Take a Button
Why not take a link back before you leave?
Other Petpages
Neomail me if you'd like to exchange links with Kiio.