Welcome! This is my webpage for my fanfiction "The Adventures of Christiana Thomas." The Sparrow and Thomas family trees are on here, as well as Christiana Thomas' bio!
Christiana 'Chris' Thomas
Name: Christiana Thomas
Nicknames or Aliases: Chris
Age: 19
Nationality: English
Hair Color: Brown
Eyes: Brown
Height: 5 ft. 7 in.
Weight: 125 lbs.
Family: Howard Thomas (Father), Cora Norrington Thomas (Mother, deceased), James Norrington (Half-Brother).
Allegiance: Captain Jack Sparrow and the Black Pearl
History: Chris was born in a manor outside of London to Lord Howard Thomas and his new wife, Cora Norrington Thomas. Cora had a son from her previous husband, who had died, and Howard never like James. James never liked Howard either, so the feeling was mutual. Chris grew up with every comfort and educational oppurtunity available. She was very close with her half-brother until their mother's death of a sickness. James was in the Navy by that time, and they saw little of each other anyway.
Howard soon began to scheme to marry Chris off. He betrothed her as soon as she was of age to a young Count, Jacob. Chris loathed the cocky boy. Jacob's younger brother, Adam, was Chris' best friend, and the night before their wedding, helped Chris to run away.
She made her way to a port and stowed away in the storage hold until the ship was attacked by pirates. The pirates captured her and made her their slave until she defended their wounded captain in battle. She became a pirate when she received the brand three days later.
Chris met Captain Jack Sparrow and joined on soon after he had gotten the Black Pearl back. With use of her cunning and knowledge, she earned the rank of First Mate.
About a month after becoming First Mate, the Pearl was sailing out to search out some treasure when Jack sent Chris to Port Royale to see if Will Turner would like to sign on for some adventure. He agreed, but what Jack didn't know was that a year before, his three year old daughter and Elizabeth, his wife, had been kidnapped by pirates. Will went out with a ship from the Navy and searched for six months before the ship was called back to Port Royale. Will hadn't the finances to hire a ship to go out again, so he had to stay and work in his blacksmith shop. He was a broken man.
Will poured the story out to Chris and Jack before they docked in Tortuga for supplies. As they were in a tavern, though, Will spied a little girl. A little girl that he immediately recognized as his daughter, Ali.
With Chris' help, he got his daughter back from John MacGibbs, who was one of the most powerful pirates in Tortuga. When Will asked John where Elizabeth was, he said that she was dead. Chris killed John in the process, and that night, they sailed out of the port pursued by some of the ships in the pirate fleet MacGibbs had. The ships fired on and wounded the Pearl on some coral reefs. Jack, Will, and most of the crew was wounded on the reefs, and Jim MacGibbs, the son of John MacGibbs, took Ali and his father's killer, Chris, to his ship. While Jack and the crew worked to repair the Pearl, Chris and Ali escaped MacGibbs' ship to an island the next day. There, they stumbled (actually, they fell through a hole and found the cave) upon a hidden cave with a pirate ship, and several piles of pirate booty. They stayed down there for a while, and noticed movement on the ship. Chris explored the ship and found Loki the monkey in a cabin along with a rotting corpse. She continued downward, and found a woman. Ali crept on board, startling Chris, and pronounced it was her mother. Chris set to the ask of nursing the malnourished Elizabeth back to health.
Once Jack and the others got the Black Pearl free, the Dauntless approached them. After Will explained what had happened to Norrington, he agreed to help the pirates. They planned to attack MacGibb's fleet right before the break of dawn, rescue Ali and Chris, and Norrington would take all of the pirates to Port Royale to hang. They arrived there at night, and Jack and Will, along with Norrington, Mullroy, and Murtogg searched Head Ship for Chris. They didn't find her, but heard she had escaped. They decided to search the island.
In the early hours of the morning, the five men went onto the island and begin searching. They stopped for a rest and found several logs on the ground with sand filtering through them. Chris and Elizabeth had placed them there to cover the hole they used to get in and out. Jack began jumping on the logs, and they broke. They all fell into the cave and found the three women and the monkey. Will and his wife reunited, and they then learned that Norrington and Chris were half-siblings.
As the confused and reunited group climbed out of the cave, Chris, Jack, and Ali were met by MacGibb's and his men as they left through the entrance. With a call of warning from Jack, the others appeared and they engaged in battle. MacGibb's fled, and Chris followed, as did Will, Jack, and Norrington. Chris and MacGibb's engaged in another sword fight before she was disarmed and stabbed in the back. MacGibbs pushed her off of him just in time to see his armada being attacked and beaten by the Black Pearl and the Dauntless. Jack, by then, had happened onto that spot. He shot and killed MacGibbs without hesitation and picked up the wounded Chris. Will joined him, and they found Norrington on the path back. Norrington wanted Chris to be examined by the physician's on the Dauntless, but Jack wouldn't hear of it.
The Pearl collected the treasure from the cave, the Dauntless collected the surviving pirates, and the Turner family went home, together. Chris and Jack, though, went on to have more adventures, and of course, RUM!

The Thomas Family and James Norrington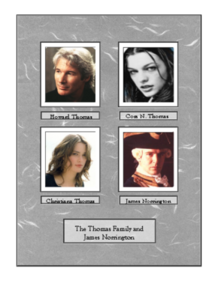 The Sparrow Family
Marak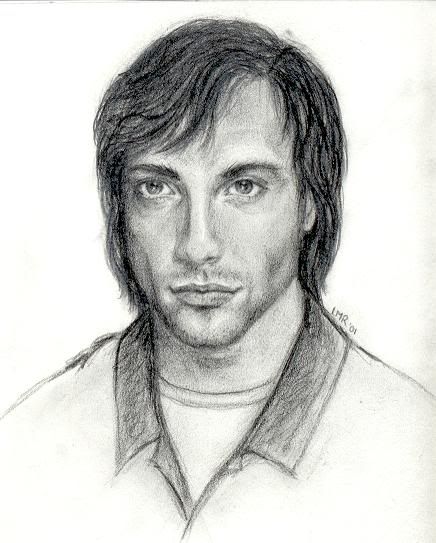 Isabella (*cough* WENCH! *cough*)
Mathias Chesed
Sara
Uncle Allen
Uncle Harry
Uncle Peter
Ziph
Black Bart

More stuff coming soon!
---
Elizabeth: Will!
Will: Elizabeth!
Jack: Monkey!

---
(Jack throws water on Gibbs. he awakes)
Mr. Gibbs: It's bad luck to wake a man when he's sleeping!
Jack: "Fortunately, I know how to counter it; the
man who does the waking buys a drink for the man
who was sleeping, then the man who was sleeping drinks
the drink while listening to a proposition from
a man who did the waking.
Mr. Gibbs: I'll about do it!
[Will throws more water on Mr. Gibbs]
Mr. Gibbs: Blast I'm already awake!
Will: That was for the smell.

---
Barbossa: How did you get off that island?
Jack: When you marooned me on that god forsaken
spit of land, you forgot one very important thing,
mate: I'm Captain Jack Sparrow.

---
Jack: Do us a favor...I know it's hard...but stay
here, and try not to do anything...stupid.

---
Will: This is either madness... or brilliance.
Jack: It's remarkable how often those two traits coincide.

---
Barbossa: You only have one shot
and we can't die.
Jack: Don't do anything stupid!
Will: You can't.
[Will points gun at his own throat]
Will: I can!
Jack: Like that.

---