hiatus
I've been so busy! I have school, volleyball practice,
and
track practice! Therefore, I won't be online except possibly on weekends. I'm sorry, but I am going on hiatus for about a month. I realize that this is very inconvenient for the sites reviewing me. If you'd like to just not review me, that is fine. If you decide not to review me, I'd really appreciate it if you'd
neomail me
but it's not necessary. I'm also sorry if you're on the waiting list! But I will finish your review over the break. If you don't want me to review you, you can
neomail me
. So for now, go visit some of my lovely affies for a review!
welcome
You wander down to the lake, stepping delicately over sharp rocks and mud. You want to get away from the noise and arguments. You settle down by the lake. You lean forward, hoping to catch a glimpse of the bottom. As your finger touches the water, you suddenly find yourself falling. You find yourself somewhere else, a place called
Contemplations.
Contemplations, previously Reflections, was created by me, Kat, on July 2, 2009. Here, I will try to give you a fresh perspective, a contemplation, on your site. I will try to make your site the best it can be. Just a warning, though, I will be harsh. How else will you improve? But please, make sure to read the rules. Also, I view in Internet Explorer.
1.) Use the application (located below the rules) to apply for a review.
2.) I will review any Neopets petpage.
3.) You must link back with one of my buttons before applying for a review. If the button is not up by the time I go to review you, you will not be reviewed.
4.) Don't take it personally if you get a bad score.
5.) Fill in "Other Stuff" with a reason you started your site.
6.) You can be re-reviewed after 10 days if you scored below a 90.
7.) Please only take the award that you won.


REVIEWS ARE CLOSED

This is how I will be grading you.
At First Glance: ?/10
What do I see when I first enter your site? Is it chaos? Hopefully, I see a pretty colour scheme and a nice banner.

The Heart: ?/45
The content is the most important part of your site. The content is the reason that people visit your site. You should have the two Q's: Quality and Quantity. Both are important.

From the Outside: ?/10
Despite the old saying "Never judge a book by its cover," many people, myself included, do just that. Your layout should be attractive. It doesn't need to be fancy as long as it suits your needs.

Getting Lost/Neatness: ?/5
If I can't find everything easily, I may decide not to use your site! Navigation is probably a good idea. If your site isn't neat, then I'll click the "Back" button. Make sure you remove all the link borders!

The Little Things:
Counter: ?/1
Updates: ?/5
Spelling/Grammar: ?/4

Spreading the Word: ?/5
Do you have link back buttons? Are they attractive? You should have some affiliates, but not too many. You should also be listed at as many directories as possible.

Final Thoughts: ?/10
What was your site like, overall? Would I re-visit?

BONUS:
+1 if you made your own layout

awards
Drag and drop to the address bar to view full size.
|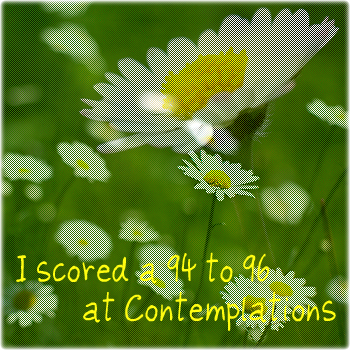 |
|
|
97-100 | 94-96 | 90-93 | Any Score | Free Award
| | | |
review navigation
*~iFlip's Graphics~* - 59.5%
All Stars - 94%
Along the Lines - 0%
Break Down - 64.5%
Buttons 'n Banners - 75%
Candy Crazy Designs - 25.5%
Candy Crazy Designs# - 71%
Connor's Guide to Guilds - 62%
Cotton Island - 95% *
Epic Directory - 72.5%
Exclusive Uni - 68.5%
Fame - 92.5%
Flipped - 86%
Fresh Unique Shields - 87.5%
How to Apply for a Pet - 90.5%
Itsy Bitsy Nooblet Poems - 87%
Itsy Bitsy Nooblet Poems# - 87%
Jerry's Screenies - 81%
Lost Links - 49.5%
Magikpirate's Lookups - 28%
Miss Katia's CSS - 54%
Moonlight Reviews - 86%
Nite Time Guild Directory - 78.5%
Poogletastic Pet Names - 90%
Quizmania - 83%
Rose's Rockin' Fonts - 73.5%
Scribbled Delight - 87%
Skoofii's Daily Scoop - 72%
Sweet Addictions - 94.5%
Taxi Reviews - 73%
Twisted Dreams - 92%
Undead - 83%
Vanilla Kisses - 86.5%
Click on the site's name to view the review.
The * means that the site currently has the highest score.
The # means that it is a re-review.
I have completed 33 reviews.
Average Score: 75%
site names
Credit is appreciated, but not necessary. Please
neomail me
if you use one of these names so I can cross it off the list.
Pure Perfection
Endless Melody
Glorious Sunrise
Deserted Island
Heartless
The Pavilion
Passion
Polished
Simply (Your Name Here)
Poker Face
Refreshing
The Hidden Tower
Dazzled/Dazzling
Metallic
The Basement
The Attic
Sugarcoated
Elite (good for a SOTM)
button bases
If you use one of these, you must link back somewhere on your page. Copy and paste your favourite base into your image editing program and add your site name.
From Neopets:
-invalid_words- -invalid_words- -invalid_words- -invalid_words- -invalid_words- -invalid_words- -invalid_words- -invalid_words- -invalid_words- -invalid_words- -invalid_words- -invalid_words- -invalid_words- -invalid_words- -invalid_words- -invalid_words- -invalid_words- -invalid_words- -invalid_words- -invalid_words-
From Google:
The images for these bases were all found on Google Image Search.

-invalid_words- -invalid_words- -invalid_words- -invalid_words- -invalid_words- -invalid_words- -invalid_words- -invalid_words- -invalid_words- -invalid_words- -invalid_words- -invalid_words- -invalid_words- -invalid_words- -invalid_words- -invalid_words- -invalid_words- -invalid_words- -invalid_words- -invalid_words-
my awards