Account
♥
Central
♥
Explore
♥
Games
♥
Boards
♥
Shops
♥
News
♥
Video
♥
Mall
Very Important!
Images of yourself are not allowed. Period. At all.
Note: Due to the new filter issues, you may need to change your style tags to
and move all CSS to the bottom, underneath everything else.
Step 1.) Let's start with the basic image code. This is the code you will be using for pretty much all of your images.

To use this code for your images, simply replace imgURL.jpg with the url of your image. For example:

gives us this.


Note: For Neopets images, all you need to do to find the URL is right-click on the image, and hit either 'copy image location' (Firefox) or go to 'image properties' or 'properties' (Internet Explorer). Look for where it says 'Location' (Firefox) or 'Address' (Internet Explorer).
Firefox:

Internet Explorer: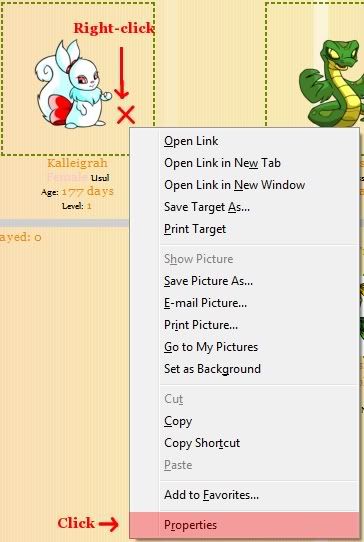 1.a)For images whose URLs end in .png, you may need to add width and height tags, or they might not show up on all browsers.

These size dimensions can be found in the image properties, if you right-click on the image, or if you're using an image you uploaded to a hosting site, it will tell you the size.
Back to Top
Which brings us to...

Step 2.) I have an image I want to use, but it's on my computer. How do I use it on Neopets?
First thing you need to do is make sure your image is in one of three formats: .gif, .jpg, or .png. Then you need to upload it to an image hosting site. Once uploaded, your image will probably have several lines of coding under it. There is only one of these that you can use on Neopets. Make sure to use the one that says 'Direct Link'. No matter where you host your images, make sure that the code you use begins with 'http', and doesn't have a link (a href="blah" ) in it. Also, if your image has a space in the name, you'll need to change it to one word, or it won't work on Neopets.
Example:

gives us:


Notice that, since it's a .png image, I added the height and width tags.
Back to Top

Step 3.) I want text to pop up, when people hover over my image. How do I do that?
Add alt="text here" title="text here" to your image code. Example:

gives us:



Back to Top

Step 4.) How do I make my image link to my page?

Put the URL of your page in the quotation marks, where it says yoursiteurl, and your image URL where it says imageURL.jpg.
Example:


4.a) That's great, but I don't like this border around my image. How do I get rid of it?
Glad you asked! hehe... add border="0" to your image code.

Example:


4.b) Even better! But...I'd kind of like for it to open my link in a new page. How do I do that?
Quite simple, really. Add target="blank" to your a linking code.

Example:



Back to Top

Step 5.) How do I put my button with the code, so people can link back to me?

Note: For petpages, you'll need to put an underscore ( _ ) between text and area.
Example:


EXTRA
Using an image for a background
The code for using your image as a background for your whole page is:

Adding 'background-attachment:fixed' will keep your background from scrolling. For example, the background code for this page is:

For your userlookup, you can add a background for the whole page (outer area), the 'main' section (outer table), and 'content' section (inner table). The coding for these would look something like this:

You can also use just a color for your backgrounds.

I'll add more later, when I have a bit more time. I hope this helps, though. ^__^
Back to Top