Adelhelm had always wanted me to take him to the Cliff of Acapan. It was my childhood vacation destination. I always loved to jump off the cliff and dive into the deep water at the bottom. Not many others jumped into the water nor had they known about Acapan. I was what you would call a dare devil. But this time was different.
When Adelhem asked me to take him to the Cliff of Acapan my heart sank. I just dreaded the thought of the cliff. It brought back bad memories: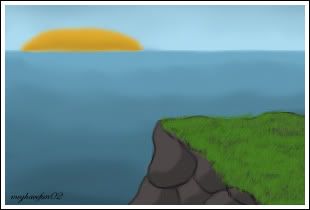 I remember it like it was yesterday. Back when I was 17 and stupid. It was a bright summer morning. I woke up before the crack of dawn that day. The Cliff of Acapan had the most spectacular sunrises that I had ever seen. It was a time to meditate and be amazed by the earths beauty. And for some reason that day I wanted to share the earth's beauty. I stood at the edge of the cliff and my adrenalin was rushing. It felt amazing. The wind gusts blew at my face in a calming way as if to tell me, "it's time."
I put all of my thoughts and worries into the back of my mind and stored them away. Then there was a sudden moment of quite. Before I knew it I was free falling. I felt different from all of the other times that I had done this before. It was a feeling that my life was changing... and it was.
That thought before my incident made me want to cry. For in that very moment by life would change forever.
Before I knew it I dived, but there was one problem, it was not into the water. I heard a huge "crack" and then I felt dizzy. I rolled over and I soon realized that I had jumped so far to the left that I missed the water and hit what we called "watch rock". Little to my knowledge at the time, my good friend the wind played a big role in my miss. I could barley speak but with the little energy I had I cried "HELP" several times. Then everything went black.
Fortunately that was the day that my buddy Attareus was coming out to enjoy a day of swimming with me. He found me as he walked down to the beach near the rock that I laid lifeless on. He was able to get more help and take me to the hospital. We assumed that I laid on that rock for about three hours. The doctor said that if I had laid there any longer I would have perished. It turned out that I had fractured my clavicle, almost all of the bones in my right arm and three ribs on my right side. It took months of recovery and years of physical therapy to finally be well enough to partake in some physical activities. It took a devastating toll on my life because of my stupid decisions to have what I called "a little fun.
Although I made an almost full recovery, I had forbidden myself from returning to the Cliff of Acapan. My injury has prevented me from lifting anything to heavy on my right side. I also cannot fully turn my right arm nor lift it straight up in the air. Although to many people this is just a little flaw, but try living a highly active life with these little flaws that soon turn into huge setbacks.
One day I was sitting in my lawn chair all nice and cozy when Adelhelm came and asked me if I could finally take him to the Cliff of Acapan. Normally I would respond with a flat out "NO," but this day was different. I felt a huge gust of wind as I sat in that lawn chair. It was a familiar sensation, as if I had heard the same words that the wind told me on that fateful day. "It's time." What time, time to risk my life again, or even worse, put my own brother's life in danger. But I heard it again, "it's time." I could tell that my brother was getting agitated. So I told myself to shut up and listen to the wind. I don't know why I did, but I listened. Then I heard those words that I had forbidden myself to even think. "Let's go.
It was a half an hour hike to the Cliff of Acapan from our house. We decided to go before dusk. Surprisingly I never contradicted myself the whole way there. I just felt huge blows of wind and a calmness that filled the air. At that moment, I was not afraid. We finally reached the top of the cliff. I could not bear to look off the edge, but Adelhem dragged me to it. I closed my eyes tight, but another gust of wind forced me to open them. I looked down and saw the rock where I had almost died. But then I looked up. I saw the glowing sun that slowly set upon the horizon. It was magnificent. Then I realized that I had been missing out on earth's beauty for over 10 years. I felt another gust of wind as if the cliff was saying, "I've missed you." In that moment I realized that hiding from your fears can only destroy you even more. You must face them to become stronger. That summer Adelhelm and I saw the sunset on the horizon of the Cliff of Acapan almost every night. It is a tradition that we have continued ever since then and will continue.