B . L . U . E .
(The) Baby Lupe Universal Empire.

Welcome to Jake's recruitment list, guest!
Greetings.
This page will soon be dominated by a list of my minions. Yes, cower in fear, for soon the Baby Lupe race shall dominate Neopia...
LINK BACK:
Banners created by looyiqing12429.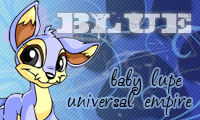 More coming soon! (Hopefully.)
BABY LUPES OF NEOPIA: Members: 144
Female
Aimee

Baby_Fire

Bluewolf

Cil

Cydrei

Crazy

Collidon

Dahkira

Desi

Dutchy

Elka

Evin

Eripai

Eagle

Ericka

Erghani

Esmistus

Gimeli

Gyze

Heather

Hiidi

Jayeliah

Kandielin

Kanika

Karin

Kruven

Kekentia

Kyra

Khiluea

Koe

Lyvra

Lupecito

Looyi

Leyllia

Lupawri

Maysani

Nelorie

Oentha

Peunut_Butter_Cup

Rosie

Roxy

Sweetie

Scratchings

Shilonite

Teiggan

Vidu

Vaslir

Wolf

Woldifywolfwolf

Xhiive

Male
Alvegar

Akito

Architrex

Auren

Aclustic

Azvy

Androssy

Andru

Baeox

Bang

Blackie

Bao

Bongo

BabyLupe522

Cy

City

Coxir

Codysan

Copper

Daobi

Des

Dylan

Ehthan

Esspiegle

Equleo

Fellixxe

Froststar

Genishiro

Gloomy

Green_Lightning

Getsuo

Hizuk

Howl

Ishmax

Isthava

Jake

Jake

Jose

Jay

Juyeu

Joe

Jon

Kiba

Kochios

Kevin

Kiodrin

Kipphir

Leharo

Litom

Lukfie

Leyrus

LH

Lightning

Lheio

Lexszi

Lupin

Lademoiri

Lycant

Max

Malloche

Mikito

Neal

Nick

Oaem

Paw

Phinelious

Puppie

Rhapsodei

Ruby

Ralkie

Riukeu

Rirek

Ryoiichi

Sallta

Sky

Socko

Spazzy

Sito

Scourj

Scruff

Seroey

Tim

Tompleskins

Tsuramu

Vendehta

Volt

Volcan

Vwic

Wink

Welpenpfote

Weepoo

Zafhar

Zeaqer

Zatetik

NEOPETS, characters, logos, names and all related indicia
are trademarks of Neopets, Inc., © 1999-2013.
® denotes Reg. US Pat. & TM Office. All rights reserved.
PRIVACY POLICY | Safety Tips | Contact Us | About Us | Press Kit
Use of this site signifies your acceptance of the Terms and Conditions