body, td, p, div { font-family: arial;font-size: 9pt; letter-spacing: 1px;line-height: 12px;} i, b, u{ color: #FFE241; font-size:10pt;} a:link, a:visited, a:hover, a:active{text-decoration:underline;color: #79AB00; font-size:9pt;font-weight:bold;} h1{text-align:left; color:#79AB00; font-size:16pt;font-family:times; border-bottom:4px solid #FFE241;} textarea {background:#FFE375;color:#45DD5B;border:1px solid #45DD5B; font-family:century gothic; text-align:center; font-size:12px;} #im img{width:150px;height:100px;} #im img:hover{width:800px;height:600px;} #s3 img{width:150px;height:100px;} #s3 img:hover{width:604px;height:768px;} #ml1 img{width:150px;height:100px;} #ml1 img:hover{width:472px;height:1400px;} #ml2 img{width:150px;height:100px;} #ml2 img:hover{width:472px;height:1199px;} #ml3 img{width:150px;height:100px;} #ml3 img:hover{width:584px;height:238px;} #ml4 img{width:150px;height:100px;} #ml4 img:hover{width:485px;height:219px;} body{background-image:url(http://img.photobucket.com/albums/v321/dragon_lady/guide-bg.gif);}/>

Updates
10/23 Well, I've never made a guide before, wonder how they are supposed to go.
10/28 Done! Finally. I'm going to add an example and some more mini-lessons later!
1/5 Well, I couldn't decide on what to make a mini-lesson out of also, changed the images so it's easier to use Little annoying though.
11/26 Added anchors in.

Introduction
First off, credit is required by the little link below, just copy and paste. No stealing and all that basic stuff. The guide requires basic knowledge of both programs and time and slightly advanced knowledge of coding (how to place things). Also, just a little note, the images are huge and take a while to load. You can neomail me if you want but no getting upset if I don't respond right away, I have school and stuff you know.
--Sara (faeriee)



And now... The actual guide.
Step 1
First off, Microsoft Paint is rubbish. It's only good for pixels and art. Most of this stuff is done on Microsoft Word. There are many types of ways to do this but I am going to explain only one. Now for the real first step. Get an image. I am using this one. Now, it's best if you load the 800 by 600 image as I am doing, you might need to download an Unzipper but my computer comes with one and yours might too. If you are not using a neopets image then find a fairly large one.
Step 2
Now, copy and paste your image on Microsoft Paint. Then go to Edit--Select All (Ctrl+A) and open up a Microsoft Word Document and paste it on there. Resize your image so it is about the same size as mine. (Scroll over to see full size.)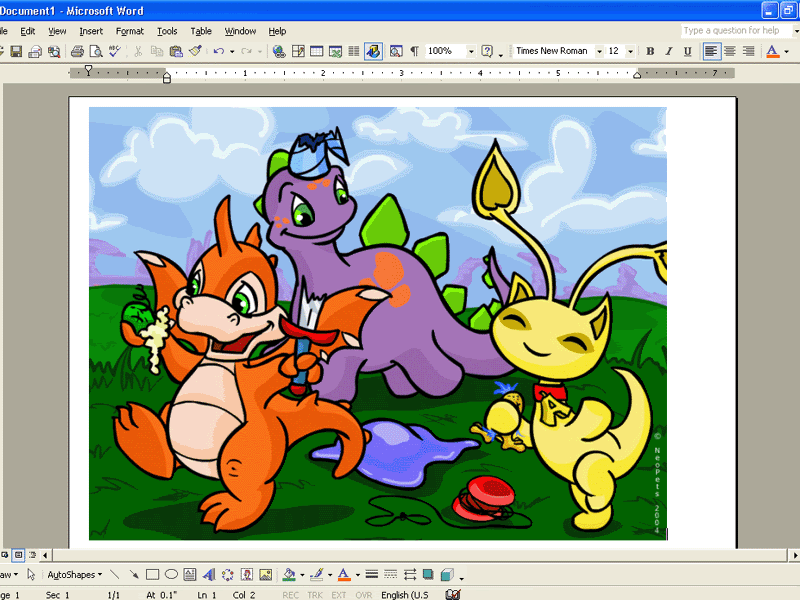 Step 3
And now, the fun begins. From your auto shapes, select the rectangle and make a rectangle at the bottom of your image. (If you can't find it, right click on the top grey area [the part where it says File and stuff] and select drawing)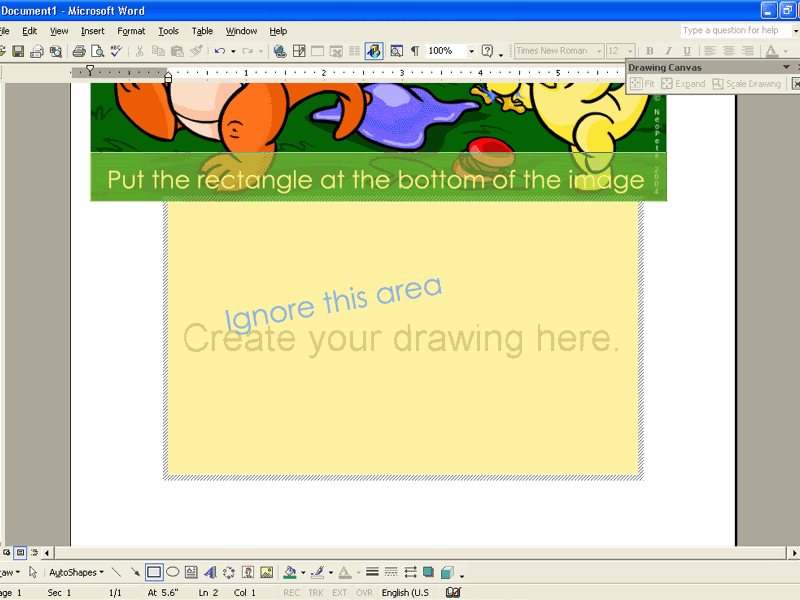 So now you have that, go to the little paint bucket icon and hit the arrow and select Fill Effects. Select two colors and make your second color the one you want faded out to. Make the first color transparency 100 and the second one 0 (important things are highlighted in green). Hit okay. After that, go to lines and select none.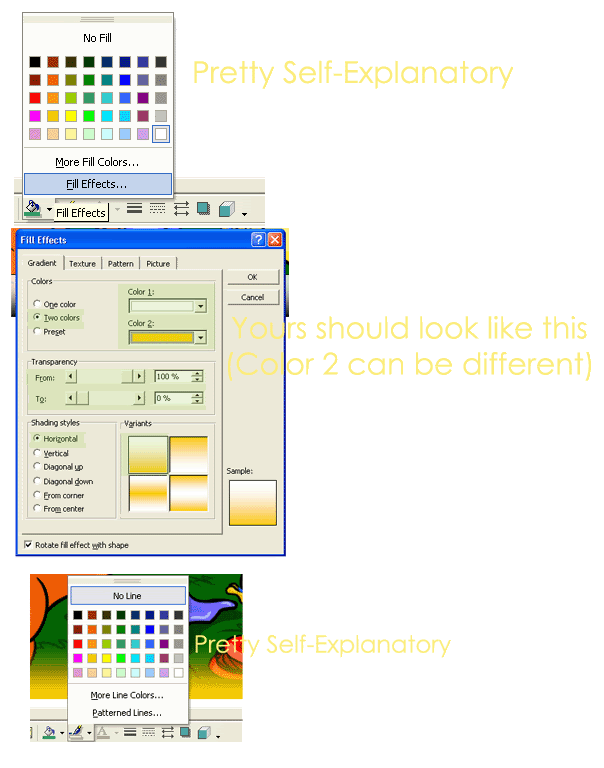 Step 4
Now, add a text box by selecting the rectangle tool again and placing it somewhere. The line tool can be at zero or a color, I am putting mines at green. Fill effects as a solid color, right click and hit Format AutoShape. Transparency to about twenty percent and you can make the line thicker too.

Step 5
Almost done with the main image! Now add your username with Word Art. When you finish typing it, go to the dog image on the tool bar and select In front of Text. Now all you have to do is move it on to the image and use the fill tool and the line tool. Just add a few extra auto shapes if you want and it should look similar to mine.

Step 6
Take a screenie of it (Prt Scrn Scrn key on keyboard near the F keys) and paste it on Microsoft Paint. Then crop the image.Then, using the rectangle tool or the line tool, border the image on two sides. Now, save your image as a PNG file and not GIF or JPEG because they look like rubbish, even if you do the little double GIF trick.

Step 7
Now for the repeating background. I do not really understand why people have a very hard time understanding how to make these. Anyways, select the very bottom of your image and copy it.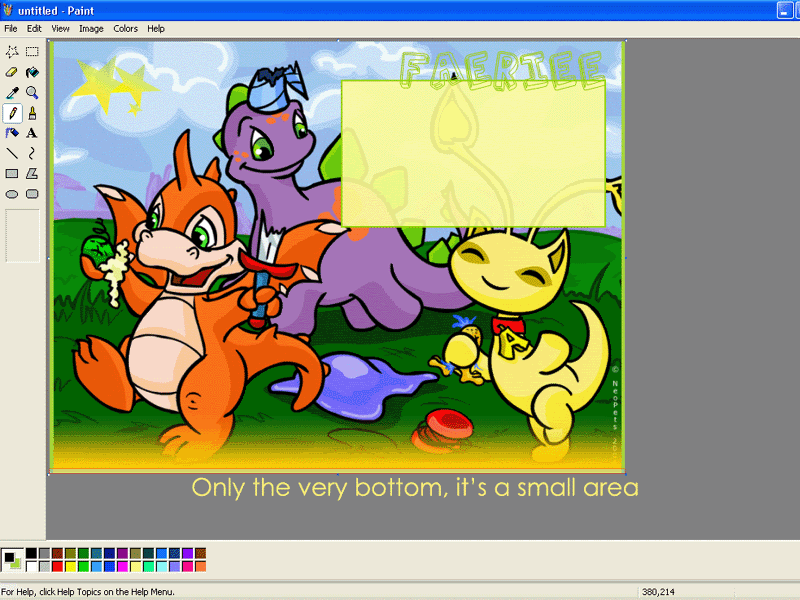 After you have done that, open up a new Microsoft Paint document (you can close the image one). When you are there, go to Images--Attributes... (Ctrl+E). I usually make my width about 2000 px because some people have very high resolutions, but then only Imageshack will host it. Another good size is 1024 px as a lot of people have 1024 by 786 screens. Make the height one pixel. Paste your little section and place it a bit to the left side (for people with small resolutions) I generally place it to the left about the width of my index and middle finger when held together. When you finish doing that, save that image too. (Preferably as a GIF, use the 'double GIF' trick.)


*note these images are really long, they will stretch your page a lot. Sorry.


For Firefox, how to Unzip something

For Internet Explorer, how to Unzip something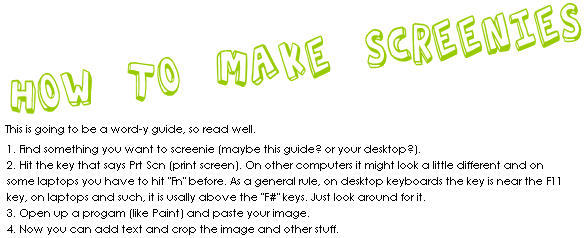 Screenie Making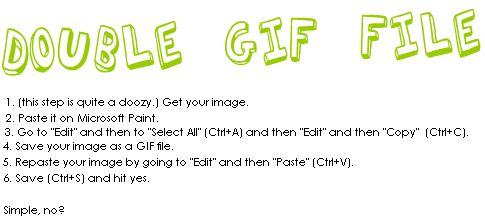 Double Gif



*note: this part is optional, and goes above the other code.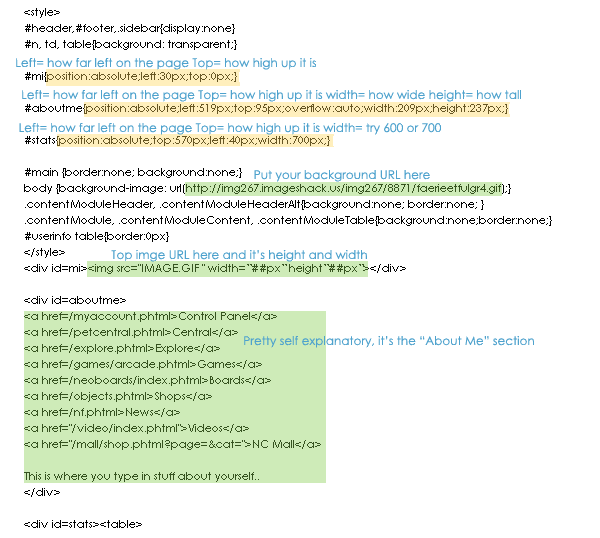 *#mi=top image *#aboutme=about me section *#stats=where your neo info is


So now you have the image made and coded, so now what? Now you have a nice userlookup! So now... you can link back to me using this button!

And if you liked this guide, here are some more to try out!
None to try out yet, sorry! XP

Top
NEOPETS, characters, logos, names and all related indicia
are trademarks of Neopets, Inc., © 1999-2013.
® denotes Reg. US Pat. & TM Office. All rights reserved.
PRIVACY POLICY | Safety Tips | Contact Us | About Us | Press Kit
Use of this site signifies your acceptance of the Terms and Conditions