Why hello there- It is within the darkness of a cave that these images flicker across your face, portaying one wolf's history, his pains, his very life...

Little do you realize that he is there himself, looking at you curiously and politely.

Please, won't you stay awhile? it gets terribly lonely during the day, when I have no one to talk to."

About me?
Dubbed³ Iuq
Nick³ Noodles
Gender³ Male
Sign³Scorpio
Adopts³Trades only, neomail Katpig
Requests³ guild members only

---
Personality³
Determined
Forceful Emotional
Intuitive Powerful
Passionate Exciting
Magnetic

Aswell as...

Jealous
Resentful Compulsive
Obsessive Secretive
Obstinate
---


Mother³ Somewhere
Father³ Deceased
Brother³ Maybe -smirk-
Sister³ Not me, nope
Offspring³ ...Me? Hah
Mate³ Trying to scare me?
Fur³ Gold and Ivory
Eyes³ Rosey Red
Breed³ Unknown
Age³ debatable
Height³ ? ?
Weight³ ? ?
Pysichique³ Limber, Thin
Ears³ Pointed
Obsession³ Treasures of all kinds
Best Pal³ A rarity..no
Clan³ Caliber, perhaps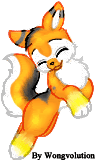 V.07 - All that glimmers
best viewed with Internet Explorer - 1024x768res
Iuq
-
H
istory
Haunted by dreams that are more memories than anything else, Iuq is incapable of sitting still, or staying in one place for very long. His feet need to run and he longs for the carress of the wind through his fur. As a pup his coat was as black as cole, but as he matured it changed to a vibrant golden color, save one stripe that runs along his shoulders and to the middle of his tail.



Iuq is simply obsessed with treasures and adventures, as corny as that might sound. Despite his love for being the absolute center of attention, he found himself, one evening, wandering alone down a path worn in the soft dirt below his feet.

Humming a song that he was particularly fond of -it sang of the helplessness of a frog skidding upsidown on a frozen lake, its legs up in the air- he made his way past the thin, spindly trees, past the dead, foot high grass, past the eyes staring at him mistrustfully in the bushes and finally to a small lake that was more of a sesspool than a body of water.

Unconcerned, Iuq dipped his maw to the water for a drink, but his rose colored orbs were distracted by something of equal color within the transparent water. Almost immediatley he was transfixed with the bloodred color of that mysterious...-thing- down there, glinting soflty amidst the mud and the fishes.

Before he knew what he was doing, he had leapt into the small lake, diving straight for the object which had so enthralled his entire being, his entire mind. At once his curiousity was rewarded; it was a ruby! but not just an ordinary ruby, it was gigantic! nearly the size of a bird's egg. Oh, the worth of thing, he thought to himself with relish.

Drawn from his reverie of awe, Iuq outrstretched his milky paw towards the beautiful, flawless gem, and at last it was his! But with the finding of the jewel which seemed, to him, so pricless at the time, he lost something very important to him, even if he didn't know it yet.

He lost the ability to love. For everytime he grew close to any friend, be it male or female, the Ruby whispered secrets in his mind, treacherous tales of deceit and greed. The cursed gem even found him in his sleep; bringing his dreams to life so that it might strike and possess his mind all for itself. And so he would run from his friends, and from his dreams, careless of what he was leaving behind; aslong as his beloved Ruby was safe, untouched...


To this day he has been running, never staying longer than a week in the most respectable or gorgious places. The longer he was with the gem, the more Iuq found himself unable to seperate its thoughts from his own. Does his land, Caliber, hold new hope for him? will it remain a temporary haven, or will he flee as he has done so many times before?

Adoptables
Neomeil owner?
Transparent background. Viewed best on any color but black.

Take the code above and switch to the color that you want. Please..don't edit the code if you don't know how to do it properly.

Basic rules- Do not edit the image. No stealing. No contest entering. Always link back.

Available Colors: 18. More coming soon
(Alphabetical order)


blue.gif
brown.gif
christmas.gif
darigan.gif
desert.gif
ghost.gif
green.gif
mutant.gif
orange.gif
pink.gif
pirate.gif
purple.gif
red.gif
shadow.gif
silver.gif
skunk.gif
white.gif
yellow.gif



Do not capitalize any letters or the picture won't work.
Basic rules- Do not edit the image. No stealing. No contest entering. Always link back.

Patches

50x50 patch #1

75x37 patch #2
Noodles the - ? (:
NEOPETS, characters, logos, names and all related indicia
are trademarks of Neopets, Inc., © 1999-2013.
® denotes Reg. US Pat. & TM Office. All rights reserved.
PRIVACY POLICY | Safety Tips | Contact Us | About Us | Press Kit
Use of this site signifies your acceptance of the Terms and Conditions