Hello~
Name:
imthrowingyouaway,
but you can call me just ITYA
Right Eye:
Red
Age:
???
Gender:
Male
Additional notes:
Since he were found he lost his memory, but he seems to be alright with it.
He loves bombs of any kind, eyepatch on left eye, 3 piercerings.
beggining -- part one [meeting]
there are stories, that even Angels from skies are listening with hold ones breath..
even they can cry, seeing events sewed with pain and fears

it started with a storm, i remember it corectly..
the rain was cold and sad, as Angels tears possibly can be..


One grey day whole world were preparing to storm that is going to haunt great, snowy mountains climbing up to the sky. The legend foretolds that in top of it Angels lives, watching little figures of people living in a small village between mountains and frozen ocean.

This little windy weather started to bother everyone there. Some people are saing that at winted nights like this it's too cold even for Angles to fly.

Every person in city started to take their business into their houses - bakery, fruit pickers.
There was only one figure on streets that weren't bothered by wind that were getting stronger with his every step.

It was eyeless boy, who were standing fearlessly against wind. He had middle long blueish hair and black eyepatch. He's kind were called zafaras. A mix between rabbit, kangaroo and some kind of dragons.
He were dragging a big wooden surfing desk, and acted like nothing can scare him.
Desk were covered with light green paint and brown hawaii flowers in the middle. Surfdesk were more femine that the ones for boys.

Up the boy's head there were flying on her fairy wings a small, serious looking girl that enjoyed the soft breeze that ruffled her blue hair.
The scent of rain was heavy in the air, but she couldn't be bothered to search for shelter now.
She was lost, and not many people were outside now.
Then she noticed -him- going down the street.
Hey! she called out to him.

Itya looked up to the sky to see who were interputting his thoughts. He were little suprized by seeing a girl on the sky. Especially so beautiful one.
Huh? oh, hello there little butterfly he smiled looking at her as she landed next to him.
That's not best time for flying right now, eh? He started to follow his steps slowly. Go find yourself a place to stay!

She glared at him. Do not call me a butterfly! she snapped as she followed him. And I don't need a place to stay, I can stay outside if I want! she lied.
I was just wondering what you were doing with that wood...

Itya blinked as he looked at her pointing out his surfboard what, you are not butterfly? so maybe you are fearie? i used to hear about them. They like to help the others he smiled wood? what woo.... ah! that's not a wood! he wagged his tail it's surf board! you dont know?

Well I am not your average faerie, she grumbled as she looked at the surf board curiously.
What are you going to use a surf board for? she poked it carefully.
you are using surf board to surf on waves, you really don't know? he looked curiously at her too. when there's a big wind you have big waves at the sea, no? So you are able to surf on their spines! he whistled happily. but now there's too dangerous, so im going to hide somewhere, would you like to go with me? it seems you have no place to stay?

No, I have never heard of surfing on waves. She thought the idea to be very interesting.
Well, if you wouldn't mind the company...I could use a place to stay for the night. She blushed a little, embarrassed to ask a stranger for help.
Shure then, come with me
Itya felt a little confused, he never used to help others. Well, at least he doesn't remeber that. So, do you have any family? friends? owner?
Itya looked at her carefully, asking about owner he meant a person that were taking care for them, since oficially they were pets that needed someone who can take care for them.

Of course a lot of pets were living here without owners, but it's lonely, and sad. It were always more happier and more interesting to live with a person from otherworld.
When person like this show in our world, a pet is chosen for him or her. Or maybe i should say pet chooses it's owner-- It's sometimes from the very beginning or later on while traveling around the world.

Itya for example were found by a person from otherworld while she were surfing on waves, he were exausted and wounded, adrifting on wooden piece of broken ship. He was eyeless from the very begginig.

Little blue haired girl was relived that the zafara was letting her come along. Yeah, I guess, she said.
She did not care much about her owner, she was a klutz.I don't see her much. I'm an explorer so I'm always away from home. What about you, do you live around here?

i see, that must be pretty lonely at times, dont you think? zafara leaded her into old big treewe will hide there, inside that tree' He showed her a tree near them, it's a big oak a little outside the city. Well, i argued badly with my owner today.. so i went surfing alone, to think a little about it.. huh, where are my manners, im Itya, and you? Zafara smiled

It's not so bad being alone, she said. Truthfully she did get lonely sometimes, but she didn't want to admit it.
She listened to the zafara with an understanding nod. She was hot tempered, so she got into fights a lot. She knew how the zafara felt. Angelique. But just call me Angel," she smiled slightly.
She felt comfortable with zafara, which was strange because she usually didn't like others. What did you and your owner argue about? Maybe it will help if you talk about it.
well, it's not big deal, really they already arrived at tree entrance
here, lets go there, it starts to become dangerously' he lets Angel come first, then, he comes with his surfboard.
The tree is big and old, but it feels warm inside. Itya flashed a paper lantern that were left there.
We left this lantern here, for a weather like that, when we go surfing and weather becomes stormy we used to hide there.'
The inside tree is that big that 2 big people can sit there freely. So, well.. about my owner, she's just too serious about some things. She cares too much for me.. really, i dont really need a nanny! Itya felt little angry there And um, well i dont really know why im telling you this, it's not your business at all anyway he smiled there.
where are we heading throught pain
Header
Nice place," she complimented as she sat down, making herself comfortable. She looked at the zafara thoughtfully. "You're right, it's not my business. I guess since you brought it up I was just curious. I, um, get into a lot of fights myself you see," she explained. She found it strange that she could speak so freely with Itya. His laid back attitude made him easy to talk to. "But the things I fight over are different, because they cannot be forgiven...It'd be best if you and your owner forgave each other quickly don't you think?" She smiled a bit, "Even if she is too serious. The wind dances outside, but both pets feel save inside the tree, from far far away they can hear thunders. 'You got a lot into fights? Um.. but you are girl!' Itya imagined her in full armour figting for idea very important to her on a battle field. 'Girls fighting with whole army! wow' he grined a little. 'Well you said about something unforgetable.. If may i ask, what's wrong? Well, Ru hate's being angry for too long, she is forgetful.. so dont worry' Itya smiled but in that smile Angel could see a little sadness for first view. Or Maybe it was just her? She swished her tail back and forth, a bit annoyed. "Yeah, I'm a girl. Nothing to get excited about," she grumbled. "And my battles weren't anything as honorable as you might think." She did not like talking about her time on the battle field. She'd only gone to see the ghosts at first, but soon she'd been struggling just to stay alive. It was a scarring experience, and she was sorry she'd brought it up. She noticed a forlorn look in Itya's smile. Perhaps he had also experienced something painful in his lifetime. She pointed to the eye patch on her left eye. "What happened to your eye?" she asked him, referring to his eye patch. The rumble of thunder was closer now. She could tell it was going to be a 'Huh, my eye?'He pointed with his nail at the eyepatch 'Well, umm.. I don't really know' he looked confused 'And that issue makes me totally angry, because you ask me what happened to my eye, who i were before, or who my parents are! Uhhgh!' he made grumpy face 'That was a point why i argued with Ru, she's too serious about bringing my memory back. She want's to do good in my life, yeah, but in a little harsh way. Asking everyday if i remember anything won't make me remember! Im not even really shure, if i really want to remember..' Itya silenced for a little while, he recalled dreams that are hunting him, like it were his past.. those dreams were full of nightmares, full of pain, and screams. 'Nah, what about your eyepatch?' He grined. Her eyes widened in surprise. "You're joking. You've also lost your memories?" No wonder Itya was upset. She also went through the same frustrating conversations with her own owner. She wanted to remember, she really did, but her owner just didn't understand that Angel wasn't going to wake up one morning with all her memories back. "My eye is a bit special. I can see ghosts with it. It's a curse and a blessing," she sighed. "And like you I don't know how it got this way." She touched her eye patch, smiling sadly at Itya. "I guess we have more in common than we thought. Well, except that I'm determined to recollect my memories, bad or not. I just...feel like there's something important that I must remember. 'Yeah, i lost my merories too, i just woke up oneday at Ru's bed.. she told that she found me half-alife on a ship piece, and i comed from big sea, but that's all i know so far.. And from a week i started to have strange dreams.. Very upset, and full of pain..' he sighted 'You can see.. ghosts?' Itya blinked 'well, that must be pretty hard time, well, you too don't remember, eh? So, how it feels like? seeing ghosts? Are them lost souls or somethin'?' She wasn't sure if she wanted to talk about her seeing ghosts. It wasn't a pleasant subject in her option. The soft thud of rain against the outside of the tree soothed her, clearing her thoughts. Itya had shared a lot about himself so she supposed she could do the same. "The ghosts I see are still around because they cannot rest peacefully. It is because they feel they have died unjust deaths." She shuddered, shrinking back against the tree wall. "I can feel the ghosts pain and fear; it is a burden they carry from when they were still alive. It's horrible." She shook her head, and made herself look more confident. "But I try to speak with the ghosts as much as possible. Once a ghost told me that she knew something terrible had happened to me in the past, and that it would be best if I did not try to recollect my memories. Before I could ask her more she disappeared. I'm sure there are more ghosts like her that know something about my lost memories, and I plan to find them." She looked at Itya, a bit embarrassed. "By now you probably think I'm crazy, don't you," she sighed. Itya were listening to her carefully 'It really is hard for you, no?' zafara wagged his tail softly. 'Well, maybe there is a reason you can see ghosts? Have you thought of it that way? Maybe you are blessing to them or somethin'? You can talk with them and tell them they can go away? Or somethin'? Im not really good with talking with girls you know' he tried to make Angel a little cheerful making silly faces. 'It seems like both of us had hard time in the past... .. well, so when storm will end, whaddya going to do then?' I never really worry about what I should call them. But I guess spirits would be the correct term," she said with a shrug. It seemed that the storm was over from the sound of it. She nodded. "Sure, I guess I wouldn't mind going with you. Lead the way. 'Shure then~! let's go~!' Itya smiled; She followed Itya out of the tree. Everything outside was wet and shiny under the sun that peaked out from behind the drifting clouds, and the air was crisp and refreshing. It was going to nice and sunny for the rest of the day. "So, how did you learn how to surf?" she asked Itya as they headed for the beach.
art gallery

---


by pikemaster1

---


by otoeshe

---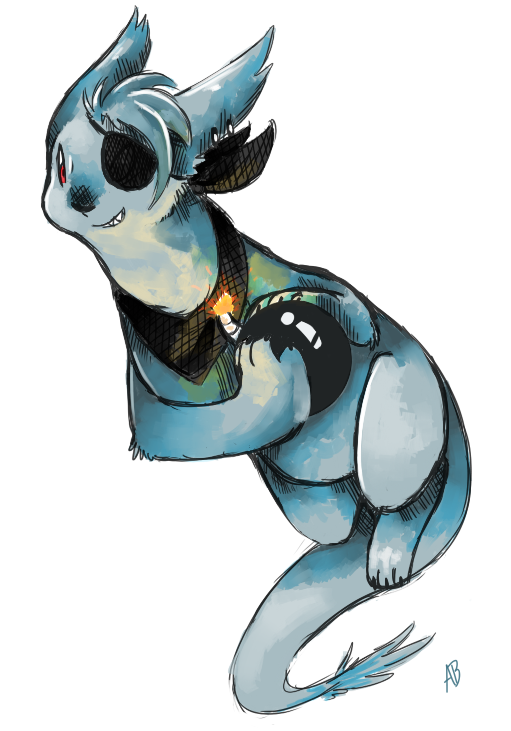 by celestial_squared

---