Hypocrypte
You stretch out your legs in the warm sun, next to the lake. Your eyes gaze across the glistening water and fix upon a blurry sand coloured reflection. You follow the reflection up to the bank where you see a beautiful tan coloured wocky warming herself in the sun.


Having spotted you watching her she lifts herself off the ground and wanders over to you. As she approaches you notice that her fur is perfectly groomed and silky.
Hello, I am Hypocrypte, a desert wocky even though i've never been near a desert. No grooming facilities there! I like to make little clay sculptures for my friends, I guess I could make you one too.
Stats
Name: Hypocrypte
Nicknames: Hypo
Age: Young adult
Colour: desert
Length: 86cm
Appearance:
Clay sculptures
To get on your page, copy this code and replace COLOUR and SPECIES with your desired colour and species, shown below.
Tonus




Wockies



Custom army
13/20, help me reach my first goal? Customs are: Open












Reference
If making art or adoptables of me please use this handy reference. Both of my sides are the same and I wear my golden bracelet on different paws.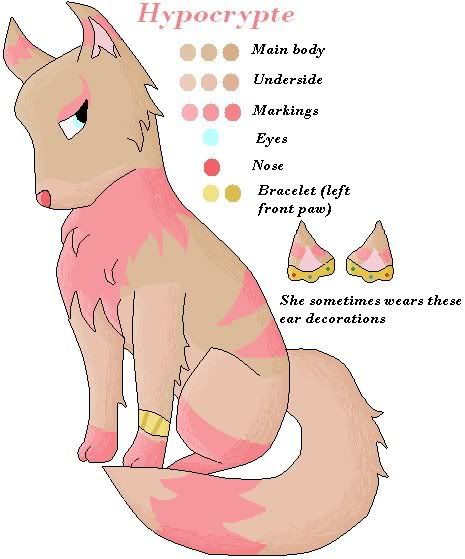 Custom adoptables
Art
Credit
Layout "skeleton" by
Vibe
.
NEOPETS, characters, logos, names and all related indicia
are trademarks of Neopets, Inc., © 1999-2013.
® denotes Reg. US Pat. & TM Office. All rights reserved.
PRIVACY POLICY | Safety Tips | Contact Us | About Us | Press Kit
Use of this site signifies your acceptance of the Terms and Conditions