REs and other event-y stuff
...What can I say? The Tombola Man doesn't keep bags, apparently. Also, yay for alternate positioning of speech bubbles!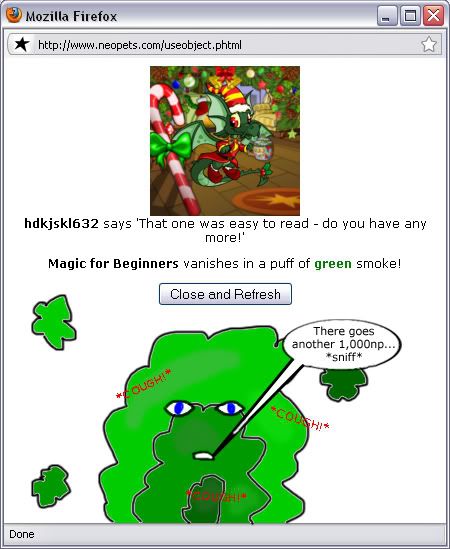 If only I'd not created a pet with a book addiction...
Yeah, I can't draw Unis. This is a real Neopets page, by the way.
How'd he even get in there?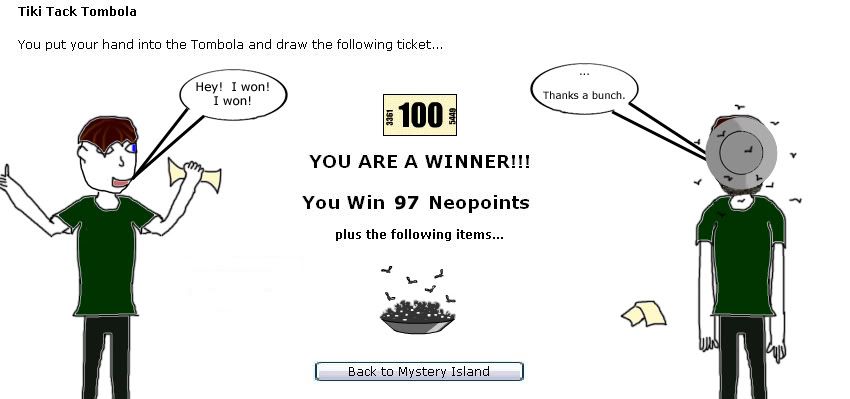 Evil Tombola man...*mutters darkly*
Having just been told by the Island Mystic I would have 'amazing fortune' here, and I find that!
King Skarl does not like people mocking his identity crisis, it appears.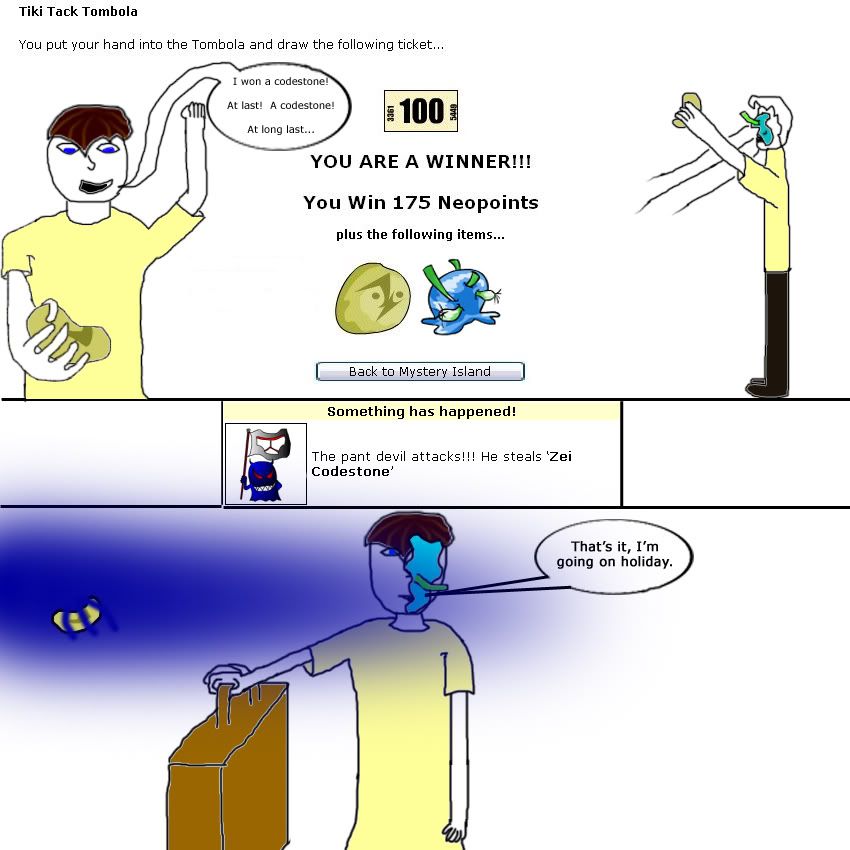 True story. But where is my hair in the right-hand image?
This was just weird.
Casualties of TNT's evilly changing the filters on the 31st of January 2011.
PIIIIIIIKAAAAA! What does TNT have against innocent Pokemon?
Oww.
Zzzzz...hmm, what? I also seem to have forgotten the coat-tails on my cameo Neofriend. That's what comes of taking screenies when tired.
I knew giving him that book about magic was a bad idea.
Another very LOOONG screenshot coming up.
Note to self: Avoid Emrys' stare when he's annoyed.
No, not now! Come back and finish the screenies! COME BAAAAAACK! (And if it says that he has a toolkit...where is it?)
The problem with teaching a pet magic is that they can then use said magic to force you to get them more books...
Now for something new: A screenie of a screenie.
So this is...a screenie squared? Anyhow, the only thing I added was myself. The confusing directions weren't me. The original screenie is here.
Evil cake of DOOOOMMM! No, I'm not paranoid at all...
It was the bin I threw her into, by the way. (Her meaning the cake)
Told you.
That's meant to be the Negg Faerie in the corner. Why on Neopia do Neggs grow on trees anyway?
Top hats are cool.
Someone please tell me how to draw a Shoyru!
Darn thing.
I seemed to be too happy to think of anything to put on here...
Now how does a tiny pixel make such a big mess of my SDB?
Yes, this is possible.
Yay for random references to other people's screenies! Also yay for 3D cheeeeeeese!!!!
Seriously, you try finding it. To make matters worse, Sri decided that the Altachuck looked cute on my hat and bribed it with Altachuck treats to stay there.
Just...what?
Proof that I can't draw bunnies.
I still can't draw Unis either.
Her plan might have worked better if this screenie hadn't been uploaded 3 months after the Masquerade.
This screenie is from May. Why, oh why, did it take me so long to upload it?
I know what this is a reference to now! (Thanks to someone who somehow knew.)
One of the weirder (and meaner) glitches I've encountered. All the clickables were there, but you couldn't...well, click on them. I was so upset by the taunting of these worms that I completely forget that I own a hat now.
What was I doing reading the Terms of Use? I'm not sure.
Hmm...if I ever knew how to draw Unis, I think I've forgotten.
And Peophins, it seems. And the ability to connect speech bubbles to people. Derp.
I actually drew this before TNT published the Neoapocalypse Avatar. (Only I forgot to upload it.) Great minds think alike, I guess?
My slightly new drawing style isn't as bad as I thought it would be, although I might want to play around with the skin tone a bit. Well, a lot. No more white space in people's bodies, though. Oh, and also, this was a screenie from ACVI and I uploaded it just before ACVII. I'm slow.
*bang*
My colouring skills may have improved, but my anatomy skills have not.
So...you added more pages before ever creating the site? That's impressive.
I guess I can draw bunnies vaguely well when I'm not really trying? The one on the left actually looks vaguely like a Cybunny.
More metascreenies! And I'm not sure, but I think I might have been the subject of the joke in this screenie. I don't understand what the 'lol' is meant to be referring to and the person who owns this screenie ignored my NM.
I have Yooyuball skills.
I will get my revenge, Adee. *menacing laugh*
Odd things happen on the BC board occasionally. This person's next entry was of the squid and fractalpus rescuing her pet.
Gawsh, she's so picky. Mere details, I tell you!
Yes this screenie is like five months late shush. On a side note, I think this is the first screenie that I've had to shrink to make it fit in the scrolly box.