Basics | Scoring | Tips | Avatar | Trophies | World Challenges
Play the Game!
Game Basics
Your basic goal in this game is help Ace Zafara to the finish line before your opponent. But watch out, each level brings with it new and more popups to slow you down.
Game Screen Layout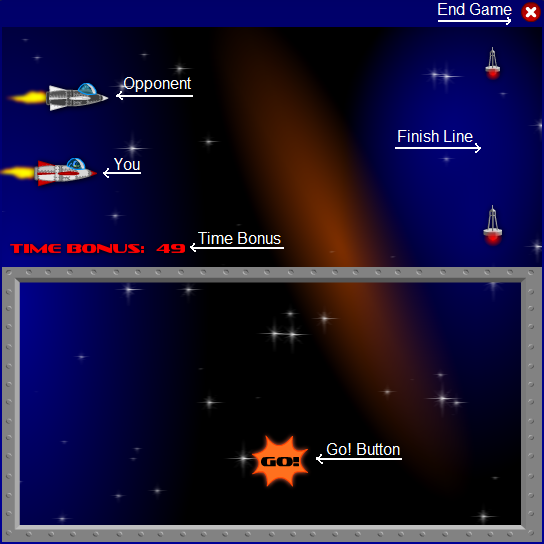 Game Controls
This game needs only a mouse. To play, simply click the Go! Button repeatedly until you get to the finish line. It takes 24 clicks to get to the finish line, and the Go! Button moves to another location after each click. If the time bonus reaches 0, it is game over. Your opponent will never reach the finish line.
Dealing with Popups
Popups are only annoying if you let them be. The majority of them are easy to close, simply click the little X in the top right corner:

Most popups can also be moved by clicking and dragging the top bar. Occasionally a popup will get stuck to the mouse, but just click again where you want to set it and problem solved!
There are a few notable exceptions to the basic popup rules. Firstly, some popups cannot be moved and must be closed by clicking the text at the bottom rather than the usual X. It's usually pretty obvious how to close these popups as they are clearly labeled: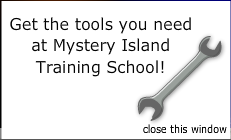 The second exception is a helpful one. A very small number of popups have more than one way to close them.


You can click the X, or hit OK. Both will close this popup.


This popup can be closed by hitting X or the No button.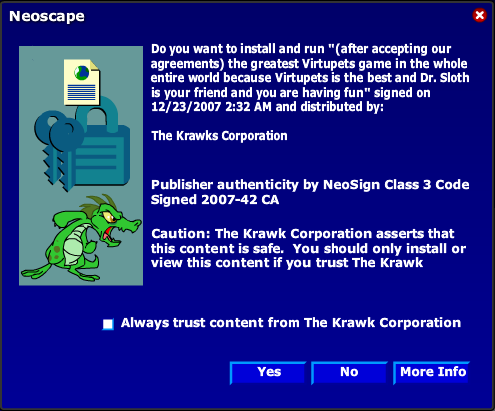 Last but not least, this popup can be closed by clicking X or No.
Scoring
Scoring in this game is as follows:
50 points - Completing the level
1 point - Per second left on the time bonus clock
There are 10 levels to the game, so that's a guaranteed 500 points if you can complete the game. Any and all points scored come from your remaining time bonus.
Tips
- When you are first learning the game, your main goal is to get good enough to finish the game. Forget trophies, forget high scores, and forget the avatar. You cannot achieve any of those things unless you can beat the game.
- Most of the time, it is simpler to move popups that are in your way rather than closing them.
- Count your button clicks. Seriously, it helps. Remember that you only have to click it 24 times to complete the level, so knowing where you are in that count can help you make decisions about which popups to move or close.
- Don't bother doing anything with popups that aren't affecting your button clicks. It's a waste of time.
- Sometimes clicks on the button don't register, especially while the button is still spinning, so I find it helpful to click like mad on the button so it'll register as soon as it can.
- There is a code (nopopups) that will clear all the popups on the screen. I personally don't think it is necessary, but it's there if you need it.
The Avatar


Score 700+ points to earn the "Ace Zafara" avatar
Tips:
- If you can't beat the game yet, practice until you can. There's no way you can get the avatar and not be capable of beating the game.
- Using the game's Scoring System, 500 points of the 700 is guaranteed when you can beat the game. That leaves only 200 to be earned through time bonus, which averages out to at least 20 seconds remaining in each level.
The Trophy




As with all flash games, Advert Attack has it's own set of spiffy trophies.
Tips:
Practice, practice, practice. Once you get really good at the game, the rest is timing and precision. With timing, Reset Night (the first of the month) is the best time to try for it. In my experience, the trophy scoring spots in the table don't fill up right away, but gold and silver are typically filled by the end of the day. If you are online for the actual reset, all the better. For precision, learn the scoring system and use it to your advantage. You can target your final score, and round 10 can make the difference between missing the first night due to review and having an unbeatable score long enough to get your trophy. Also, if you get to round 9 or 10 and realize that there's no way you'll ever score high enough to score where you want to, don't finish that game.
World Challenges
Advert Attack falls under the "Virtupets Space Station" category in the WC. I completed all three maps playing mostly this game. It doesn't show every day, but it shows often enough to be a good game to have in your arsenal. Basically, practice until you are good at the game and then just don't go over review. Advert Attack is a pretty slow WC most days, so as long as you are pretty good it's not too hard to win a piece.
More about World Challenges here.