Feb 26: Yeah yeah I know it's been about exactly a year since I planned the big revamp, but most of it isn't done yet. But I'm looking positive about this thing. I'm still working and I still want to focus more on explaining through examples. If you wouldn't mind if I used your comic as an example, I would greatly appreciate if you send me a neomail @Pacmanite saying you would be willing to give permission for me to display a comic of yours on this page. If I find a place to use it, you will be fully credited :) Thank you.
---
Good morning, evening, and afternoon, fellow Neopians of various timezones! This, as you may have guessed, is Pacmanite's comic guide (so far as I know, the first comic guide of this scale and thoroughness)! It is I, H33lix, who sacrificed their petpage for this.
First of all, Pacmanite does not even once consider herself a complete expert on the subject or the Universal Supreme Comic Empress. She hardly ever laughs at her own comics, so it's not like she can reliably compare her work to other's anyway. But at the same time, she reckons she knows a thing or two about writing comics, and that's enough for others to benefit from ;)
Let me also add that comic-making is a sort of art; it CAN (repeat: can) therefore be learned and taught and analysed, and there is so much to say that people have written volumes of books on the subject (though all the ones I find tend to boil down to "how to draw a cartoon face with the magic of circles" tutorials D: ). Pacmanite updates every once in a while, and will continue to do so; this page is likely never to be totally finished.
Oh, and remember, everything Pacmanite created on this page is protected under International Copyright Law :D
---
One of Neopia's many competitions is the Neopian Times, hereafter referred to as the NT. It's a great competition, and you get a spiffeh trophy, and it can give you two (are avatars for your trouble.
Additionally, getting published in certain special issues will get you a prize. These things don't come very often, but when they do, it's usually worth quite a bit - Pacmanite has so far received a Faerie Queen Negg (for the Fyora Day special), the book "A Seasonal Pea" (Christmas issue), a Postal Weewoo Action Figure (issue #300) and a Pirate Paint Brush (Halloween). They were priced at 200K, 1.4 mil, 2mil and 7 mil respectively, if I remember.
And of all the parts of the NT, Comics are the quickest to read (well, unless you count the editorial), which means it's easy for them to be read every week by all. I do wish that short stories and multiple-part series could reach as large an audience as comics seem to, but ah well.
Of course most of all you should write and draw comics because you find it fun to do so. It's a real combination of wit, humour, and good old cartooning. Comics brighten peoples' days and spread the love. So go out and make a comic already!
---
Secretrulebook has a very good insight into what is allowed and what isn't. Most of these rules, like no violence, are basic common sense. However, some of these rules are less commonly known, like the one that forbids non-Neopian technology.
There are a few additional rules for comics - the file must be a .jpg or .gif, it can not exceed 200kb in size, and its width can't be more than 470 pixels. There's no limit to the number of frames though, just as long as it fits all the other criteria.
As for choosing whether to save as a .jpeg or a .gif - remember that gifs make smaller file sizes, but they can make colours go all speckly, and jpegs make sharp, contrasting colours that have been placed next to each other go all blotchy. Take for example this graphic of the same thing done in two completely different programs - ms paint and PSP7. This one below has been saved as a .PNG, so it has lost no quality whatsoever (on the other hand, .png images have larger file sizes and don't get allowed into the NT. I recommend you save your final picture as a PNG first just in case you ever want to go back and fix something on it, then save a copy of it as the .jpeg or .gif)
Now here it is saved as a .jpeg:
...and as a .gif:
As you can see, pixels are fine, delicate, gorgeous things but the effect of their clean sharpness gets slaughtered by .jpeg compression. However, when an airbrushed, soft image is saved as a .gif, the colours go all off and collect up in patches of uniform shade (or get speckly).
A good rule of thumb is that if you've done some really smooth shading, or if you've used a lot of different colours in your piece, you ought to save it as a .jpeg, and if you haven't, then .gif is the way to go. These examples were quite exaggerated, though... as 200kb is reasonably large (at least compared to the 17kb size limit in the Beauty Contest!), you probably wouldn't notice the marks left by compression unless you knew they were there.
Not sure whether it's within the limits? Only got MS Paint to help you? Don't sweat, just open the comic up in MS Paint and click on "Image" then "Attributes"...
---
It has been said that the idea is single most important component of a comic. Eye-burning backgrounds, scruffy artwork, poorly-done speech bubbles and so on can all be tolerated to an extent, but nothing ruins a comic faster than a bad idea. You can't skimp on this step. But just to smite me, coming up with an idea is also one of the hardest things to explain D:
People ask my owner quite often where she gets her ideas from. As said before, this is not easy to answer. My advice is to try out new things in Neopia; keep your eyes open wherever you are and be sure to note things down (mentally or on paper). Note then all down, no matter how good or bad they are - you can fine-tune them later, and you could always bin the ones you don't like. Try asking a few questions to yourself to get things flowing:
Can we make any comparisons to other parts of the site/events/everyday things?
Where would that thing go/Where did it come from?
What's the character's point of view (that usually gets ignored)?
What could have happened in real life?
Does something feel terribly wrong about this?
It's also important to be aware of what ideas and themes have been used before, and to try and avoid them. Here is a little list of things to steer clear of:
Evil meepit plots and their not-so-secret desire for world domination *yawn* These cute-but-evil creatures are sooo issue 158.
Dr. Sloth (or Lord Darigan) dresses and acts pink and fluffy.
A male pet is entered into the Beauty Contest and has to wear a pink ribbon for a week
Snowager :/
Yellow snowballs
Snow pets/petpets melting
The grey pet's sadness being linked to the price of the paint brush
Actually, most of the pet's colour-related jokes. Like fire pets burning the objects they carry, biscuit pets becoming grarrl food etc.
Ones that are just the same as real life jokes, but told by neopets
This doesn't mean you can't use these ideas - you can if you take an original angle on them (after all, a lot of real life comic writers do use old jokes or jokes originally inspired by other comic writers, but they must express it in their own way, in their own words and art, so they aren't outright stealing an idea). It's just that these ideas have been seen so many times that it's hard not to make your comic seem kinda predictable.
Another way you can form your ideas, slightly better than wandering about aimlessly until you hit gold, is to start with your opinion and try to find a way to express it in a comic. The result is sort of more like political satire, actually, which is good. This makes them more three-dimensional than merely a bunch of stuff that happens - it has a message in there, somewhere.
For example, you might want to find a way of criticising the Art Gallery. Why would one do that? Because the judge assumes that by making the selection choice more random it makes it more fair for everyone. I find it really hilarious that people's defence of this method of selection is, "well, if it wasn't random, then only the good artists would get in". Gosh. It's an art competition, people, the best art is meant to win.
Now you don't have to agree with me, but I think it's a valid point, and that's all we need to spark a satirical comic.
Now there are a number of ways you can fit this into comic form, and you get better with practise.
The first and most obvious way to criticise the Art Gallery is to do a literal story of one of your past experiences with the Art Gallery - say I have a modern cubist drawing of a Kougra, and I also have a cartoon style picture of an ixi with a crown. The Kougra is of better artistic quality than the infantile and generally shoddy drawing of an ixi, but the one that gets in is not the modernist drawing but the pseudo-anime style cartoon drawing (true story, actually. You can see my bad ixi here). I do not recommend you do this, however. It's kind of... lazy. And lacks creativity.
The next way you might form the basis for your comic is to parody it, or else compare this situation to another similar one. For example, a pet could be told that the art judge lets in works of all quality to be fair to everyone. The pet goes off and plays a game of meerca chase, then complains to the judge there that they deserve a trophy. Whatever for, the game judge asks? Because he ought to award trophies to game scores of all different quality, so as to be fair to everyone, duh! ;)
Parody is a pretty light-hearted way to deride something, but there are other ways to do this. Sarcasm and exaggeration can work all right, but it can bite a little too much for TNT to want to publish it. Sarcasm + exaggeration in this example could mean you have a bunch of characters taking their views to the ludicrous extreme, debating oh-so earnestly between themselves that artworks can't be measured or compared against each other, so all the entries in the Art Gallery are equal.
Or, for something different, there could be a step by step "art-gallery-judge training course" (which goes through all the things they do wrong). I dunno, there are definitely other things you could do to express your opinion with humour, but these few are the only ones I could come up with for my chosen topic, so go out and take risks...
If you're writing for a special issue, or if you're centering your ideas on a theme, try brainstorming everything related to your topic that you can think of - especially unpleasant things, they tend to work well. This way you can make jokes about aspects of your theme that other people have not thought about :P For example, take the Christmas issue, which a great many comic writers try to get into with festive-themed creations every year.
Christmas:
Presents

Want vs need
Pretending you like what you get
Last-minute shopping

Decorations

Holly, ribbons, bells
Fake snow
Really tacky-looking things

Christmas dinner

Massive preparation
Excessive richness
Flaming pudding
Setting the table
Christmas bonbons

Reindeer

Animal rights
Red noses being a symptom of disease
Transportation issues eg. traffic
Jealousy against horses

Winter

Seasonal colds and sniffles
Bad weather
Climate change
Frostbite

etc.
Then once you have all these minor topics to choose from, the task of coming up with an original idea seems far less intimidating. From this list I could pick something like Reindeer Transportation Issues and have Santa Kaus's sleigh get stuck in bumper to bumper air-traffic as he passes through Faerieland on his way home. Or something like that. The list helps break the wide topic of Christmas into smaller chunks.
Remember, if it makes you laugh after leaving it aside for several days and forgetting about it, then coming back to it, it should be good. You should also ask for the honest opinions of friends or family, to see if they found your idea funny.
Lastly, I highly recommend that you read through those weekly comics. You don't have to go very far back, just pore over the last couple issues (or even just the current one) to get a sense of what's been done recently. Authors often think alike, so even if your idea was completely your doing, it's useful to check to see if someone else thought of it first.
---
IMO, the script is quite distinct from the idea. The script is the written expresssion of the idea, and while the script can be changed quite a lot in the development process, the idea will generally stay the same. The script tells you of the order of events, the exact wording of the dialogue and so on, and various fine points that can exaggerate or tweak up the idea. Scripts may (or may not) also contain notes for the artwork later.
One thing to avoid while making the script is ambiguity! For younger readers, ambiguity means uncertainty of meaning. If your comic is ambiguous, the readers might be confused by it. Tips:
Never have a character's speech trail off, or get cut off by another character's speech unless it is /very/ obvious what the character was about to say.
Small amounts of text outside speech bubbles can be used, but I only recommend you do so to set the scene. Example: There are two boxes of text here, "the deserted tomb of Geraptiku," and later, "It's a trap!!". But be very, very careful when you use text to compensate for vague graphics. Having labels attached to objects you can't draw well are huge no-nos, unless you absolutely can't do it any other way (and that includes drawing a different, more easily recognisable object). I made this mistake once, in one of my collabs with Hakuryu_86, The Gallion Ranch.
This isn't very much to do with the script, but never never never have speech bubbles that are said in any order other than left to right. You might even want to flip the frame around if the person on the right speaks before the person on the left! Alternatively, have the second speech bubble directly underneath the other one.
Also while you're writing your comic, please, please, PLEASE do everything thing you can to make sure it's spelled right. It's utterly painful to read a comic and notice a spelling or grammar mistake.
I admit I've misspelled something in a comic (spelled 'attaaaaaack' with only one 't'), and most people should know some basics of spelling or have a nice spellcheck, but I just wanted to point it out. More common mistakes are the ones that involve punctuation.
Another thing you need to think about while writing a script is the order of events. Flashbacks, or simple references to past events in the pet's speech, can move parts of the story off-screen. This is most useful if your comic involves a small amount of... people getting hurt. You don't want to draw people actually hurting each other, but you want to let your readers know that it had happened.
Writing dialogue is often very hard because the words must be simple, to-the-point, and have a somewhat natural flow. It's a good thing to read aloud what your characters are saying to try and detect where the phrasing is awkward or uncomfortable. And don't be afraid of rewriting the entire script in order to make the speech more natural-sounding for the characters ;)
Try to cut down on unnecessary speech, which slows the reading speed. Viewers hate it when that speed goes too slow, like in those terribly dull sequences when Neopet#1 says something along the lines of, "let's go to the shops" and Neopet#2 replies, "OK", and we have to wait for the comic to actually start. There's no reason why you couldn't just start AT the shops, maybe with a text box above saying "at the shops" if you think readers need it, and then we wouldn't need to put up with the line of utterly uninteresting small-talk. Not that small-talk is necessarily bad, of course.
Lastly, there are the footnotes. There seems to be some sort of obsession amongst new writers. I keep seeing obnoxious notes at the bottom of comics that say, "PS: If you are reading this I made it into the times", as if I hadn't worked that out by then. The next worst are the ones that read "Disclaimer: no pets were harmed in the making of this comic.". Seriously, that line may have been funny at the times of WAR OF MERIDELL - 300 BN, but... ah, maybe it's best I don't finish that sentence. Anyway, 99% of the time footnotes are completely unnecessary, and they detract attention away from the comic itself. You should only have a footnote if you absolutely feel the need to.
And if you want to make it clear to your readers that you're happy you got in, why not just put it on your userlookup? At least there you can edit it. Put a note on a comic, and it stays there for eternity!
TNT have their own explanation of how to put an idea into words, which is hopefully better than mine. If Droplet didn't get your joke, she'll "drop" you a neomail (ahahaha... my bad puns) through theneopetsteam, which will say:
Your Neopian Times submission ([Comic name here]) was rejected because the editor did not understand your joke. Try to understand the basics of setting up a joke. That is to say, begin with a premise, provide statements that build upon the premise, and then finish off with a punchline that is consistent with the premise of your joke. Please try not to use any coarse, rude, or insulting language which others might find offensive.
This particular formula has been around almost since the start of the real world's "newspaper gag strip". Premise is another word for idea, by the way. So, the first panel will set the scene and give a hint to what the character is doing/will do. Then there might be a couple frames in between the first and the last, to smooth the transition. The last frame is a result, usually unexpected, of the character's actions. It also contains the punchline, which you should try to keep short and to the point (too many words slow down the reading pace, and might even bore the reader).
---
So, you've got your idea, you've written your script, what now?
The artwork is the very first thing that your audience will notice about your comic. And, as they say, first impressions can be vital, so although I don't reckon the artwork is /quite/ as important as the idea or script (the real meat and bones of a comic), it's important that you can make full use of the visuals to deliver just that extra punch to the punchline.
There are many ways to go about drawing your comic... coloured pencil, ms paint, photoshop, watercolour, just to name a few. The top priority is that your characters express their emotions accurately - so, it's more of a matter of personal choice. Me, I like clean crisp lines to keep things simple. I don't like coloured pencils as I feel the fine textures and beautiful subtle tones slow down the reading speed, but hey, each to his or her own.
The only thing I would strongly advise against, however, is using photos of plushies to illustrate your comic. Plushies aren't terribly good at showing emotion, so it's a lot harder for the reader to work out what exactly is going on (!!).
You should also be mindful of the fads and crazes - I remember at one point, every third comic published had this particular annoying text effect in it:
The audience got pretty sick of it in the end. Interestingly, though, that text effect was actually pretty effective when used properly... it was just bad when used in increasingly humdrum situations. And that's another skill too, to know when enough expressiveness is enough, and not to overdo it.
But for now, here are some general drawing tips for all you artists out there.
Contents:
Some sample facial expresssions
I'm providing you all with some simple reference material in case you ever get stuck trying to express certain emotions in your characters. Feel free to use these as heavy reference; they are only meant to help you learn.
Of course these studies do not represent the full length and breadth of emotions that humans are capable of feeling, as you'd need thousands upon thousands of drawings to come close, but they're a start, yes. :3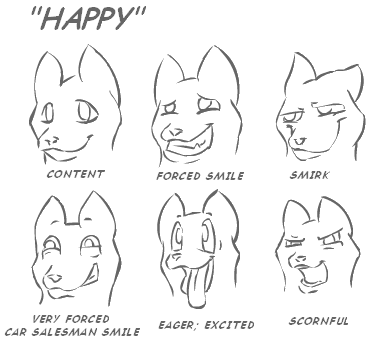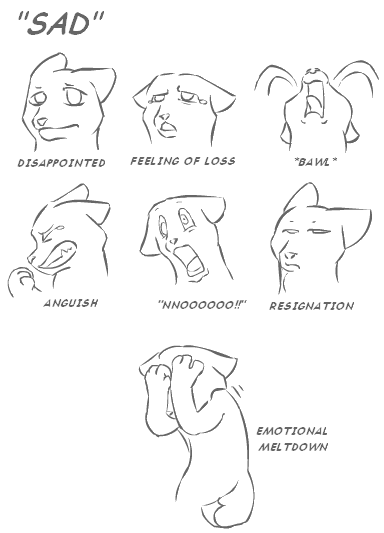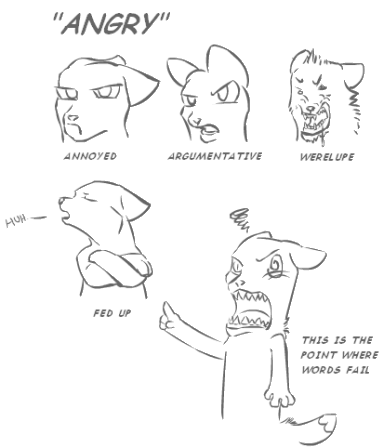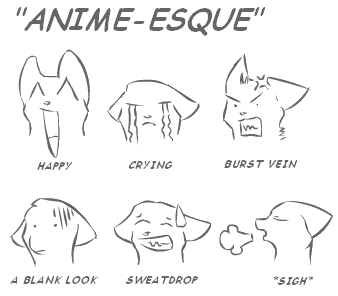 Tips for drawing Hands + arms
Speech bubbles in MS Paint
The simplest thing to do would be to draw your speech bubbles free hand, and hand-letter your dialogue. The downside is that many of us mortals have terrible handwriting and/or are inept at drawing a smooth, non-wobbly oval D: So it's useful to know the alternatives, especially if your comic involves a lot of words.
Speech bubbles with Layers
Tired of having speech bubbles that are all pixelly around the edges? Well if you've got passing knowledge in any semi-decent drawing program like Photoshop or Jasc Paint Shop Pro (any that allows layers) you'll be able to make smooth, seamless speech bubbles pretty easily. Because this tutorial is so basic, I will not be making separate ones for PSP, Photoshop, and so on.
Creating a thumbnail image
Do you find it tricky to reach that exact 150x150 thumbnail size required by the Neopian times? Frustrated about getting a preselected image for your thumbnail instead? Well stress no more.
This tutorial got so dated that I've removed it. I'm now working on a tutorial (for Photoshop) that actually reflects the methods I use at the moment. In the mean time, why not take a look at Komori's lovely How-I-Do-It-All tutorial.




Alas, not everyone has a scanner, and many may only have a digital camera as a substitute. Sometimes even people who DO have scanners will need to resort to a camera now and then, as most scanners are only large enough for A4 pages, and paintings and so on will need to be photographed.
Of course cameras are prone to making blurry, grainy, dimly lit and badly aligned pictures, but there are a number of things we can do to prevent that.
Number one: Don't take your photos at night - daylight is an average of twenty times stronger than lightbulbs. And the more ambient light you have, the better; it means that the camera can have a shorter exposure time (less camera-shake) and a smaller aperture (greater depth-of-field).
Just make sure you place your artwork somewhere where it isn't being directly hit by blinding rays of sunlight - that has a tendency to wash out the colours.

Once you've found a place that's got suitable lighting, find some way of propping your artwork up vertically. If it's vertical, the camera won't cast its own shadow down on to it. What I like to do is bluetack the piece of paper halfway up a wall :P Be as creative as you like.
Next, set up your camera on a tripod, or a chair, a piece of furniture, or some object that you can lean against to minimise the camera-shake. Not that there'll be much, if you've got enough light, but hey.

Then take as much time as you can to make sure the whole setup is perfectly aligned. Move your camera so it's as close as it can be to the artwork without cropping off any corners. Then make sure the image of the artwork on your camera's display screen is perfectly vertical and the edges line up well. Often the camera will be looking down from above or looking up from below, and this makes one end of the artwork look slightly bigger than the other (perspective, remember). So adjust the height of the camera/artwork too.
Oh, and before I forget, make sure your camera's set to the highest quality and maximum resolution it's capable of. Detail's important.
Now you can take the picture. Best to take a several, actually, so you can choose the one that had the best alignment or detail.
Well, in some ways it's still not as good as a scanner, but *shrugs* you'll have to agree that there isn't much choice not to :P
---
Has been removed to motivate me to find a way to make the text more readable.
---
There are a number of reasons why you would want to try an establish a series, as opposed to having just random comics with all different names and characters in them. For one thing, comics are more easily recognised as "yours" once they've got a recurring title and characters, and few things in Neopia quite as rewarding (or ego-inflating, depending on how you view it) as getting what basically amounts to a fan base.
Or you may have tried your hand at a couple of comics, you're confident that you could make more, but you're just plain tired of making new titles and/or characters each time. Or you may just be insane and want to participate in the insanity of the NT in a more efficiently insane way.
*rubs wings together* So! Where to start?
I don't want to discourage you of course, but my first lot of advice to you is this: Many comic series end prematurely because the author overcommitted too early. (This is especially true for the serious "plot comics".)
Comics really shouldn't be forced. It would be better for you not to write a comic at all if the only ideas you have aren't really working well. Making poor-quality comics just for the sake of your duty to keep your series alive hardly ever turns out well in the end.
So darlings, don't promise yourself that you'll have a comic in the NT every single week for 20 weeks, for example. If I had a dollar for every time I saw someone with an ambitious idea biting off more than they can chew, and then giving up way too early just because of it, well, I'd have about ten dollars. But that's a lot, anyway.
To get people to start to recognise your comics, the first step tends to be character design. Let me stress first off that character design in comics ought to be kept relatively simple. While the BC tends to reward you the more lavish you are with character design, whacky wing shapes, body markings, beautiful clothing design, interesting base colours etc., in comic making it's really your ideas and dedication that set you apart, not so much the fine details of artwork.
It's quite suprising how much an overly complex character design can slow you down when you're drawing. And you don't want to have to spend an excessively long time just drawing the unnecessary markings and thingamabobs, or you may find it hard to motivate yourself to make the next comic with that pet. You're probably best off just drawing your characters with few adornments but in your own style (or any sort of style you'd be comfortable with).
See, a common problem that happens when you try to draw the pet in a style you aren't quite familiar with yet, is that every time you redraw it, it tends to look very different. You'll need to draw the character a number of times, over and over, experimenting with different proportions and face shapes as much as you can until it fits well enough, and matches the character.
It's a bit hard to make out, but here are a few old (old, as in... from 2006) sketches of Cuniculepus before I'd finalised his design, and a picture of his current look for comparison. He went through several interesting stages of walking on four legs and wearing a top hat.
(There were quite a lot more, but I can't find them, and they've probably been thrown out by now

)
However, even after you've settled on a design, you shouldn't expect your character to look exactly the same forever - embrace a little change over time, which usually improves the design bit by bit.
The name of a comic series is best when it reflects something about the series itself. Some people like names that are puns or neopets-ified versions of real life sayings (eg. And The Meepits Outgrabe), some like having a playfully random title (like Flapdoodle), and others name it after their passions (Hakuryu_86 is the hugest fan of gallions, and that's how our series came to be known as The Gallion Ranch).
Still others have nice, simple titles that basically tell the reader exactly what the series is about (Evil Feepit, for instance), without needing any extra little frills or accesories. It is only a name, after all, and if it's catchy, it'll have served its purpose. You could even name your series just after the setting (like Spooky) or after one of the pets in it (Razzle Dazzle) or after your username (One Fish, Two Fish, and my own series Land of Pacman, though I don't personally like that name much lol).
There are some things to avoid while naming your series, though. For example, you don't want to overuse the word "insane", and having a name that's just way too random and unrelated can be distracting.
Most comic series don't have an ongoing plotline; it's much less complicated if your series is just a collection of Neopia-related jokes. Every so often you could have a short story arc spanning 3-4 chapters, but the beauty of a comic series in this style is that each comic can stand by itself and be understood by a new reader without them needing to read all the comics leading up to it.
It's very difficult to write totally serious plot comics and have them accepted (not that there hasn't been any; the Shoyru Squadron is the best example). Without the device of humour, it can be very hard to capture the reader's attention. The plotline becomes king. That's why, just like if you were to write a serious novel, it's essential to plan the plot (all the way to the end) before you even start drawing the first "episode".
It's also recommended that you finish all or most of the comics in your plot series before you start submitting the first episodes to the NT, since when you think about it, these comics are really meant to be part of a group, and you'll want the story to be consistent all the way through. If you later finished the ending chapters and suddenly realised that you wanted to go back and edit the opening... well, it wouldn't be possible if the opening sequence was already published in the NT ;)
Finishing the entire series before submitting the comics is also like a sort of insurance policy; if for whatever reason you don't get to finish it (time is so precious), then at least you haven't disappointed any fans with a cliffhanger.
Plot comics take a lot of time, skill, and patience. But if you can manage to pull it off, the results will be a powerful story indeed.
---
Q: Who is Droplet?
A: She's the current editor of The Neopian Times. She's awesome :3 I don't like referring to her as the all-inclusive "TNT", since Droplet is such a nicer name compared to the three letter acronym that everyone yells when something seems to go wrong on the site. Yay!
Q: How long does it take for a comic to get published?
A: About a month, generally, but it can take longer too.
Q: How and when does TNT notify you if you are chosen?
A: The first response you get will be either a "Held Over" or a "Rejection" neomail. These are typically sent out two weeks after you've submitted your comic. Then a week or two later you will get an "Accepted" neomail, and your trophy will be added to your userlookup at that time. The "Accepted" response means that your comic will be in the very next Neopian Times issue. If your comic appears in a special issue which gives out a prize of some sort, such as the Christmas issue, then on either the day the NT comes out or the day before, you will get a courtesy neomail informing you that you have been given a prize. At the same time, the prize will appear in your inventory.
Q: What happens if TNT rejects a comic?
A: Droplet will send you a neomail saying:
Don't worry too much if you get this in a neomail; "Too Many Good Entries" usually means what it says. You should probably resubmit your comic. Alternatively, you might be neomailed the "Did Not Understand Your Joke" neomail, in which case you will need to either edit your comic to make it more understandable, or give it up and start over with a new comic:
Q: How do I make sure that my entry gets in for a special issue like Fyora Day or Christmas?
A: Many people do get into these issues purely by accident, and what a wonderful accident that is! But for best results, you should make a submission that is themed to the special issue. Then when you submit, it's best to either put in the title or in the comments box, ((for Fyora Day issue)) or ((for Christmas issue)) or whatever is appropriate to the issue so Droplet will know what it's for and will hold on to it until it's time to put it into the special issue.
Q: How long should I submit before a special issue?
A: One month is usually the most reasonable time. Three weeks is still okay. Less than two weeks is a bit of a rush. But sometimes even absolute last-minute submissions do get in. And you can submit even earlier than a month in advance so long as the time interval doesn't overlap on another special issue (like, don't send Christmas specials before Halloween is out). As a rule of thumb, though, I aim to have my comic finished a month before the special issue, so I can submit it then.
Q: Why does [username here] have so many NT trophies? I searched the NT, and s/he has only been in the NT "x" times!
A: It might be because that person has just had an acceptance letter but the next issue hasn't come out yet. Or, that person may have sucessfully entered a series (by which I mean, a written series, though I need to check up on that), whose awards are given out all at once :)
Q: What is a collaboration?
A: A collaboration is when more than one person works on a single piece. For NT comics, it usually means that someone provides the script or idea, and another person illustrates. Provided you put it on the comic image and in your notes, both people will get the trophy. They're pretty spiffeh, great for the writers who can't draw and the artists who can't write. BUT please don't request for me to be your collab partner; at the moment I have barely enough time to even make my own comics, let alone anyone else's.
Q: I got an acceptance letter (and trophy), but my collab partner didn't! Did Droplet make a mistake?
A: Don't worry, this is completely normal. The person who submits will get all the usual responses from theneopetsteam, but the collab partner will have to wait until it gets published for a trophy to be added to their lookup. If after they're published they still don't have a trophy, you'd best submit a bug report.
Q: Can I be your neofriend?
A: Actually, I just noticed something - people never seem to say "can I be your neofriend", they always say, "can YOU be my neofriend". Wierd. o_o Now onto the next question.
Q: Can you be my neofriend?
NO. But anyone can be my friend. Just not neofriend. Because. I dunno. Neofriend sounds evil. And it's a bit of a pointless list if you ask me.
Q: I submitted a comic, but I never got a reply! What should I do?
A: That happens sometimes. If you don't get a heldover or a rejection or any response in more than a month, check that your comic is saved as the right file type (gif or jpeg) within the correct file size (less than 200KB) and dimensions (width of no more than 470px). Then you should send it in again and hope for the best - it might be that the editor just forgot, or didn't see your comic, or the submission form had a glitch or something.
Q: What is the NTWF?
A: Neopian Times Writers Forum :D It's a forum dedicated to the Neopian Timers and their writers, if you haven't already guessed. It's the birthplace of the white weewoo mascot and the mother of Chet Flash, the cooking pot of April Fools pranks and overall just a great place where all our creative minds can come together. I luff that place to bits.
Q: Can you do the drawings for my comic, and I'll do the plot?
A: I've already sort of answered this question above, but I'll answer it again. No, because I procrastinate enough with trying to get my own comics done, let alone other peoples'. xD
Q: Do you have an idea or plot I can draw?
A: I get this question less often than the one above, but the answer is still no.
Q: I don't have Jasc PSP7 can I still make comics?
A: I'm suprised how often I get this question o_o Um, YES. You can make comics with ANYTHING. The PSP7 tutorial is just my way of making a comic (well it was, I use photoshop nowadays), and you can completely ignore it if you want, and use whatever programs or materials or methods suits you.
So go nuts.
Q: I don't have anything to draw with because my parents don't like spending money. And I don't have a scanner or digital camera.
Either bug them to invest a little money on art supplies for you, or else you'll just have to make do with the free stuff.
MS paint comes free with every Microsoft computer. Go start-programs-acessories-paint. And it's actually not too bad, just as long as you're willing to spend a bit of time practising to get your mouse to draw a nice, controlled, non-wobbly line.
Here's a good guide for using MS paint.
Oekakis are free, too. They're basically websites where people draw (with the provided drawing programs) and post comments on each others' pictures. I'm not allowed to link outside of neopets, though, so you'll need to search for an Oekaki yourself.
There are also a number of programs available for free, including the popular-among-anime-artists Open Canvas, and others like Gimp. Again, though, I'm not allowed to link outside of Neopets, so you'll need to be responsible for searching for the stuff yourself.
Q: If H33lix is a boy, why is his petpage in pink? ._.
A: 0_____________0
...
...
...because it's a useful colour between red and white...?
Q: I have a question that's not above.
A: Then don't hesitate to neomail me @Pacmanite!
You could even just neomail me if you want advice on anything comic-related. I won't bite. But you may have to wait a little; I'm not online much any more :)
---
What better way to learn more about comics than to sit down and read them! I've said this before, but I'll say it again: it is very much worth your while to have a flick through the Neopian Times and read the comic section for the week. You can gain valuable inspiration and get a feel for what strategies people have used to set up their joke and how well it worked.
So, to further encourage you all to read some comics, I have here a collection of short reviews I've written about some amusing comics I've read. This section started life as a comic awards page, but now it's better managed as a bunch of reviews about nice comics I liked.
But as a simple gesture of thanks, I will continue to hand out a cute graphic in the shape of a Golden Gallion just to thank these comic authors for letting me write up about their comic here. It looks something like this:
Anyway, have a great time reading these lovely comics. I review any comic I fancy, so maybe you'll find something you enjoy here too.
Note: To view more comics by these authors, follow the link at the bottom of each entry to their userlookup and then click on their NT trophy. It looks like a golden quill.
Also, on the topic of gratitude, I'd really like to thank you - yes, you! - for reading this page. If you've come to this page and you like anything to do with comics, then good for you, have an Jade Meepit or Weewoo. Put them wherever you like; in your shop description, on your petpage, your userlookup, petlookup, gallery, anywhere!
---
Did you find this petpage useful? Willing to do me a favour? Or do you just like staring at things that blink? Here are buttons you can use to link me back.
---
If you have a comic tutorial, guide, handy tips page, comic artwork tutorial, or anything of the sort even remotely related to the NT or humour, neomail me @Pacmanite and I'll link to it here! I'd like you to put a link to my comic guide on yours as well.
Other petpages by Pacmanite: