| account | customize | games | explore | news | central | boards | shops | mall |
---

Welcome!
Hey! It's me Goofbally welcome to my place.
Lia made this for me so you would get a chance to get to know me better.
What a privilege, right? heheh This is all her work and creativity
so don't steal anything or I'll hunt you down and... Guess the rest (:
About me
Hi guest! I'm Goofbally.
As a vigilante, I came to Lia's neofamily due to an application,
since her laboratory tends to not agree with her.
Okay, here's some quick stats about me: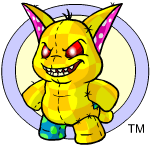 Name: Goof-ball-e;
Likes: MSPP avatar!;
Life goal: To rule the world;
Favourite book: Poogle Profile;
Dislikes: People with no honour;
Petpet: MSPP the Snowbunny;
Quote: Don't look behind you...
Favourites: Comics, toys and games;
TV Show: House M.D. and C.S.I.;
Occupation: To protect.

- I was born at 3pm on 21st of April 2000

Stats

I'm 114674 hours old and a level 23 pet. Hit Points: 40 / 25
Strength: 27
Defence: 29
Movement: 33
Intelligence: 165

Never!!!
As you must know already, TNT has made HUGE changes on the Neopets design.
But, I will never, I repeat, never be like that!!
I'm an old school pet so me and my siblings will remain that way.
I like standing up! :K
MSPP F.A.Q.
Wow!! Can I have a MSP Poogle?
Well, it's quite hard. The only way to have one is from a lucky zap in the pet laboratory;

or
- By adopting one at the Neopets pound;


How can I get this avatar?

By having in your inventory a Malevolent Sentient Poogle Plushie (TCG).

Personna
Most people like MSP Poogles because of their dark and nasty side. But I am complex. Part Plushie, part dark as well. I don't know if you are following me. I'll make it simpler (lol), I can be the best friend you'll ever have. I'm extremely close to my friends, absolutely love to hang out, play a lot and tease everybody with my smart ways. (Did I mention I have the best intelligence you've seen on a Neopet?) But sometimes, I can be a bit of a irony and sarcasm lover, and use my cleverness to manipulate people into doing all I want. My life goal is to rule the world so, I'll need both my personality characteristics to do so. My relationship with others is very bad at first. People tend to be afraid of me, the reason being weird stories are told about MSP Poogles, that we have hidden powers, and a lot more brain activity... Between me and you, we know they're right ;).

A vigilante is someone who takes enforcement of law or moral code into his own hands. The term vigilante stems from the name "Vigiles Urbani" given to the night watchmen of Ancient Rome who were tasked with fighting fires and keeping a lookout for runaway slaves and burglars. In modern Western society, the term is frequently applied to those citizens who "take the law into their own hands," meting out "frontier justice" when they perceive that the actions of established authorities are insufficient. Vigilantism is sometimes vilified when it gives way to criminal behaviour on the part of the vigilante." taken from Wikipedia

Being a Malevolent Sentinel (or Sentient) Poogle Plushie, I'm not your average Neopet. I'm malicious and hostile in the fact that I don't like certain Neopians, but I have very good reasons to. I have a vigilante and aware attitude where my sentinel aspects come out, because I use my malevolent ways to avenge and protect Neopets that cannot do this for themselves. For starters, I have the potential to ruin your Neopian life. Forever. With just one visit, I can change everything. Of course, you probably don't need a visit from me. Hopefully, anyway. You should really hope that you do not deserve anything like that. Deserving as being unfit to be an actual owner. I don't just visit your average Neopian. I only visit those that really deserve my time. And when I do...you could say it turns out to be quite a memorable event, often engrained forever in the host's mind, positively or not. I am also the keeper of dreams, the creator of nightmares. I am the voice in the back of your mind that questions those things that go through your head when you least expect.
Fan Art

- my very own adoptable

- Heeeere MSPP, don't be afraid
Check out this pic from my buddy, King Mikey!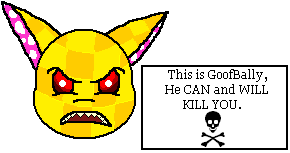 Pictures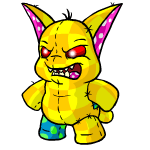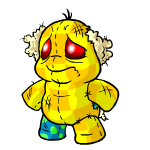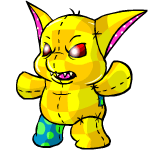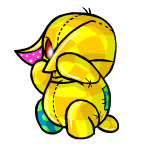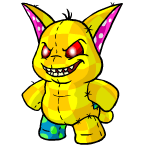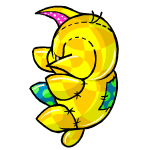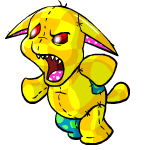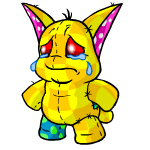 Role-Playing
She walked away from the gigantic, mouldy and dark factory with shame in her eyes. Shame and humiliation were little compared to what she was feeling. But at least she got something only a third of the population had: work.

Ten years had gone by, and Lia now had a little boy to look after. She still worked at the Factory, and crisis was felt in the population now more than ever. The Factory's owner, Cornelius Kind, was a tyrant; don't get fooled by his last name. The Factory produced about everything a town needs: food, household goods and construction, clothes, kid's toy's and school supplies, you name it. But with the highest infatuated prices you've ever seen. And it didn't help that Mr. Kind was this town's Mayor.

Everyday had the same routine for Lia and her little boy Johnny; he attended school all day, while Lia worked at the Toys section of the Factory as a Plushie Maker. She picked him up by the time the sun went down, and they headed home. Normally Johnny, on their way home talks about his day, his friends or stuff he had learned. But, for a few weeks now, the subject of all his energy and vitality as a Plushie Poogle he had seen on the Toy Store. Lia couldn't afford that toy; it was one of the most expensive kinds: a Neopet. Here Neopets were made at the Factory and sold at stores, later to be bought at a really high price and given a soul by the Soul Faerie.

- Please Mother! My Birthday is coming, and I want that Plushie so much!
- I already told you, mommy can't buy you the toy, when you'll get older, you'll understand, it's just too expensive. I would have to work triple for a year to pay it.
- You can get one at your work! Yes, bring one home from the Factory mommy!
- Johnny! Enough with this. I already explained to you I can't bring anything home, I would get arrested and worst, lose my job.

The child was pretty upset, he didn't understand, he was too young to realize all the sacrifices his mother had gone trough. But Lia, later that night started thinking.

- I can't bring a Plushie home, but I can make one right here. All I have to do is buy the fabrics, which are expensive but not nearly as much as the actual thing.

The next day, after work and picking up Johnny from school she got right to it. She had an old sewing machine that had belong to her dear grandmother, the fabrics she had bought and the skills she had learned trough years of making toys at the Factory. Two weeks passed and the Plushie was still not nearly done, although Lia worked on it everyday and something most of the night. She had a friend, Betty whom also worked at the Factory and decided to ask for her help. Betty was the best Plushie maker and three days later it was done. Johnny couldn't believe it! His wish came true, he had the Plushie he wanted, perfect and exactly like they showed on the toy store. There was only one thing left, to bless the Neopet with a soul.

The next day, Lia took the neopet to Faerie Lake, where all the Faeries got together, their place of wisdom. Soul Faerie blessed the Plushie, gave it a name, as usual, and said something strange for this event: this Neopet was born to be special. Johnny couldn't stop playing with Goofbally, they became best friends and Goofbally became Johnnys' protector, knowing him like no one else.

Several months due and the town crisis had poorly got better. Worst than hard news had come upon Lia's household: Betty had been fired. Lia rushed to her house taking Johnny and Goofbally along, to support her friend.

- Cornelius Kind can't do this! You are his best employee, why??
- He asked me something I could not and in no way do: to help him do next years' inventory. At late hours of the night! I am a wife and a mother! I could not take part in his sick games! You understand me Lia, don't you?

Goofbally stopped playing with Johnny at this point and listened carefully to their conversation. Lia had something to say to Betty, she hadn't told a soul:

- When Mr. Kind made my interview to work for him at the Factory, he also asked me to do that. I knew what he wanted, but I needed this job so much... I went. And I have Johnny to remember me of that night forever.
- Oh my God Lia! Johnny is Mr. Kinds' sun?
- Yes. I love my child; he's the best thing I've got. He has no fault in having the worst men alive as a father.

That night actions were to be made. Goofbally had waited his short life to learn his purpose in life, and now he knew.

The rain and cold outside made no difference in Mr. Kinds' spirit. He was working on his home office. Suddenly he hears steps. He asks who is there, and calls his servants. No one could help him now.

- Your kingdom of hell has come to an end.
- Who is this?!
- I am a Silent Vigilante. My name is not important. All that matters is my vendetta.
- You are a Neopet? What the hell do you want with me? Go play with your owner!

Goofbally walked up to Cornelius. Said a few words that can not be translated for they are ancient.

- Oh my God, please help me! Please!

The visit ended. Next day Mr. Kind was founded on his home office, he had suffered a massive heart attack, but first he had rewritten his Will. It said:

To whom it matters, I apologise for all the hurt I have caused on this beautiful town. I have a sun, Johnny, sun of Lia Ivy, to who I leave everything I own for him to use as he sees fit. As my Factory headmaster I nominate Betty Love, who I know will continue her excellent work. To this town, I have nothing else to say, but that I am ashamed of the work I have carried out as Governor, and plead to you to vote, in an democratic way, for the next one."

No one was certain where Goofbally had been all night, but they all knew.
FIM.
Customization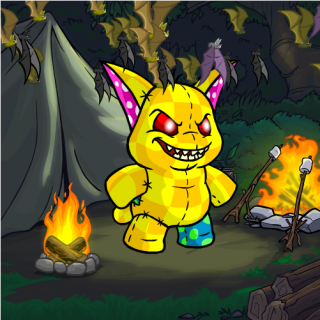 Links

Goofbally's listed in the following places:

Bye

Well, time to say goodbye. I hope you liked learning a couple of things about me.
You can also view my caretaker's main account:

Return to my petlookup | Visit my caretaker's account

Bye!
---
by kissamus © 2011
theft is silently reported