| | |
| --- | --- |
| | Hello, and welcome to GEARS! GEARS stands for Greatness Evolves Around Red-Hot Sincerity, and that's exactly what we strive to do! Ran by A Secret Group of Minions, GEARS supports Moltara no matter what. However, GEARS is a bit different than your average AC Chat group... Yes! GEARS was not just made from 1 or 2 groups; GEARS was formed from 5, yes, five different Moltarian AC Chat Groups! We formed with the help of STEAM, MGMA, MAGMA, and STOMP. And even better, we also had a Brazilian group, Moltarocks join us at a later point. All of these groups were small, so that's why GEARS was founded. When we all join together, we make a force so strong, we'll wipe out all of the AC! We may all be just one gear, but when we all work together (Teamwork; you knew this was coming!) , we power Team Moltara to the top. You know that we will eventually get the gold, so let's get started! |
Saturday, May 11th, 2013
Well... it's that time of year again, when the Altador Cup nears the end of the offseason! Welcome back to every Moltarian! It's so great to see every Gearhead back and chatting on Gears once again.
Last year we had #MtRecovery2k12, and this year, we have #MeetorBeat2k13! Make sure to check out the page and sign up for mailers if you plan on playing for Moltara!
Moltara is very upset to see our goalie, Mor Gollog, leave our ranks for Tyrannia. We hope that he enjoys playing for Team Tyrannia. The 'Mor Gollog' award from Gearoes last year will remain in honor of our first and former goalie.
Moltara welcomes Harlis Neyhbol as our new goalie. Thank you for filling in as our goalie!
The Altador Cup VIII is two weeks away! Time to get pumped!


... for a better Moltara, of course. :)
1. If you don't think you can reach the goal for a certain game, don't play that game.
The Altador Cup is based on averages. This means that they take everybody's scores in a game, add them up, and divide it by the amount of scores they have. If you do not play a single game of Yooyuball, for example, TNT will not count your YYB score of 0 when they determine the average. However, if you play 1, 2, or 3 games, your score will be counted. As you've probably learned from math class, if you add a 1 to a database of 100+ good scores, the average will drop drastically.

Long story short, not playing a single game for a day will not hurt our team. Playing a few amount of games will.

2. It's easier to focus on one to two games daily than all 4 games.
This kind of goes along with Tip #1, but have you ever noticed that, when you focus on one game, you end up playing a LOT of that one game? Because we want Moltara to get out of last place, our expectations will be higher than normal. When playing games for a day, choose ONE OR TWO games to focus on. If you max out in those 1 or 2 games, THEN move on to another game (Only if you think you can play a LOT of that game, though!) .

3. The scores on our GEARS board isn't accurate. The scores on the other team's boards aren't accurate. Don't use them for "comparison" on how well we're doing.
Kinda self explanatory. Not every single Moltarian on our team chats on our board, and not every member on the other team is on the other team's board. Not every single point we score is posted. Sometimes, fake scores are posted. This equals a non-accurate score on our board. Our scoring is simply for motivation, which means that it shouldn't be used to see if we're beating the other team or not.

3.5. Please don't post fake scores on our board!
Going along with Tip #3, our scoring is for motivation. How motivating is it to see a bunch of fake scores? Please don't post these fake scores. They don't intimidate the other team, or make us stronger, or do anything except for bring the negative affect of making us seem better than we really are.

4. Please follow the Mailer!
The point of the mailer is to tell you what games to play today and what games to not play today. If we all follow the mailer, then we might actually emerge victorious for a day! Not following the mailer probably won't benefit us, so please follow it. You do want us to win, right?

5. Don't post our daily plan on the boards. Don't post a fake daily plan on the boards.
The reason we're doing mailers is because we want our plans to stay secret from the other team! Please don't post our plan on the board for ANY reason at all. If a Moltarian doesn't know today's plan, just contact Niku (frogfrog109) and let her know so she can fix the situation.

Another note: DON'T POST FAKE DAILY PLANS. EVER. THIS DOES NOT WORK. EVER. The other team isn't made of 5 year olds. If our plan is to go full force yooyuball and you say "Lol the other team would never guess we're not playing a single game of yooyuball today" , then the other team will know something's up. They'll figure, "Hey, they're going full force yooyuball! Let's do the same" , and we'll end up losing. Do NOT do this. It brings more trouble than it solves.

6. We are considered a LARGE team! If we play like a large team, then we'll become a large team!
Just because we're in 18th place doesn't mean you can slack off and do nothing. According to The Daily Neopets, Team Moltara is classified as a Large team. Do you know any other large teams? That's right, other large teams include Kreludor, Meridell, and Roo Island. These teams are all very powerful and very strong, and that's because they all work hard and play harder.

Long story short, if we all play hard, then we'll all win together! We ARE able to rise out of last place; we just have to make sure we're willing to earn it.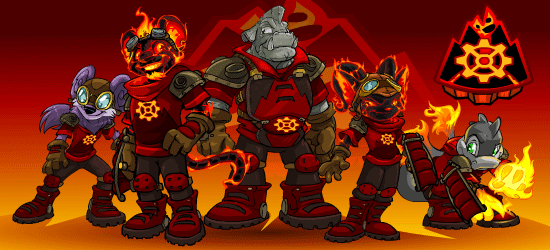 Yes.... We were the few, the young, the proud... we were the first! The GEARoes that rose from nothing, relying on the strength and energy provided by the hopes of an amazing team! Our friendship grew and we became a solid group but we had no team... Then one day the team emerged from the flickering shadows of the flame and we were led to victory by our rock-solid group and red-hot team!!
Name: Aldric Beign (Nickname Pecs)
Species: Magma Kougra
Position: Left forward (Captain)
Strengths: Scoring, Leadership
Weaknesses: Inexperience, Passing
Loved By: amezari and wenkeed02!

Name: Tulah Kisner (Nickname Ylana)
Species: Magma Acara
Position: Right Forward
Strengths: Passing, Speed, Tackling
Weaknesses: Easily Frustrated, Guarding
Loved by: alinomansan1_1!

Name: Vere Polnicek (Nickname Quads)
Species: Purple Yurble
Position: Left Defender
Strengths: Quickness, Tackling, Toughness
Weaknesses: Consistency, Hands
Loved by: Yorifia!

Name: Zax Bannet (Nickname Biceps)
Species: Fire Scorchio
Position: Right Defender
Strengths: Guarding, Stamina, Speed
Weaknesses: Craftiness, Easily fooled
Loved by: pokemaster_ultimate!

Name: Mor Gollog (Nickname Abs)
Species: Relic Moehog
Position: Goalkeeper
Strengths: Stamina, Strong Instincts, Passing
Weaknesses: Quickness, Hands
Loved by: frogfrog109!
Do you love GEARS a lot? Do you wish you could be MORE than just a "random chatter" on their boards? Well,
GOLDEN GEARS
is for you! Make sure you've chatted with GEARS for about a month or so
and
support Moltara. After that, you can click 'Join Guild'. Now you can have more fun with your crazy and awesome Moltarians!

Cope and paste what's in the textarea to use the graphic! :)