welcome to halloween in assembly

Hey guys, and welcome to Assembly's Halloween Event!
On this page, you will find a wide range of activities that you will be able to participate in for the month of October, all Halloween related.
Points, stamps and special graphic prizes will be awarded as part of this event.
Have fun!
Escape the Haunted Woods
This is a plot that members must complete before they are able to participate in the trick or treat activity.
Those who complete it will gain access to the trick or treat activity and will also be awarded 1000 guild points and a stamp
Click Here To Participate
Trick Or Treat
This is an activity which members can only participate in once they have completed the Haunted Woods Escape Plot. You will be directed to the page for this once you reach the end of the plot. The treats will range from Halloween themed gifts, guild points and graphic prizes... it is up to each Faerie's (council members) discretion as to what treats they decide to award.
Those who participate in this activity will be awarded with 500 points as well as the treats that they collect along their way from each Faerie that they visit.
1np auctions
Halloween themed 1np auctions will run from October 29th - October 31st. Check back here on October 29th for the link to the auctions.
Masquerade Ball
This is a customization activity where, you will be able to dress your pet up for Halloween but, as per the name of it the catch is that your pet must also be wearing a mask. On Halloween, council will announce the 'Best Dressed Pet' award.
To participate, please post the link to your dressed up pets petpage on our guild board on October 30th NST and then the winner will be announced at some stage on October 31st NST.
The owner of the Best Dressed Pet will be awarded 1000 guild points and their very own pet lookup for their winning pet, made to their liking! All participants will be awarded 500 guild points for participating, plus the Masquerade Ball stamp will be awarded to both the winner and all participants.
Spooky Game Challenge
14th Oct 2015 - 21st October 2015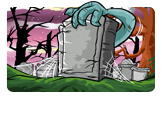 Take a screen shot (ctrl + print screen) of your high score, add it to a petpage and send me the link.
Member with the highest score will be awarded 600 guild points, all participants will be awarded 300 points.
Participation Awards
The participation award is a bonus award that members will receive for their participation in all the activities listed above. The awards will vary depending on how much participation was made by each member overall in the whole event, with all activities that they participated in combined. There will be 3 levels for this award. Level 1 is for minor participation, 2nd level is for moderate participation and third level is for extreme participation. The stamps for these will be coming soon to the 'stamps awarded' section, but for now until the stamps are up you can see how many points are given for each of these awards.
Level 1 - Pumpkin Award
200 points
Level 2 - Jack-O-Lantern Award
350 points
Level 3 - Witches Hat Award
500 points
The participation award that you are eligble for will be added to your personal score that you'll be able to find on our scores page which will be up for you to view when the event has ended.
Stamps Awarded
You can take the stamps below that apply to you once you have completed the above activities. These stamps can be displayed anywhere you wish - eg: userlookup, petpage.
Haunted Woods Escape
Once you have passed Jhudora and entered Faerieland, you may take the stamp below.




Masquerade Ball
All members who participate in the Masquerade Ball can take this stamp.




Trick or Treat
You can take this stamp if you participated in the trick or treat activity.


Scores
At the end of the event, we will have a scores page so that all members will be able to see the awards they have earned. This will include points & stamps from each activity participated in, bonus graphic prizes that may have been awarded through the Masquerade Ball or Trick or Treating as well as the Participation Awards - all will be displayed here, and points will also be added to the
rewards shop
where members can trade them in for graphics prizes if they would like to.
Credits
Layout made & coded by
Mandella
, content & stamps by
Sophie