-invalid_words-


Ok, so first things first. Perhaps you have read about the contest on the news page or maybe trough a friend, but you really have no idea what this is about? Well, Keep on reading and you will find out.



Neopets quote:
Can you draw a picture of your Neopet looking great? Well then the Beauty Contest is the place for you! Win prizes and trophies every single week by submitting a GIF or JPG image of your Neopet.



And basically this is what it is. A contest where you draw a pic of your pet(s) or alter a pic off the site (we will talk about CAP's later) and enter it to the contest; then people will vote for whatever pet they think is the best dressed (hopefully yours) and you get to win good things.


Q: HOW DO I DRAW A PIC OF MY NEOPET?

Ok, this is where many of today's technologies come on handy. You can either draw your pic on plain paper and scan it to colour it with a paint program or just draw a pic and colour it using colored pencils. Some people even have the skill to draw their pictures with a mouse or a graphics tablet, but really, the sky's the limit. If you do not have a scanner you can always take a pic using a digital camera, but this option is not my favourite since you need a very good source of light because pics end up looking yellowish and very dark so the potencial voters an not appreciate your work of art. If you really have to use a digital camera for whatever reasons, make sure you edit it using a photo editing program (like Microsoft Photo Editor).

But I can't draw a decent pic you say, well there is another option but this one is much harder because it involves editing a picture you take off the site and make it look even BETTER, I'll tell you about this in a moment.

QUOTE FROM THE BC RULES:
You can use any of the pictures from Neopets as a basis for your pet pictures, or you can create it all from scratch. If you want to use an image from the site just save it onto your computer and open it out in any paint program. Once it is open draw on the clothes, make up, hair, etc. that you want your pet to wear and then save it. If you are using a PC you can right click on any picture you see on the site to get choices for saving to your computer. If you are using a Mac, click and hold the mouse down over any picture for choices. You can find pictures of your pets on the Quick Reference Sheet in Pet Central.

Yes, the option of using a pic from the site and add a few more touch ups. But this one has many disadvantages because most people do not vote for what it's called a copy-paste image or just simply CAP. If you wish not to draw your own entries this is the option for you, but the chances of wining the contest are very low. But go ahead, give it a try just make sure the result is uber awsome.

Q: WHAT PAINT PROGRAM SHOULD I USE?

That is based on your choice and your budget. You can use MSPaint, Adobe Photoshop, Paint Shop Pro, Flash, Open Canvas... whatever paint program you can afford or feel comfortable using. Some of those paint programs have One Month Free Trials so take advantage of that and download a demo. Check it out, try it out and decide wich one you might want, but note that many of those are really expensive so either try those always handy OEKAKI programs, wich are online paint programs or save some serious money to buy your own.

Now as a side note. Please don't feel bad if your parents or you can not afford a fancy paint program! A paint program is not magic, you will not draw better if you use a the fanciest program you can find, like photoshop or PSP. This is about your drawing/colouring skills and those are not bought in a store!! You need patience and perseverance. Practice is the key to improve and make great pictures. Just use whatever paint program you have on your computer and practice on it. There is a neopets How to draw guide, look for i on the Stuff section on the yellow side bar. Or just practice on your own, but the KEY is PRACTICE. Always remember that!

Neopets only accepts two image formats, JPG or GIF, and your image must be of 17 KB or less. If you are using MS Paint you will have to use another program to save your image as one of those formats. I think some versions of MS paint allow you to save our image as a GIF or JPG, but if your version only allows you to save it as a BMP you will have to get a Photo Editing program or just ask someone to convert it for you.

If you do not trust anyone, well there is a program called IRFANVIEW and it's free. I can not post a link here, but just use a search engine to locate the page. I use Microsoft Photo Editor and I find that program handy for resizing or editing my pictures. I'm not sure if that program comes on every version of Microsoft Office tho.

Now about the image formats... GIF is an image format used for pics with very little colours on them. If your image has many many colours and effects you might have to save it as a JPG. Never save an image with many many colours as a GIF because it will look grainy!!.

Q: RESIZING YOUR IMAGE...HOW?

You need not enter a very tiny pic to lower the KB size! Never resize your image that much because all the good details will be lost for ever and ever and ever.. well, maybe not so, but a tiny thumbnail-size image never looks good! but don't enter huge giant size images either.I know the BC rules state you must enter a pic size 150 pixels by 150 pixels, but it is not necessary.

How do I fit the Kb limit?
You do not need to make your image look like a thumbnail to fit the KB limit. If you are saving it as a GIF I have no advice for you, but if you are saving it as a JPG then there is hope! ;) When you save it as a JPG a menu appears (I suppose this is a standard for all JPG menus) and there is someting like this: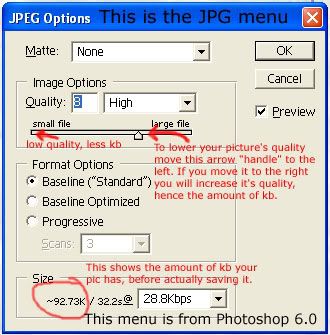 Note that little handle. If you move it to the right, your image will be on it's maximum ammount of KB, but if you move it to the left, the KB amount will lower. To the LEFT are the MINUMUM amount of kb for your image, to the RIGHT are the MAXIMUM amount of kb for your image. Move this handle until you reach the 17 KB amount.

I know many pics will look ugly and grainy when saved like this, so make sure you always add the better-version pic on your petpage so people can see the original pic and feel impressed and vote. Just make sure you state on the description that there is a better image on petpage so potential voters know about it.

If you have Photoshop there is one more option to lower your image's quality. Go to File-Save for web and guide yourself using this snapshot. The ave for Web option is much better because you have 4 different versions of your image under 4 different image qualities, so you can see how it will look before saving the final version! neat, eh??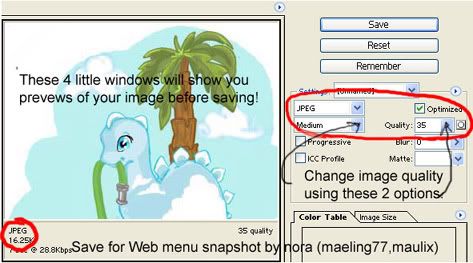 Q: HOW DO I ENTER THE CONTEST?

Once you finish your artwork and you are happy with the results AND the KB limit is fixed go to the Beauty Contest main page via Pet Central (click on the kyrii icon or on the text link).

Click on Enter Contest. You will have to upload your image so click on BROWSE and look for the image on your own hard drive. Enter a brief description of your pet, like a little bit about itself, something funny or whatever you think will attract potencial voters. Remember, the rules apply everywere so never use curse words or something prohibited by the Terms of Use!

Now click on Enter pet and you are done. Now you might or might not recieve a neomail from the CONTEST JUDGE if your pic was not accepted. If you do get it try checking on the Beauty Contest FAQ to see what's wrong with your pic and try again!

Q: I HAVE DRAWN MY PIC, I HAVE ENTERED MY PIC, NOW WHAT?

You are done, what's next? well, the next thing you need to do is to ADVERTISE your pet!

There are many ways to advertise your pet to invite people to vote for it. You can:

Go to the Beauty Contest Board and advertise your heart out!. Invent witty titles for your topic to invite potential voters in!. The Beauty Contest Chat board is a good place to advertise because there is where all the BC contestants are and so are potencial voters PLUS, you get to meet pretty nice people.You can even get votes from other boards too, bu do it quietly because making a VOTE FOR MY PET topic is considered SPAM outside the BC Board. Just try to talk to people on other boards and thank for the votes they give you. But before heading to the boards (specially the BC Board) there are some things you NEED to know:

1.- Always read the CHAT RULES before posting anything on the Chat Boards, ANY chat board.

2.- Do not spam!. Short Pointless Annoying messages will not get you votes, but rejection from other people. Try to chat with people, not just get free votes. Remember you are dealing with real people.

3.- RESPECT people's topics! Don't just go LINK HAPPY and paste your link on every single topic there is. That's SPAMMING also! Try to read people's terms before asking for votes. If the board is not a FREE VOTES BOARD don't advertise your pet there, it's rude and above all don't act like a jerk and go around saying your pet is better than the other pets in the same category who's owners are also advertising there. It's against common sense, respect and BC board etiquette.

4.- DO NOT TRADE VOTES!. Trading votes is against the rules. It is not written, yes, but it is a rule you must always remember. If you have comments/ doubts email Amanda (you can find her email address in the Beauty Contest main page). She's very very nice and always takes time to answer your mails.If you have any problems with the BC she is the one you should contact.

5.- Don't always expect votes. Yes, sad but it's true. Keep in mind some people might like your art, but some might not. Don't feel offended if someone does not vote for you, don't insult or threaten for this. Just remember we all have very different tastes and keep in mind there will be many more people who might vote for you.

6.- Always always ALWAYS be respectful towards people and their artwork. Don't bash people's artwork just because you don't like it. Never ever treat people with disrespect just because you don't like them either. I know it is hard, but you must build good diplomatic relationships. No one likes trouble makers. Always treat people the way you want to be treated.

7.- Don't forget your good manners and always thank people who vote for you.

8.- Never use stolen artwork and always report people who steal somebody elses atwork and enter it to the BC. Make sure you provide a link to the original pic and always double check to make SURE the piece is ACTUALLY stolen. False reporting can get you frozen.

9.- And never ever cheat to get votes to win!.Either by trading votes, buying votes or whatever dishonest way you can think of. Sure, we all want to win and have a trophy in our cabinet but that doesn't mean you have to step all over the other contestants to get it.



Ahem, another way to advertise is to put a picture linking to your BC entry on YOUR lookup, pet lookup or shop!. Hey,you can even use your web page to get some votes, but remember who ever votes for you this way MUST have/create a Neopets account.

There are many goo articles on how to advertise outside the BC boards, look for them in the Neopian Times. Most of them are quite old but still might work. Use the search box (upper right corner, I believe) and use keywords like beauty contest, advertising, or some other BC related words. Advertising is a powerful tool but we all have to learn how to use it. ;)


NOTE: Don't ask anyone to advertise for you and never advertise a pet that is not yours because it is against the rules. If a neofriend of yours is advertising your pet ask him/her to stop.

QUOTE FROM DESCIPTION ON BEAUTY CONTEST CHAT BOARD:
Remember, you can only advertise or start topics regarding YOUR OWN Beauty Contest entry!

This applies to having a link of your pet's entry on a neofriend's lookup, shop, neosignature, etc or viceversa.


Q: WHAT DO I WIN FROM THE BEAUTY CONTEST?

This is the good part! There are two categories to win, Overall and species. Here is what you get on each:

Overall Winners!
First Prize - 20,000 NP one rare item
Second Prize - 10,000 NP one rare item
Third Prize - 5,000 NP one rare item


Species Winners!
First Prize - 10,000 NP
Second Prize - 5,000 NP
Third Prize - 2,500 NP



You can also get a nice shiny trophy for your pet's cabinet!







first Second Third


Q: HOW OFTEN THERE IS A NEW BEAUTY CONTEST?

The BC starts every Friday at about 4:15 NEOPIAN TIME (use the yellow clock for reference) so you see it lasts for a week. If you want to enter make sure you enter right after the new BC starts, because you might miss a spot.
At 4:15 is aproxametly the time where Neopets announce the winners and how many votes your entry had.

If you happen to win FIRST PLACE either on species or overall your pet will be banned for about 4 months, this is to make sure it's fair for everyone and everyone can get a chance to win on species or overall. I rememer there was a time where certain pets would win even 5 times in a row! Good for the owner, but bad for anyone who would like to win a trophy!.