The Wit and Wisdom of the HC
So some people go there just to get a question answered. Some go to chat with friends (while answering Neo-related questions, of course xD) and to others, the HC is a home on Neopets. By helping their fellow Neopians, they help to make Neopia a better place and improve everyone's lives... and sometimes, they are just very funny people! So I have collected a few screenies of HCers chatting and helping on the HC. I hope that you enjoy them!
First, some good advice. Really good advice, in my opinion at least...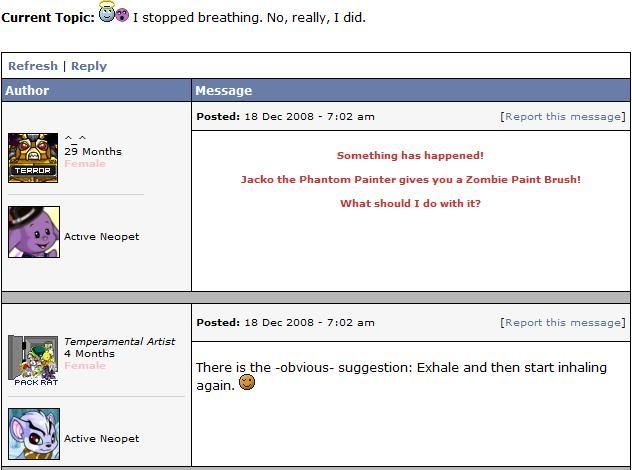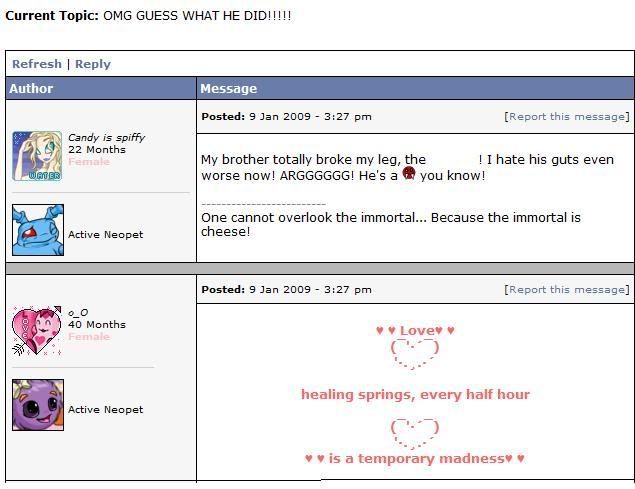 And a good HCer always has a good response to beggers, and some even think outside of Neopets now and again!

Thanks to the recent spate of lending (generally cheap) avatar items on the HC, a few boards sprung up to make fun of the lenders and lendees.


A random board about teaching Neopets to play instruments to make more NPs...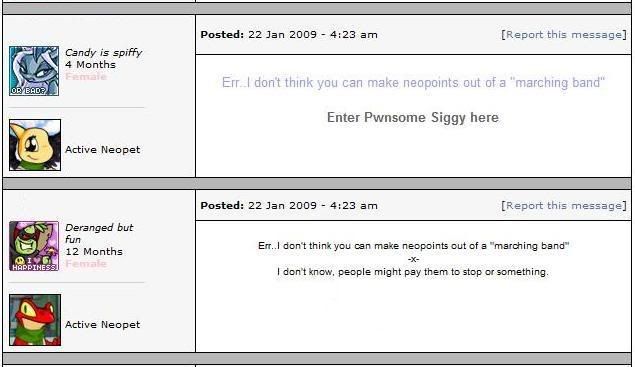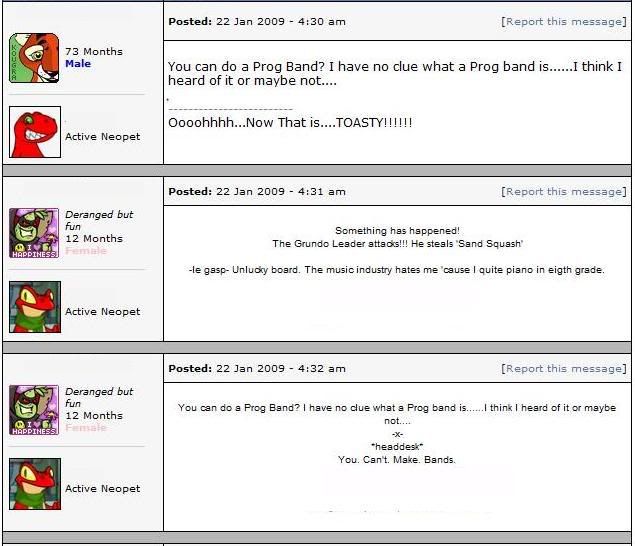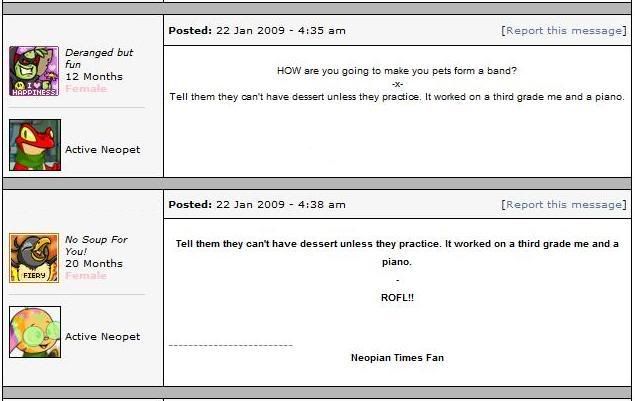 During December, a few very kind 'Secret Santas' gave random gifts to posters on the HC. But some people just wanted to know what was going on...

A quick retort!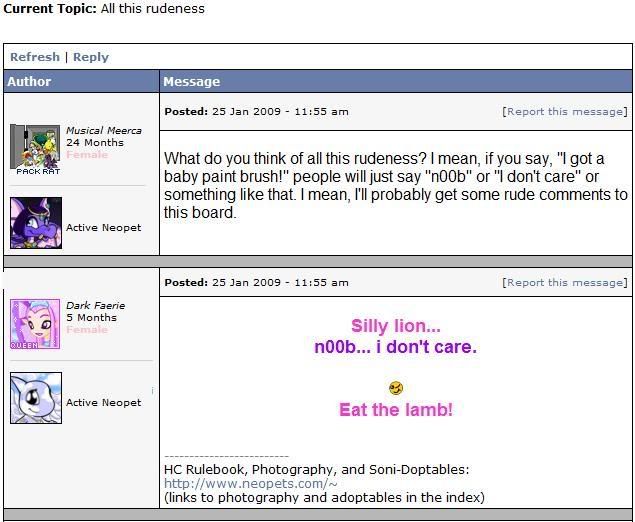 And the ever-present Head-Dog and Anti-Head-Dog groups...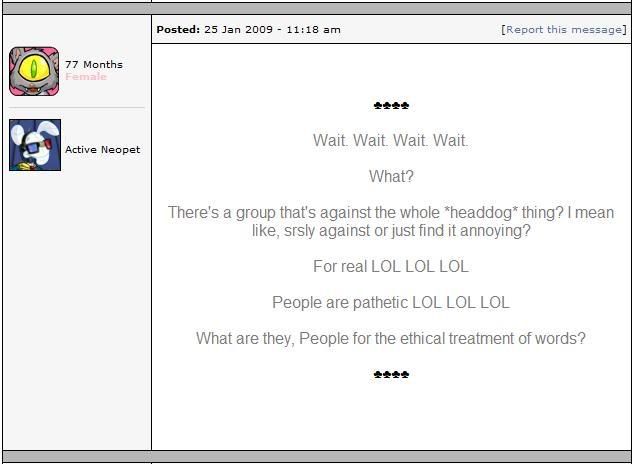 Phrase something unusually, and a range of jokes can arise. If you phrase something unusually, and it's spam, a range of jokes will arise.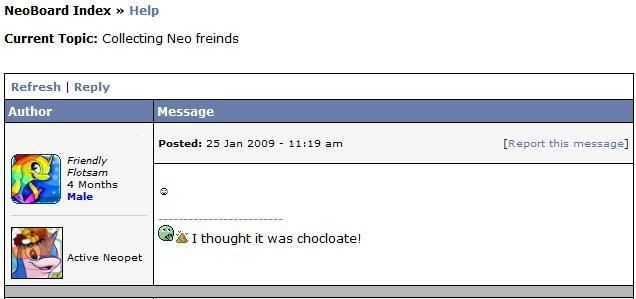 :)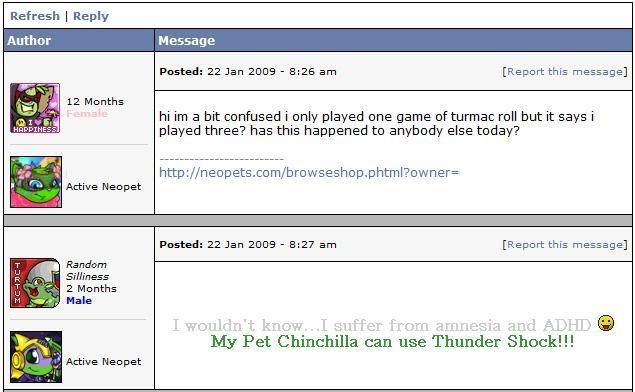 Or just a random board for HCers to chat on, and discuss what they are asked most often.
o.0 Awesome.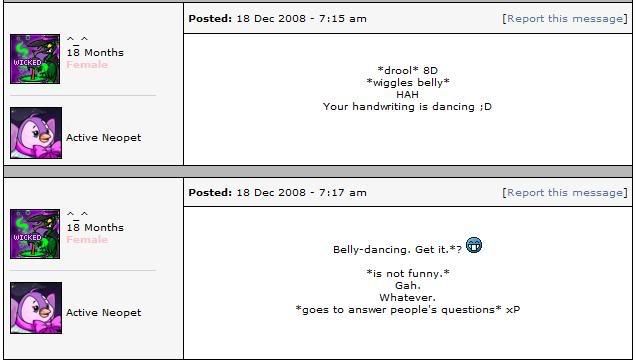 A slight typo brings pretty funny results.

A small economics lesson.
So what do you think - is Flimbon a real name?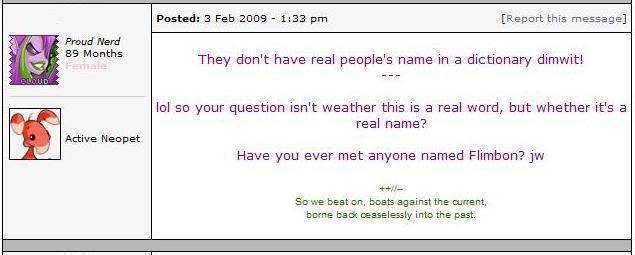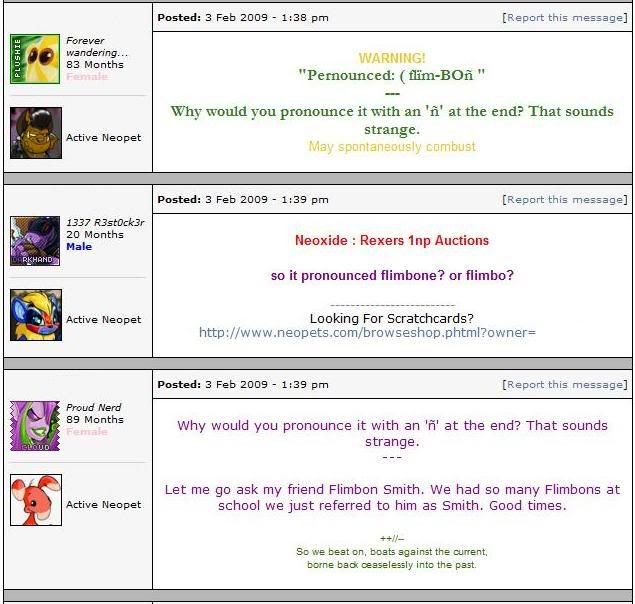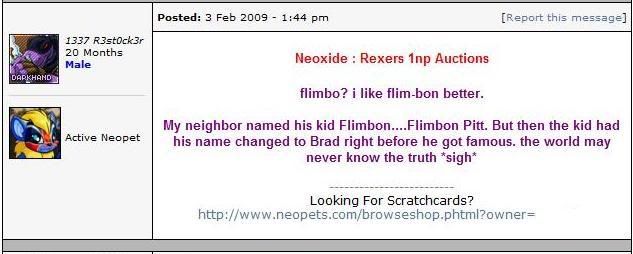 Gotta love penguins...!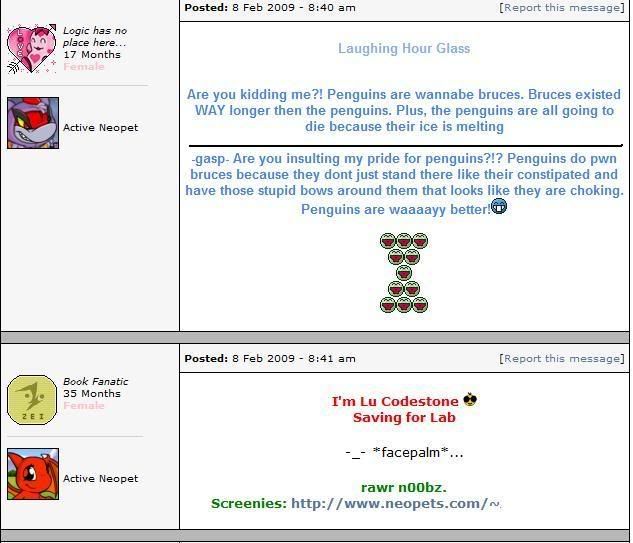 And a quick debate about Butter on a rather slow HC day!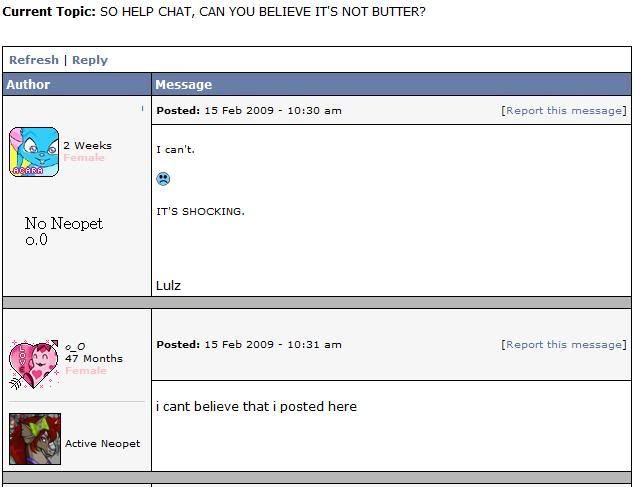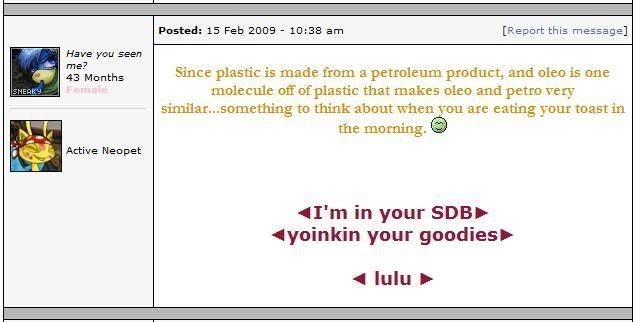 Board Titled "What would you do if you got the Bonju Avvie?"
Quick Explanation of Literacy.
After Rosie's prizes began to slowly be given out. There were loads of boards putting up theories about in what order they were going. This was one of the best...
Neopians from the US and the UK have a bit of culture shock on the boards.
Snarkie! Not on the HC, admittedly. But still.
HC Spanish.
What does Tarla bring?
I can't really introduce these next screenies, they kind of explain themselves...enjoy!
I decided to add in a couple of random site events as well, as a kind of record!
Memo - always go fishing! Sold for 800k :)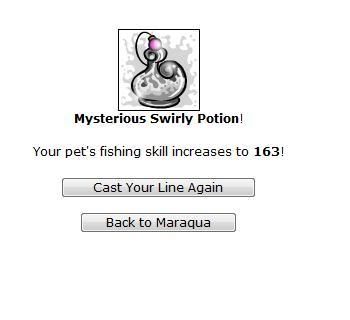 There goes my cross-zapped Robot/Halloween/Camo mynci! I don't like baby pets, it makes me feel bad when I battle with them. So carrying on zapping!

And again, less than a month later, once I zapped her normal again...
My first Stock Market sell at over 100!
For the Future, when this glitch is far behind us.
Yay! *Adds new avatar* And I have no artistic talent at all...
You know how long it takes to get 8 more metres in Volcano Run? Less than 2 seconds. Wasn't my happiest moment.
Luckily, after
just
3 more hours or so, I got it.
I'll continue to add to this page, but I can only look for so long at the HC each day...though there are so many amazing people there, I have no doubt I will find more soon. Thanks for the awesome neomails I have received recently, I really appreciate them :) Please feel free to neomail me and tell me criticism and advice!
Avatars that I still need:
Ones that I'll try for at the beginning of the month...
DONE!
Ones I'll try for once I've given up on the score reset/monthly ones:

Random ones I fail at getting every day:






One a Month until I have them all (I hope)!
DONE!
Ones I will give up on until I absolutely have to try:
DONE!
I'll be working on these ones for a while...!








Awards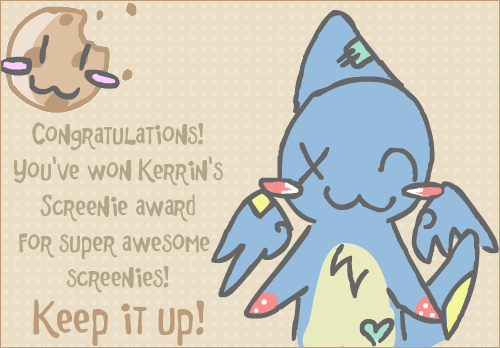 credit: This layout was made by weirdo_the_coolio. Get your own here!