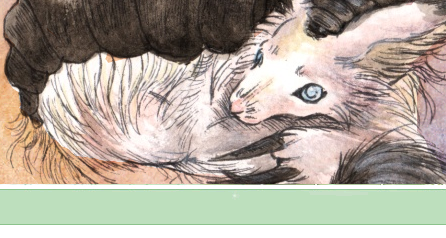 feinly in the art gallery
Left-click and drag the image to your browser's address bar to full view.
My artwork is not free for use; theft is a reportable offense.
This portrait was featured in the Art Gallery, page 1416. :)
meet feinly
Fein is a shy creature, born in the icy mountains with fur white as snow. It's taken a lot of time for her to find her courage, but she's emerged from her frozen homeland and discovered a love for flowers and gardening. She is timid, a gentle soul who could not harm a fly.
One of the original Bori once frozen in slumber by the Keeper of Time, she left the Ice Caves after the Bringer of Night was defeated, and has not returned to the winterlands since. She is still very solitary, but occasionally admits visitors to her floral paradise.
She does not like to talk about her birthplace, but her wintry petpet "snowip" reminds her of where she came from. Even for a Bori, she is particularly quiet and pacific, and aside from gardening, she can often be found with her nose in a book. She has a lovely singing voice, but only uses it when she thinks no one is listening.


feinly and trealiy
Read the full length story here: part one and part two! The story ran in the Neopian Times, with Feinly as the cover girl:
In the years that have passed since the Ice Caves war, Fein has gradually built herself a terraced garden, with stone paths leading to boughs of flowers. The air is laden with the sweet scent of blossoms all year round; every season in this moderate climate brings different buds. She tends them daily by herself, slumbering beneath the cherry trees after the sun sets.
One morning whilst watering her perennials, a gleam caught her eye. Something shiny was glinting amidst the petals, shimmering like... ice. She felt her heart begin to flutter anxiously, as the watering can slipped from her trembling claws. It was never winter here, never cold enough for ice. Not natural ice, anyway.
Memories began to stir of the skeletal hordes... the frozen armies that raided her birth home, raining death and destruction on the mountain with their flashing blades and soulless eyes. Had they returned, tracking her down? Feinly stood quivering in place, tail curling nervously about her paws. Should she run? She couldn't abandon her home, though... not again. She struggled to find her voice, but words failed her, as the petals began to rustle...
Morning sunlight caught the glittering ice like a prism, as a bleached-white skull rose from the foliage. Pale blue unblinking eyes, frozen in a stare, directly at her... Feinly managed a strangled squeak of horror before collapsing in a heap, unconscious.
When she came to, she was shaking like a leaf, curled up into a defensive ball. There was no one in sight, but she had been carried to her cherry trees, left nestled between the roots. Her breaths came shaky and quick, long ears swiveling to catch any sound of the intruder. Her garden was silent.
Slowly she uncurled, peeking skittishly through the leaves. There were pawprints in the soft loam, pawprints of... another Bori? Who had given her such a fright? Whoever it was left behind a small memento by her side... a single snowdrop. She gingerly grasped the tiny white flower between her claws, marveling at its fragile petals. These only grow in climates with snow. Whoever the icy spectre had been, they had come from the mountain...


giftart
By Alisha:

By Rikku:

By Kiri:

feinly and snowip
Snowip won the Petpet Spotlight on November 30th, 2012!
Feinly sighed softly, scooping the soil beneath her claws into a small mound. Her new garden was coming along nicely so far, but there was something missing.
She had already carried the heavy white stones up the hill, one by one, fitting them into neat rows to form the terraced walls. She had woven the tall stalks of bamboo into arches for the climbing vines. She had even gathered fruit pits to sow along the main pathway, so that one day in the future, gently swaying peach and cherry trees would adorn the walkway with their tiny petals. The bare earth was dotted with seeds she had scattered, and the occasional shoot from flowers she had purchased and transplanted. All that was left now was to wait for everything to grow.
The tired Bori sat, surveying her work over her dirt-smudged nose. This floral paradise would someday be the envy of all in Shenkuu, carved into a winding slope, offering perfumed tranquility and peace. But despite all of her effort, Feinly still felt lonely.
She couldn't bring herself to admit that a part of her missed the Ice Caves. The snowy mountains were all she had known for so long, and she only left them recently. This world was so large and intimidating, and she was so shy and small... It was difficult to make friends. What good was it to have a beautiful garden if no one ever got to see it?
A flicker of movement caught her eye then.
Feinly held her breath, anxiously peering at something small and white. There, it moved again! Some... thing, some creature, had invaded her place of solitude! Steeling her nerves, the Bori edged closer, her tail lashing back and forth nervously behind her. Was it dangerous? She had seen wintery petpets before – Feepits, Polarchucks, Yullies – but never a Slorg. Instinctively, though, she knew that this little gastropod was intent on eating her plants.
Feinly watched the white creature inch its way closer and closer toward one of her precious shoots, much to her agitation. How could she repel it? She was a pacifist in every sense of the word, incapable of confrontation, or even raising her voice. Was this to be the end of her entire project? Devoured before it even had a chance to grow? She fidgeted with her claws, visibly upset as the little Slorg began nibbling on the fresh bud.
The petpet was gleefully oblivious to Feinly, gnawing at the plant while she leaned silently closer to study it. Her ears perked forward with interest as she noticed something – the petpet was made of snow! The moderate climate had not melted its body at all, but it was clearly composed of snow. It even had shiny black lumps of coal for eyes. It must be enchanted, she decided naively, since nothing made of normal snow could exist outside of the wintery mountains.
Feinly felt a strange fondness come over her then... She did not have to return to the Ice Caves to see snow. She could keep a little of it here with her, and it could never melt no matter how brightly the sun shone. She impulsively reached out and scooped up the tiny creature, marveling at how cold its body was. It burbled a greeting, shiny coal eyes bright with excitement.
."Snowip," she whispered, finally finding her voice. "I'll call you Snowip... you'll live here with me. If you like eating plants, I can teach you to eat weeds... And then we can be friends..."
Snowip squirmed happily, smiling up at the Bori. Feinly smiled in return, feeling a rush of confidence. She would never be lonely again.
artwork by me
For more art by me, please visit my art page!
feinly's story
When Feinly left her winter home, she knew nothing of the world. Her entire life had been taken place underground, with an occasional foray into the snow. Usually the bright light and the cold winds repelled her back into the warm safe tunnels, where she remained, quiet and solitary. When her homeland erupted into war, she knew she could never feel safe there again; long after the blizzards had erased any traces of weapons or warriors, she would remember. But the experience did teach her one thing, and that was: the world was a much larger place than she had been led to believe. There were other species of Neopets, other cultures vastly different than her own. The thought terrified her, but she needed to find a place that was safe, a place just for her. So she began the arduous journey through the Ice Caves, emerging into the perpetual winter outside, and began walking.
She had no way of knowing how long or how far she had stumbled through the snow; her thick Bori fur protected her from the blustering wind, but she could not see her own claws in the fierce snow squalls. The only way she knew she was traveling away from the mountain was that she was still going downhill... She began to notice something was different when the gusts of wind no longer whipped her tail about, or buffeted her long ears. The weather was becoming more peaceful. Through frost-rimed eyelashes, she could begin to make out a smudge of color on the horizon – not white snow or grey stone, but a rich and enticing blue. She felt a nervous anticipation – it was exciting, but frightening as well – and she silently found herself wishing that this new discovery would not be her last...
Feinly was exhausted by the time she reached the foothills. The snow had receded up the mountain face, and her long claws were now finding purchase against bare stone and rocky crags. The blue on the horizon finally came into focus – it was the ocean. The air tasted salty to her parched tongue, and the low rumble and crash of the waves against the shore was an unfamiliar and confusing sound to the Bori. She knew nothing of sailing or boats, and swimming was entirely foreign to a creature raised underground. She curled into a ball, tucking her small nose into her tail, and cried herself to sleep. She would never leave this mountain. She did not know how.
When Fein awoke, her sensitive ears caught the sound of voices nearby. There was a moment of disorientation when she could not recall where she was, but the cold uncomfortable stone beneath her reminded her of the impulsive trek she had made. In the mountain, her white fur provided an excellent camouflage against the snow, and remaining still was the best way to avoid notice. But she was exposed here among the rocky shoreline, and surely her pounding heartbeat could be heard for miles. The shy Bori began to edge closer to the voices, trying to discern if they were a threat to her. The language they were speaking was not one she recognized, however, and when she came close enough to see them, she realized just how foreign they were. It was a pair of Neopets arguing with each other, both clad in large wide hats, and red and gold clothing. One was holding a net, and the other a scrap of parchment, and they were standing on the shore beside a curious contraption Feinly had never seen before...
Later on, this odd scene would make much more sense to Feinly. They were a pair of fishermen from Shenkuu; they had been lost in the fog, and sailed too far north. The "contraption" was their boat. And their string of bad luck became Feinly's salvation.
She was far too timid to try and approach them directly (that net looked dangerous, and their voices sounded so angry). But she could see she needed to cross this ocean somehow if she wanted to see the world beyond the mountain, and she knew that these strangers knew how. Taking a deep breath, she flattened her belly against the ground and crawled, making as little noise as she could. She had convinced herself that these foreigners were armed warriors of some sort, and if she was caught, it would be the end of her. That thought had her shivering, but she still managed to reach the fishing boat without attracting their notice, and squirm through a porthole to reach the lower deck. The adrenaline was coursing through her – she was terrified, but excited, how brave she was being! – and she managed to crawl into an empty barrel to conceal herself.
Feinly remained hidden below the deck for the entirety of the voyage. The barrel was small, dark, and safe, and it reminded her of her tunnels back home. Well... that was no longer her home, she had vowed not to return. She could not stay anywhere where the tranquility had been so shattered by violence and tragedy. There was nothing left for her in the mountain.
When the fishing vessel glided serenely into port, after the boat had been docked and the busy footsteps and voices from above faded into silence, Feinly decided she would make her getaway. She had no idea what to expect; her mind pictured another rocky shore like the one she had left behind. She could already feel that the air was warmer here, though. What was life like without snow? She was about to find out.
Timidly, she peeked her snout through the porthole, and saw the stars bright against the night sky. Shenkuu was magnificent. It was so green! Foliage everywhere, low-hanging trees extending their willowy branches to brush against the glassy surface of water pools; wooden bridges spanned the decorative ponds and waterfalls that carved into the landscape. There were buildings here, painted red and gold, with fluttering flags and sloping roofs. Everything was new to Feinly. She had never even seen a tree before, let alone this oriental utopia. The snowy mountain seemed utterly drab compared to this, this... wonderland! She already felt safe here. It was magical.
Feinly never traveled any further than Shenkuu; her first destination was the one she had been seeking. It was a calm, peaceful place; the residents were demure and gentle, and did not seem to mind her shy presence among them. Feinly remained a meek and solitary Bori, but she discovered her talent and true calling there. She did not need a warrior's courage or a miner's strength; it was flowers that captured her heart. They were fragile and evanescent and beautiful in every way, and the Shenkuu culture encouraged gardening and flower arranging as a way of seeking inner peace.
It's almost hard to believe that seven years have passed since she last saw Terror Mountain... because to Feinly, it feels like a lifetime ago. When you see her now, tending her terraced flower gardens, carrying the delicate scent of blossoms in her soft white fur, you would think she has always been a native of this gentle culture. She has simply found solace here, far away from the bad memories of destruction and war. She still remembers what happened... but now she has found a reason to smile.


archives
Older artwork (features her old RP friend, Tila the Lupe) --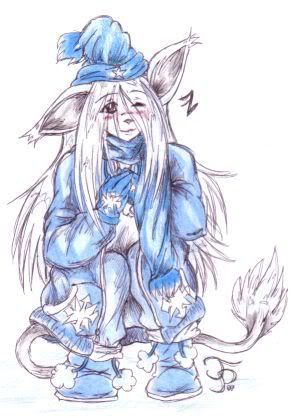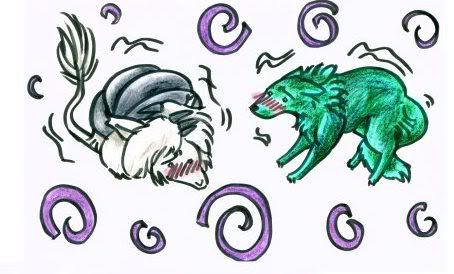 coding by