Pwned
It's simple. Beat my game score, and you will receive a special Pwned Star on this page, and 5000 Candy Coins. I will change the game, weekly. Send me a link to your screen shot proving you beat my score, and I will ad your star to our Pwned Walk of Fame page. You can neomail me,
HERE
.
Send me your highest score of the week, even if it does not beat my score.
I will be awarding Treats for your Candybox to all participants.
1st Place
: Butterscotch Treat & 3000 Candy Coins -
Lola
2nd Place
: Bubblegum Treat & 2000 Candy Coins -
TK3rd Place
: Caramel Treat & 1000 Candy Coins -
/Participation
: Mint Treat & 500 Candy Coins -
/
This Week's Featured Game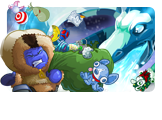 Wrath of the Snowager
Score to Beat
1,126,636 Points


This challenge ends March 3rd.