Hey there
guest!
Somehow you found your way to my petpage! Yes it's me Eibme. I'm cuttiest chocolate pet in all Neopia! If you are here, that means you want to know more about me or my Mommy asked you to take a look, or you are here to send my owner tons of neomails asking if I'm UFT/UFA. The answer is NO! You could read that on my
lookup
too.
Any way if you came here take a look at all my page content! :) Including my story, artworks, customisation plans etc... Enjoy!
curious ♥ sweet tooth ♥ friendly

Name and Nickname: Eibme, Eime.
Birthday: January 26th
Age: 10 human years
Personality: Sweets Hunter
Favorite color: Brown and White
Favorite toy: Plushie Blumaroo Plushie
Favorite meal: Strawberry Chocolate Fondue



Eibme's Story
Have you ever heard about the land with milk rivers, golden honey pools, choco chips on trees, white chocolate streets with gingerbread houses, jelly clouds and rainning donuts? Believe me or not my pet Eibme is from that land.
How is that possible or you're joking you might think. I tell you that I'm not lieing. Firstly all chocolate pets and petpets came from THAT Chocoland. But after a life in that wonders land they have to find new owners who will take care of them :).
However for unknow reasons they don't remember anything from the life in Choco world. In the other hand I'm afraid to think what would happen if MEEPITS would discover that land :o
Anyway I think you still don't believe me, but why don't you ask your choco pet about that land? Oh yeah no one of chocolate pets can't remember Chocoland. Almost no one... expect Eibme. She remembers every part of her "past" choco life. The only thing she doesn't know is how to go there again x3 Anyway I will tell you a story how I met Eibme and how she became my pet.

One sunny and very beautiful day I was walking down the street of Neopia Central. I was looking to the right, to the left... when I decided to buy some chocolate in Choco Factory. So I went straight to the Neopian Bazaar and I found a bag of neopoints with sign: 2000 nps on it.
Firstly I look around to see if anyone is looking for this bag, but suprisingly there wasn't any person around me, only one or two white weewoos were on tree. Then I thought that I was lucky and I decided to keep those neopoints. I took them to Wishing Well, but I wasn't sure what I should to ask, when I saw one person who came to visit Wishing well with her pet - chocolate usul. I suddenly realised that some time ago I was thinking of getting my own choco pet, but I changed my mind for some reasons. However that wish for chocolate pet came back, but I didn't know does Wishing Well grant dreamie pets?
I took a sheet of paper and I started writing:
Dear Wishing Well,
My name is Rina and I'm not sure are you granting this kind of wishes, but I would love to own a chocolate pet. I don't care about species, I just want to give a good homes for him/her. This is a bag with 2000 neopoints. Thanks for your time, always be so awesome and grant our wishes!
~Rina :3
When I droped the bag with neopoints and my "letter" to the Wishing Well and after couple of seconds it started to shine and glow. I looked at it with suprise in my face and when I felt in! *after half an hour*
When I woke up I was soaking wet from my head and hair to my toes. After recovering from the shock I realised that I wasn't in Neopian Plaza anymore. Only one thing I could reconize was - Wishing Well and it was made from chocolate!
Firstly I thought that I was dreaming, but when I hit my leg to stone (well choco-stone) I felt the pain. Yup I wasn't dreaming at all! Unless my dream was very realistic with smells and PAIN! I started to walk through I was so shocked and suprised everything and EVERYONE was made from chocolate and other tasteful things!
Suprisingly everyone was very good and friendly to me, of course some of them looked at me very strangely and some even asked: From what kind of chocolate you are made? :D I asked myself how I came here?! When I remembered the Wishing Well. I asked for a chocolate pet, but I didn't asked for specific one, so probably it got confused and gave me chance to choose by myself!
I was walking and looking to the shops showcases, trees and other beautiful things, when I saw Adoption Agency well since I came here for a chocolate pet I thought that this place is the best to start my looking for pet to adopt, also I wasn't sure how much I can stay in Chocoland.
| | |
| --- | --- |
| | I came in and the smiling face of chocolate draik gave me a warm welcome! She took me to see the pets. Amazingly they looked so cute and happy, I think they was playing Hide-n-seek, they looked so funny, even I started laughing a bit, when I heard a quiet crying. I went to the tree from where the sound was coming and I saw a chocolate blummie crying mildly. I asked: Is everything alright, little girl? What's your name? She looked at me and said: My name is Eibme, and other pets don't want to play with me. |
That little blummie was very beautiful, she was wearing a short pink dress and bow on her head, she had star-shapped necklace. Would you like to play hide-n-seek with me? - I asked. Suddenly a smile came back to her face and she said: I would love to, could I hide first? She went to find perfect place to hide and I covered my eyes and started counting: 1...2...3... 100! I opened my eyes and unfortunately I was in normal Neopian Plaza. I was very disappointed, because I wanted a chocolate pet! Actually I wanted to adopt Eibme and play hide-n-seek with her again and again!
When she jumped out from behind the tree and said You found me. When she looked around with fear in her face. Where am I? *cries*. I tried to calm her down and when I said that I would love to adopt her and be her new owner. She stoped crying and said: COULD WE GO TO EAT ICE-CREAMS, MOMMY? :)
I remember that day as if it had occurred yesterday. I was so happy because I got a dreamie pet and Eibme is now member of my small family. I love her very much as like I said before we now play lots of interesting games including hide-n-seek and she is very happy with me.
Well there is one thing that bothers Eibme :( She can't remember the way to return to Chocoland. She thinks that if she will eat lots of candies and chocolate treats one day she will get her memory back x3 I said her that she will get to know the way to dentist office if she still eat so many candies. Guess, does she listens to me... *facepalm* She even manages to find all candies and chocolate bars which I have hidden from her :o That must be one of her super powers which I like to call smell for sweets. Believe me she has even more for now unknow powers :D
In conclusion don't tell anyone that my pet Eibme knows about that secret land. Can you imagine what can happen to her? I don't even want think about that, also I'm very afraid that Meepits can kidnap her :( Thank you very much for reading my story I hope you enjoyed it. And that wasn't some kind of fairy-tale, that happened for real! For me and my chocolate blummie.
Likes and Dislikes
All kind of sweets
Her best friend - Jin :3
Chocoland *yummy*
Plushies and wind-up toys
Hunt and collect sweets
Arts and crafts

Almost all kind of vegetables -_-
That she can't remember how to go back to Chocoland
Loud music
Mean people
Math and History
Dentists
Refference sheet
Best Friend - Jin
Name: Jin.
Birthday: May 1st
Age: 5 human years
Attached to Eibme: May 1st, 2011
Species: Jinjah

Missing clothes
Candy Stripe Dress []

Candy Pop Staff [✔]

Candy Cane Hair Bow[✔]

Gingerbread Dream House Background[✔]

This is how I want to dress Eibme somewhere in the future. However I CAN'T access to NC mall, so that is very difficult for me :( So any gift is appreciated.

Below you can see clothes which I need for Eibme to make her perfect. "[✔]" - means that I have already achieved that item (somehow).
Drawings :3
Since I love my pets very much I try my best to draw cool pictures for them, and if I can't or I'm to lazy I make request on those people who can draw amazing drawings.
By me :*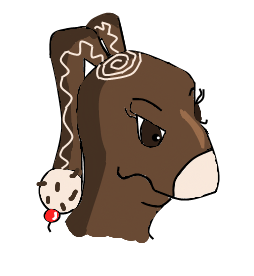 By others :*
If you want to draw Eibme please don't hesitate to do so, I love new additions to this section :3 I won't steal your hard work, don't worry.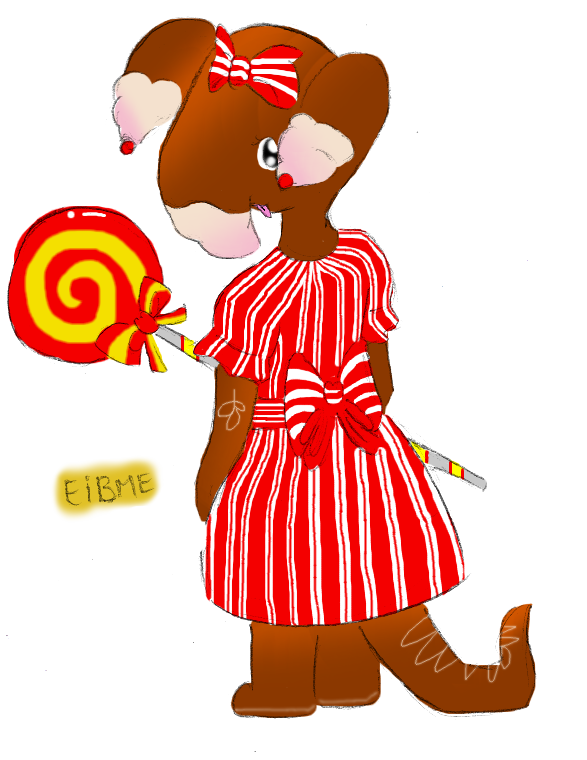 Link back, credits and other stuff!
Button by The Studio.