[||;D U K U M E I;||]
Follow me like your Jesus.
PROLOGUE
Now Playing:
Pitbull - Damn It Man (Remix)
PROFILE
»
Name
: Dukumei
»
Alias
: Mei
»
Age
: Adult, early 20's
»
Brith Date
: 20th July
»
Gender
: Male
»
Brush
: Fire
»
Eyes
: Amber, slit pupils
»
Hair
: Spiked and anime styled. Black, tips have been dyed red
»
Accessories
: Cross pendent
»
Blood Type
: A
»
Rank
: ANBU
»
Registration
: D:]Mei_666
»
Personality
: Welcoming, Depressed, Honest
»
Caretaker
:
Jemz
»
Family
: Kakashi, Fay, Kuni, Sheria, Kouhii
»
Desire
: Viumz
»
Offspring
: Someday... :)
»
Comrades
: Lost...
»
Affiliation
: No Team mates.
»
Role Play
: Open To Friends
»
Currently
: Broken hearted...
THIS HEART OF MINE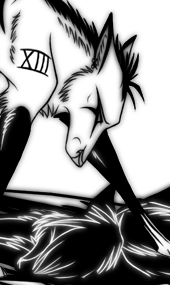 There's really only one girl that has stolen my very own heart away from me. She's the most amazing girl you'd ever meet, unlucky for you males out there she's all mine as i am hers.
We started out as best friends but that soon grew in time, into love. Knowing at the start it couldn't be. But now i just can't help myself... I can honestly say to you know, that i love her. More than she can ever imagine.
Sadly, i haven't seen her since the end of the great battle against the monsters... She may think i have passed on, i could hear her cries of despair... but I'm very much alive. Even if it takes forever, i will find her again. I'll save her from those shadow creatures, even if saving her sends me to heaven. I vow to free her from that darkness that consumes her freedom!
I love you with all my heart... Viumz... I'll be at your side once more, i promise you!

ADOPTABLES
Custom Status
Requests: Torlia'ai Lusse members
Trade Requests: Open
You should all know the rules for adoptables right? What do you mean 'refresh your memory'? Sheesh, fine! First off, don't claim these adoptables as your own art. Don't enter them into any beauty contests. Don't take whats not yours. Your request or trade request will be more likely to be accepted if your polite, no customs will be made for rude stuck up persons! Keep Jemz's tag name on there! Pay attention to adoptable status before you make a request. Not forgetting KEEP the link to my page, so other people have a chance of owning one of these adoptables! And please, when making a request please fill out the form below! Regular Lupe colors are being processed, so stay tuned. :)
Lupes FULL Name: (incl numbers and underscores etc!)
Your Adoptables: (Location of you adoptables!)
Comments: (Make a comment on adopts?) [Note this is optional]
Custom Waiting List!
I lost the waiting list. Mail me if i owe you an adoptable please.
Regular Lupe Colors


Customs

| | | |
| --- | --- | --- |
| Jilt_ | Shurfer | Ghost_Demented |
| | | |
| Dukumai | 0_Reilly | 0_Leon |
| | | |
| Rysalka | Saghanii | Tyronenio |
| | | |
| Cantrelia | Noriioo | Fotros |
| | | |
| Cecorm | MalinaAi | Xblyss |
| | | |
CUSTOMS
LINK IN

LINK OUT

COUNTER
You are visitor number


Since the 20th June 6;53;45am NST
CREDITS
It seems that Dukumei is not as orignal as he used to be anymore, since people have been slapping his flames everywhere these days. What a shame. But hes N O T going to change... :(

Content, Art, Dukumei © JemmaGazzaINIT unless stated otherwise. Do not copy, alter, retrace, redistribute or anything else in any way without written permission. Other images used © the original artists! Snarling image of Dukumei in his profile was created by Blackmustang13 on DeviantART. Black and white image of Duku and Viumz belongs to Sazael.