Welcome | About the Militia | Mutant Directory | Don't Be Afraid! Adopt Me!
Show Your Mutant Pride | Links, Affiliates and Thanks
Site Updates (last updated January 16, 2011)
Remember, if you haven't received a neomail confirming that your pet has been added, please re-submit!
News Flash!
January 14, 2011: A Mutant Acara was released today for the 2nd best holiday in Neopia - Sloth Appreciation Day!! Please be sure to contact GetxthexPoint or Banet_eh_Rih if you have a new Mutant Acara or know of someone who does!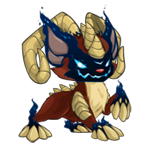 January 9, 2011: We've just discovered that there will be two new Mutant Petpets soon! They are the Mutant Gulper and the Mutant Naalala!


December 30, 2010: The Mutant Militia hopes everyone had a wonderful Christmas/Hannukah/Holiday celebration this year and wishes you all a wonderful New Year filled with growth and excitement!
November 23, 2010: I have added some new link images made by Siridhata for the Mutant Militia! They're pretty spiffy so you should definitely check them out!
November 7, 2010: So I don't know if you all have realized yet, but I must say that I was very pleasantly surprised to go to the NC Mall today and see on their front page an "Elegant Mutant Cape". TNT has finally made a clothing item for Mutants! I of course had to buy one for my lovely Gryphonsinger...
I think it's fair to say that some Mutants may look better than others in it, but I'm so excited to see a piece of Mutant clothing, that I can barely contain myself! Now I know what to get my pets for Christmas! ;)
August 25, 2010: Yay! It's Mutant Day yet again - the most glorious holiday of the year, and I'll be spending the new few days updating and polishing up the lovely Mutant Militia pages! And we have two Huge pieces of good news.
First, my Mutant Gallery -
The Mutant Militia's Marvelous Gallery of All Things Mutant
- won the Gallery Spotlight!!

And second, we've got a new Mutant to celebrate! Say hello to the Mutant Ogrin!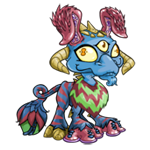 And dear lord! The new Mutant Petpets are the most adorable yet!


And of course the new Mutant Books are very exciting as well!


May 23, 2010: We hope everyone is having a wonderful Mutant-filled Summer so far! We apologize that the Mutant Militia has been fairly inactive lately, but we hope to get most if not all of the pages updated and back in tip-top shape ASAP! Thanks for your patience!
January 17, 2010: TNT has finally released all of the previously announced but inactive mutant items. All have been posted in our Mutant Items page for your perusal!
November 17, 2009: Good grief! It has been months since we last had an update. I have to apologize, but when TNT changed the code filters a while ago to disallow the word "position" that meant the Mutant Militia pages all needed to be fixed as they'd heavily relied on this code. Thankfully,
Wtrswoopes
my lovely coder buddy helped me out this week and got it all fixed. We'll be updating the other Mutant Militia pages as soon as possible, but of course the Militia's directory takes precedence. If you asked to have your pet added to the list over the last few months, please neomail me again and I will get your pet listed ASAP! So sorry for the trouble. Hopefully TNT won't change code filters on us again anytime soon! ;)
June 27, 2009: If you're looking for the list of Mutant pets stuck on the pound_release account, it's been moved to the
Mutant Adoptions page
because it makes more sense there and frankly the news was getting a bit long! ;)
June 24, 2009: All old "gear" images have been updated. Thanks to those who helped!
March 13, 2009: Wow! So we here at the Mutant Militia are very excited because today we won the Site Spotlight! *dances*

It's so exciting to have the Mutant Militia recognized after all these years! I'm not sure if TNT intended it or not, but this is rather like a late anniversary present as the Mutant Militia just passed it's 3 year anniversary on Feb. 25, 2009! I did want to clarify two things though.
First
, a
HUGE
thank you goes to
Wtrswoopes
! She is the one who coded the lovely Mutant Militia pages for me, as my HTML skills are sadly lacking. This trophy is as much hers as it is mine, and I can't thank her enough for all of her help in making information for and about Mutants more readily available and helping to create a more user-friendly site for Neopians everywhere! And
second
, when I wrote the entry years ago the Mutant Militia was still new and at the time it was truly the only Mutant directory available (at least that I could find). Now, the Militia has been up and running for many years and has expanded greatly, and there have also been a number of other Mutant directories (many of which are affiliates to our site). I just didn't want anyone to interpret the Site Spotlight information as intending to snub any of the Mutant directories that have arisen following the development of the Mutant Militia.
Welcome
You have stumbled upon the training grounds of the Mutant Militia, an elite if mutated fighting force geared towards the revolution of Neopia! Have a look around and meet some of your fellow mutants, unless of course you happen to be a non-mutated Neopian. I suppose if you're a non-mutant you can stick around and learn about the amazing reality of what it is to be a mutant, but we won't tolerate any prejudiced types around here. If you have any questions or would like to join the Militia after you've looked around, please contact our founder GetxthexPoint. She'll be glad to answer any of your questions or direct you to Drak, Queyen or GryphonSinger the three mutant masterminds in charge of this operation.
But we're getting ahead of ourselves, so continue on and read more about this magnificent militia.
About the Militia
First of all, we should explain that the militia is not just a fighting crew. The name is a bit of a misnomer. We welcome all mutant types and we recognize that some mutants, due to the changes their body has undergone, are more suited to some tasks than others. ALL mutants are welcome to join and become a part of the Mutant Militia directory you'll see below. Also, I should make it clear that the Mutant Militia Directory itself is not a guild. We are an independent militia/directory geared towards helping Mutants unite and get to know one another without the necessity of an official guild! That said, due to popular demand we have created a Mutant Militia Guild that you are all welcome to join and enjoy. That said, the directory was here first and you are more than welcome to join the Directory without any affiliation to the guild.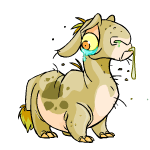 But why have a Mutant Militia you might ask? Hmmm? Well, I'll tell you. We mutants are positively sick of the treatment that we have received from the more typical and "beautifully" painted Neopians that abound. Well, we're beautiful too, it just might be a bit harder to see it. For instance I had to console a weeping Mutant Gnorbu because his owner disowned him as soon as he was zapped mutant because of how "hideous" he was.
Well, we're here to say that all mutants are to be cherished and not to be automatically treated as gross or ugly or unkind, and we Mutant Militia members are hear to protect mutants across Neopia! We are the force that will defend their rights!
We are sick of pets being mutated not because of the natural glory it is to be a mutant, but instead as a cheap way to change a pet's species. After all, how many mutant Draiks have you known that actually stay in the most handsome form of a Mutant Draik for longer than the time it takes the owner to get their next paintbrush? For too long, the concept of mutant pets has just been a cheap means to an end, and we at the Mutant Militia are determined to change this and have mutants be honored for the great beings that they are!
But we can't do it alone, we need to band together! We have strength in our numbers for there are thousands of mutant pets across Neopia - and banding together we show those "normal" Neopians the greatness it is to be mutant!
To join our noble cause simply contact GetxthexPoint with the FULL name of your mutant pet(s). Then, she will add you to our growing list of mutant warriors, scholars, inventors and artists as we show the world that mutants are a force to be reckoned with and not simply a means to an end! Also, feel free to include a short one-line sentence describing your pet!