The Negg Hunt


NOTICE: i have exceeded my bandwith for this month, according to photobucket. Sorry for this.

NOTICE: TURN OFF YOUR PREMIUM PORTAL BEFORE STARTING THE HUNT!

If you want to compete in the negg hunt, head off to The Festival Of Neggs!

You will see a Clue, for example this one: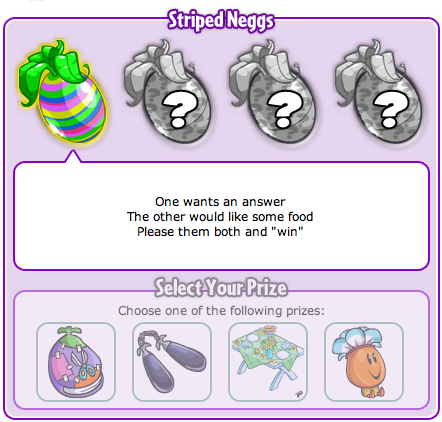 Interpret the clue, go to the site area you think the negg will be hidden, and start searching! (See below for a guide of each days clue)

Please note that you do not have to accept any Esophagor, Faerie or other quests to find your egg, no matter what the clue says.

If you find the egg, you will get a notice, something like this:




Congrats, you are done for today, return to Kari to check if the toy negg is checked off like this:




But please be careful, there are other neggs to be found, looking like this:





If you find one of those, you did not complete the quest!( it says so too in the RE...) These eggs add to the Community challenge, if 5 million neggs are found at the end of the Festival we get a Bonus prize! (those that participated that is..)

Day by Day Clues

To make your life easier: HERE is a guide which has all the pages from all the different locations in Neopia listed, just go to the world section that you need and open everything in new tabs till you find your negg!

NOTICE: Apparently the shop links do not work anymore on petpages. I found a Petpage who links the haunted woods area with full links for the shops, I hope other worlds will be added when the quest continues (Thanks to cylies for making this Petpage).
I reccomend too to check the Negg hunt board, there is a page made each day with all the links for the negg of that day, and one for looking for plastic toy neggs.


DAY 1: Striped Toy negg
The clue: One wants an answer
The other would like some food
Please them both and win

The clue points to the brain tree and esophagor, however, this means the haunted woods area. Do not complete any quests, you dont need to. Go to the Haunted woods area , it can be in the Haunted faire or Neovia too. Just open pages till you find it. (see the links posted above day 1 for a full list of every page the negg can be on)

DAY 2: Striped Toy Negg
Riches aplenty lie under the sun, But water for drinking there is none; Seek shelter and learn what may be worse; Step wrong here and find yourself cursed.
The clue points towards the Lost Desert. Search the main page, Qasala and Sakhmet.

DAY 3: Striped Toy Negg
A bouncing JubJub, capsules of mystery,
Racks upon racks of customisation finery,
What magic will open the door
Of this most impressive store?
Neocash is what's necessary!
Go to the NC mall, and claim the 'free' striped negg. You will recieve a bonus Neggstravaganza negg too! yay!
To claim the Neggstravaganza negg: click there: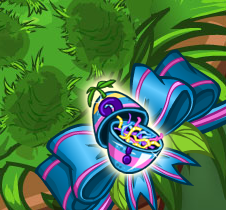 Notice: for those in a country without NC:
Your egg will be located somewhere in Roo Island.

DAY 4: Striped Negg
A Tonu stands guard
He thinks you need more learning
Better luck next time

Go to Moltara city and moltara caves, open all the pages.

DAY 5: Polka Dotted Negg
There once was a great king;
For him, food was the most interesting thing.
Someone told him a joke,
And he started to choke --
He should learn not to laugh while eating!
Look in Meridell, Darigan city, Meri Acres farm and Brightvale.

DAY 6: Polka Dotted Negg
Where'd they ever find
A burger that size, anyhow?
You'd think it would spoil.
The negg is somewhere in Neopia central. Check The Bazaar, The Neopian Plaza,The Art centre and the neopian marketplace(soup faerie).

DAY 7: POLKA DOTTED NEGG
Two items go in; one comes out.
Ninjas lurk nearby, without doubt!
Kougras guard Petpets and warn of heat.
0, 2, or 5 gives a treat.
The next negg is located on Mystery Island, dont forget to check geraptiku too.

DAY 8: POLKA DOTTED NEGG
Where music does sing to the stones, It'll shake you right down to your bones. All the Neopets scream For Yes Boy Ice Cream, But I prefer Sticks 'N' Stones.
Go to Tyrannia, Check the Plateau too!

DAY 9: SWIRLY NEGG
Upon clouds no more
Doth sit this magical source
Of healing and jobs

Go to Faerieland!

DAY 10: SWIRLY NEGG
Avast! Pirates, ye be not welcome. Where sun is seen but seldom; Here schools are full and shoes are free; Alas, dinner requires a spending spree
Go to Maraqua
(ty to everyone who sent me the riddle!)

DAY 11: SWIRLY NEGG
They keep on packing
With plans of leaving one day
Somehow, I doubt it
Go to Terror Mountain, check out the Ice caves and The top of the mountain too!

DAY 12: SWIRLY NEGG
A dark tomb lurks above, While books tell of doom thereof In a building with many stories, Ancient treachery, and future glory.
Go to altador

DAY 13:PLAID NEGG
The Captain greets you Stay less than a quarter hour They don't take NP
Go to Krawk island
(don t forget the championship pages and the Foodclub pages!

DAY 14: PLAID NEGGS
While exploring, you may see a lever That warns you not to pull it ever. But if you insist, Some NP will be missed, But an avatar could appear whenever!
Go to virtupets space station

DAY 15: Plaid Negg
I forgot to copy the poem, but the negg is in Brightvale.

DAY 16: PLAID NEGG
Here, they follow the moon, A Gnorbu to it is attuned. Each year, a festival is thrown With parties and fireworks well-known. Soon cherry blossoms the trees will festoon.
Go to Shenkuu.


Well, this was it guys, all 16 days of the negghunt. Ty for using my guide!
FAQ


What is this thing about different coloured toy neggs? Why didnt i find them in my inventory???? -
There are 2 kinds of Toy neggs, and none will be found in your inventory, they are quest items.

First there are the decorated ones, you have to find these for Kari in order to complete the quests. One clue will be released a Day, so in total there will be 16 Patterned toy neggs to be found. If you find all 4 of the same pattern, you will be able to pick a price
(as already shown underneath each pair of 4 patterned neggs, there will be 4 prizes to pick from with each pair of 4 completed.)
If you find each negg before the next clue is released, you will recieve a bonus.

Second there are the plain ones.
You can find as many as possible a day (people reported finding 10 or more), however, these wont do you as a person any good, they go towards the community challenge.
If there are found 5 million when the negg hunt is over, everyone who participated will recieve a bonus price. So: the plain ones you dont HAVE TO find, but it is nice when you find one.



What to do!? I cant be online every day! - No worries, you can look for the plastic toy neggs in any order, however, only if you find the neggs every day (so before the next hunt is released) you will get a bonus item on the end.

I don't get it, i don't SEE any neggs on the worlds you mentioned! - The neggs will come to you in Random Events, so you do not have to click on any neggs, just visit pages till you find them.

HELP! I found all the patterned neggs i needed, they are checked off, but i got a plain negg RE that said i should continue my search! - Don't worry, the text is a lie. If the neggs available for searching are checked off with a green V on This page, you are fine. Dont believe the text, it is evil.

I FOUND MAH NEGG,WHERE ARE MY PRIZES??? - You don't get a prize for every negg you find, only for each set of 4.

How many neggs can i collect in a day? - One patterned negg clue is released a day, so minimal 1 patterned negg (more if you missed a day), and apparently 10 Plain neggs (this has not yet been confirmed by TNT. We dont know either if this 10 neggs is a day or till the end of the hunt.)

HELP! I was on a side, and i found a negg when visiting the soup kitchen/... !? WHAT DO I DO!?! - First of all, calm down. TNT has not yet posted a notice about this, but probably you will have to go to a specific page if the community challenge has succeeded to claim your bonus. Just dont go to that page and you should be fine.


The Prizes

For the moment, this is what we know about the prizes:

~You will recieve a prize upon completing a collection of 4 eggs with the same pattern. You will be able to choose from 4 prizes, which you can already see previewed underneath the 4 eggs of a same pattern.

~Here is a picture of the variable prizes: As you can see, there will be wearables, books, neohome items, maybe even battle items!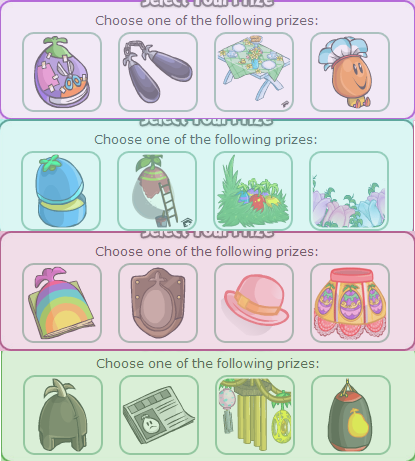 Names of the first 4 prizes(striped neggs):
Negg Crafts (Book), Negg Chucks(BD item), Easter Picnic Table(NH item) , Bobble Head Flower(toy)

Names of the second row of prizes (swirly neggs)
Negg Cream Potion(cure),Giant Partially Painted Negg(NH item),Hidden Neggs Trinket(Wearable),Flower Petal Foreground(wearable)

Names of the Third row of prizes (Plaid neggs)
Oh, What a Negg!(book),Negg Shield (BD item),Easter Bowler Hat(wearable),Colourful Festival Negg Skirt(wearable)

Names of the last row of prizes(polka dotted neggs):
Negg Helmet(BD item), Neggative Times(book), Negg Windchime(Toy+ Wearable), Punching Negg(toy)

~When you find each negg before the next clue is released you will recieve a bonus item.
The bonus item is a site theme!

~If the community challenge of 5 million neggs is reached by the end of the Hunt, the participants will recieve an extra bonus item.

~Everyone who found the 16 neggs recieved an extra price: Hollowed Negg Tree Background