Intro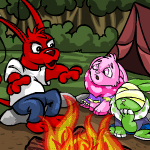 One of the most memorable times camping is sitting around the campfire eating smores and trying to scare the pants off your friends by telling each other horrific stories and spooky urban legends!
The same rules apply here as with TNT's story competition. I will post a starter entry, most likely using characters from neopets, and it will be up to you to submit the next part of the story! After each submission has been read, we will pick a winner and reward them with a related item. The next day, we will post the winning entry and continue posting winning entries until the story feels done!
Story Time
This story was inspired by Amoti, from Neoquest II

High pitched giggles rang through a garden on the outskirts of Waset. "One, two, three..." Lifira peeked between the fingers shielding her eyes. She continued to count as she stood on her tip toes, wide-eyed, looking over the thick foliage. Her vision froze when she saw movement.
Ready or not, here I come!" Lifira shouts before bounding off towards the setting sun.
She continued on slowly. A twig snaps to her left. Lifira doesn't move, not yet anyway. Her head tilts in the direction of the sound, urging it to continue. Instead, a pebble soars above her head and lands to the right of her.
Lifira hops heartily towards her left, "Honestly, Amoti, did you really think a pebble would throw me off track?" The leaves of the plants were alive with movement now, as the two young cybunnies played in the field.
Amoti hopped so fast she exited the field far before her sister, leaving the crops unmoving behind her.
Lifira?" Amoti called. She hopped carefully back to the edge of the field. "Lifira, where are you?" she pleaded. Now becoming worried as only silence answered her.
Amoti hopped cautiously back into the field, following the path back to where she last saw her older sister. As Amoti hopped along her feet were, without warning, pulled from under her. She rolled over, frightened, and saw a shadowy figure. She screamed and covered her eyes. "Brains! I'm going to eat your brains!" Lifira growled and then laughed as her little sister squirmed in discomfort.
Ohh, Lifira! You scared me! I thought you were lost" Amoti said, as she shoved her sister off her. "Please, you were more scared that you were going to be eaten by a zombie. I really don't know why you're worried. What would they want with you? You don't have any brains anyway!" Lifira said giggling, and then ran off towards their home.
I wish I hadn't come looking for you, Lifira. In fact, I wish YOU'D get kidnapped by zombies!" Amoti yelled after Lifira, kicking the dirt in front of her. She watched as a second pebble shot from the tip of her pink toe and sliced through the air.
But Lifira was already gone...
To Submit your entry, please click here
Others
If you have any suggestions please feel free to tell us!