About
Hello there, my name's Jeri and this page is a project page of sorts about what I've done thus far to achieve my dream pet of a UC faerie draik.
When I first started playing neopets, within a couple of months of playing, I laid eyes the faerie draiks and decided I wanted to own one. Other pets I intended on owning back then were also a faerie lupe (old art style) and a maraquan cybunny. Thus, I started saving so I could get the lab and also so I could create my dream pets. However, as a newbie who basically earned their NPs purely via flash games and dailies, I didn't get very far. The amount of time I was allowed online back then was also about 1-2 hours a day and my unreliable net connection didn't help with my ability to earn NPs either. Not that I knew what I was doing, I was a content teenager who enjoyed feeding and playing with her pets, I remember when my pets telling me that I was the best owner ever made me really happy! :P
Anyways, as I saved up for the draik of my dream, the morphing potions back when I checked was priced at around 2 mil? As I saved up, inflation happened and I could not keep up, eventually after about a year of playing neo, the conversion happened and I ended up without being able to morph and paint my own dream pet.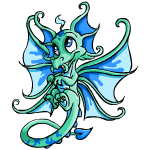 Well many things did happen over the years including further inflation of items, at least until the forgotten shore and there were times when I had given up on owning a UC faerie draik. UC P/R/D/K were just that elusive to me. But about 4 years ago when I saw that someone had traded a BD pet for a UC faerie draik, I decided to follow in his footsteps and train my own BD pet so I could attain a UC faerie draik of my own and so, that's where I actively started to pursue my dream pet. It was a route I was aware was feasible back in the day, but it took a massive amount of time (no shortcut FQCs and training cookies either) and I always figured that if someone wanted a BD pet, they could just slowly work their way up for one. But after witnessing that trade, I decided to at least try, at least I can't say I didn't even try!
Progress
When I finally decided to start training, I was torn between 2 different pets, a RW I owned or a 4L lab BD pet who had about 500~ HSD at the time. After asking around, my friend advised on training my RW pet, so that was the route I went with. I trained my pet for almost 4 years (well over 3 years, not quite 4 though) and ended up with a RW BD pet who had 2700~ HSD + 3 BC trophies and a booktastic trophy.
After months of on and off advertising (due to RL and responsibilities, also the lag made it impossible and unpleasant to come on neo) I was finally offered Antithem the UC darigan aisha.
On the 18th of August 2015, I traded for Antithem the UC darigan aisha after adding an unlimited custom to my BD pet.
UFT now
As of now, I haven't found a trade for Antithem yet as I'm able to spend hours on end on the PC advertising these days, so he's still UFT! Anyone wanting this handsome fellow right here feel free to mail me offers!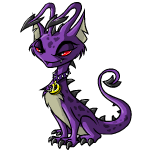 I'll consider anything fair. I do apologize if I forget to reply as sometimes I'm just busy, I come on, do some dailies, leave and then forget I've ever received a nm. :(