Check-in.
So, you're checking in to Disturbia eh? I'm
Christie.
The welcome wagon. Welcome to Disturbia. Let's get you started here. First, you need to fill out this form on all your infomation. We must know the information to keep tabs on our crazies. A crazy on the loose could pose some problems...
Mail Me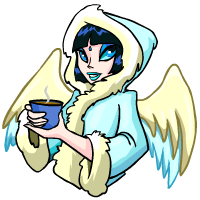 Where should I start?
Introduce Yourself
So, you've sent in your information for to me. Excellent. Now let's just place you in your strait-jacket and get you your white clothes... Ah, perfect fit. Now. Time for you to meet your fellow innmates, I mean neighbors! Let's begin.
Visit Disturbia's message form and post the following:
-Your Name
-Ward
-Crime that committed you here
-Favorite Neopet to soothe your outburts
-What made you crazy
-Why YOU think you're here.
Afterwards,
your fellow crazies will attack you with questions and be wary of your presence. Do not fear my dear, they are only curious....And you soon will be too. Here, pet Cheb. He helps the crazy.

Your Home.
AKA Portfolio.
So, you've made it through the initiation of crazies. Good to see you're here. So, you might wonder what this talk of Portfolio's is all about. Frequently referenced as such, they really are your new home in Disturbia. It's where members can learn more about you, see your badges, see where you stand in Disturbia. Maybe they secretly want to be friends with you, but they want to do their research first. Crazies can tend to be timid people, and are often shy.
Next step.
Let's build your home.
Here
is my own home. Please don't throw any rocks. It's a simple idea....
We also have premade portfolio's specially for the guild, found
in the Basement.
If you need coding help, please kick:
Christie - mon310
Silver - whitedragon194
Janea - samkip
Simona - oitaroh

badges.
Making headway.
So, in order to make your way towards head of the crazies, you should badge yourself. You collect badges from partaking in Disturbia activities, participating in competitions, advancing in rank, etc. Badges to collect are found
here.
Please only take badges that you are entitled to. Taking badges that you do not deserve will lead to exile from the town of Disturbia.
Policies
Trying to control a crazy.

In order to remain a member of Disturbia, there are obligations you must meet.
1. Please follow the Terms and Conditions and the Rules of the site at all times.
2. Remember that regardless of where on the site you like to play, you represent Disturbia as a member. If your harassing people or being an overall nuisance to other Neopian's, they will remember who you are. Its not the type of stigma we want and it may get you removed.
3. We understand real life happens. We all have busy lives, school, work and families. We do not remove members because real life demands their attention. We do however strive to be an active guild. If real life is too hectic that you cannot come by at least once a week, perhaps a guild isn't what you need. If you are going to be away, going on vacation or need study time, let us know. If you go MIA, you risk being removed.
4. Be respectful of each and every member, period. We all come from different places, have different lives, beliefs and challenges. Every single one of us is different in some way. Treat people with common courtesy and remember there is a real person behind every account.
5. Please, never bring drama to the guild boards. If for whatever reason an issue does arise, discuss it via neomail. Should you not be able to handle the issue yourself, the council is here to help. We will mediate, so please don't hesitate to contact us, it's what we are here for.
6. Member sweeps occur on the first of every month, or as we see fit.
FAQs
Q: What is "Victim"?
A: Guild Victim is basically where you chuck a bunch of stuff to the victim of the week, (It's a weekly basis) according to the theme posted, or their gallery. The victim keeps track of how many items they recieve. The person that sent the most items becomes the next victim. Victims are usually posted on Sundays and run for a week. Council is in charge of this activity.
Q: What is "fun" here?
A: Once a month, we host theme days. During a theme day, there are many activities going on hosted by Council. They occur hourly though however. Wards often face off during these theme days though.
Q: I'm going on vacation, should I let someone know?
A: Christie, mon310 , is in charge of keeping tabs on each and every crazy. Please mail her before going on hiatus, vacation, a busy work week, etc. or risk being removed from the guild.
Q: I would like to submit something to the webbie, who should I contact?
A: Jean, danat9, is the head of the webbie. Please mail her all/any submissions you might have to post on the webbie.
Q: I see there is an open spot on council, can I apply?
A: We have recently had council applications open, however they are closed for the moment. Thank you for your interest though! Stick around in case they open again!
Q: Who is this Bruno figure?
A: Bruno is the meanest, baddest, scariest crazy of them all. You do not want to encounter him in any way, shape, or form. Usually the encounters are bad.
Q: Can I have this badge?
A: If you have any uncertainties about badges, please mail Christie or Jean.
Have a question that is not answered here? Please direct them to Christie ASAP.