welcome to chouzetsu's webbie
Hello , and welcome to the Chouzetsu website. Here you will find everything, from the activities you can participate in to the rules that make the guild fun and relaxing. Enjoy!
Layout looks best in F11
council chat
Chouzetsu Staff



6/6/15: To be updated with news soon!
updates
There will be a member sweep at the end of June for all inactive members for whom we have no information about a hiatus from. So please, if you are still around, let us know!

Beginning in July, everyone will receive emails about the banners they wanted for their userlookup and meet us page, and older members in the guild will be asked to resubmit a meet us bio (since some of these bios haven't been updated in a couple of years). This way, information about our current members is updated :).

E3 is coming up this month from June 16th to 18th! We are considering having a watch party and discussing what is to be showcased, so let us know if you have any ideas!

From July to August we will have some summer events up! So keep a lookout for those.

Posted on 6th, June 2015 by Chouzetsu Staff
credits
Template code by TB. Layout by Aki. content by Autumn/Meltic.
new members
We are super excited that you decided to become a part of our lovely
family
! We are always looking to meet new people, and every effort will be made to make you feel comfortable and welcomed in our home. Below are a few recommended steps that you should take upon joining us.
1) Please read over the rules and ranks, as well as glance over the other pages so that you know what's going on.
2) Introduce yourself on our guild board! This one is important! We want to meet you!
3) Fill out the form on the Meet the Members page so that you can be included and everyone can get to know you better.
4) Enable guild mailings please. Important information will be sent, and we wouldn't want you to miss out on something.
5) Add your birthday to our calendar. We plan to recognize birthdays for members, so this is extremely important if you want to be included.
6) Relax. You've found a good guild and you are no longer guildless!
rules
Everyone loves rules, right?! Below is a list of guidelines that exist in order for everyone in the guild to have a great experience. Following them would make the Council's job much easier!
1) We are a semi-literate guild. Please make each post a sentence in length, and please refrain from using most chatspeak. The common ones are allowed, such as lol, brb, etc., and smileys are allowed.
2) Please no spamming. Keep our boards clean. We don't really have a limit of posts in a row, but try not to make more than 3! We will automatically delete one of the unintentional double-posts.
3) No heated arguments. Debate over which anime is better is okay, but insulting/arguing with another member is not allowed. If you have something that you would like to address with a member, please neomail that member or neomail one of the council members. We are trying to keep a friendly atmosphere in the guild.
4) Please be active. By this, you will need to post at least once a week and check in with us, and if you are a new member, you must have 25 posts within the first month of joining us!

Please check the Hiatus page if you need to go on leave for a bit. Otherwise, if you haven't posted in 2 months, you will be removed. Even if you are removed, this is an open guild and you are more than welcome to rejoin when you have more free time!
5) Abide by TNT's rules please. Do not discuss things that are not allowed by TNT on the boards and basically do not break their rules. We would all love to chat with you without you being silenced.
6) Most of all, have fun! This guild exists to build relationships amongst people and enjoy each other's company.
If you are found breaking any of these rules, you will be warned in a neomail. Failure to comply after the warning will result in
deletion
from the guild. Rules are subject to change without notification!
ranks
Here you will find a description of each rank, as well as the requirements necessary to attain each rank.
新, shin (New): This is the rank you get when you first join us.
関心がある, kanshin ga aru (Curious): In order to reach this rank, you must have posted at least 300 times.
希望, kibou (Hope): In order to reach this rank, you must have posted at least 500 times.
愛好者, aikousha (Fan): In order to reach this rank, you must have posted at least 700 times.
氏族人, shi zoku jin (Family): In order to reach this rank, you must have posted at least 900 times.
past layouts
Take a walk down the memory lane of Chouzetsu and view all of our guild and website layouts that we've had! (click and drag if you wanna see them bigger)
Guild Layouts
June 2014-July 31st, 2014
Created by: X_neonut
May 2014 - June 2014
Created by: X_neonut
April 2014 - May 2014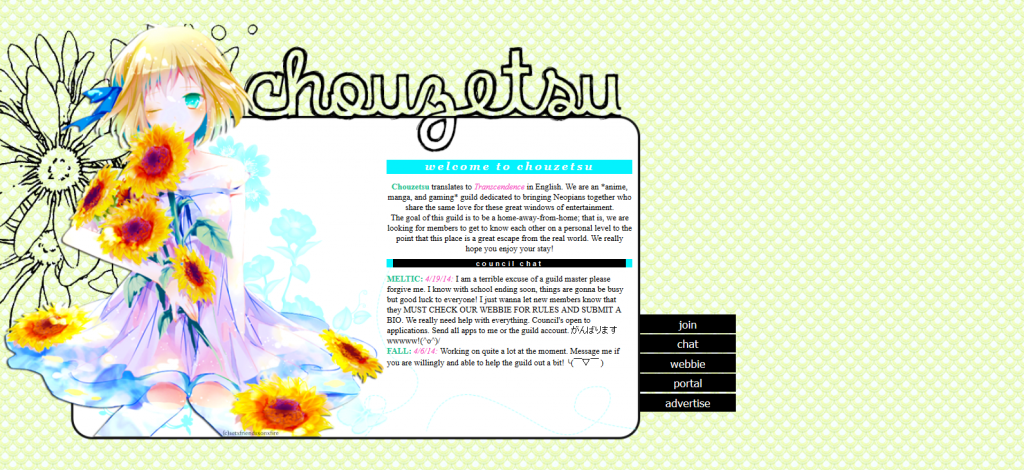 Created by: setxfriendsxonxfire
Februrary 10th, 2013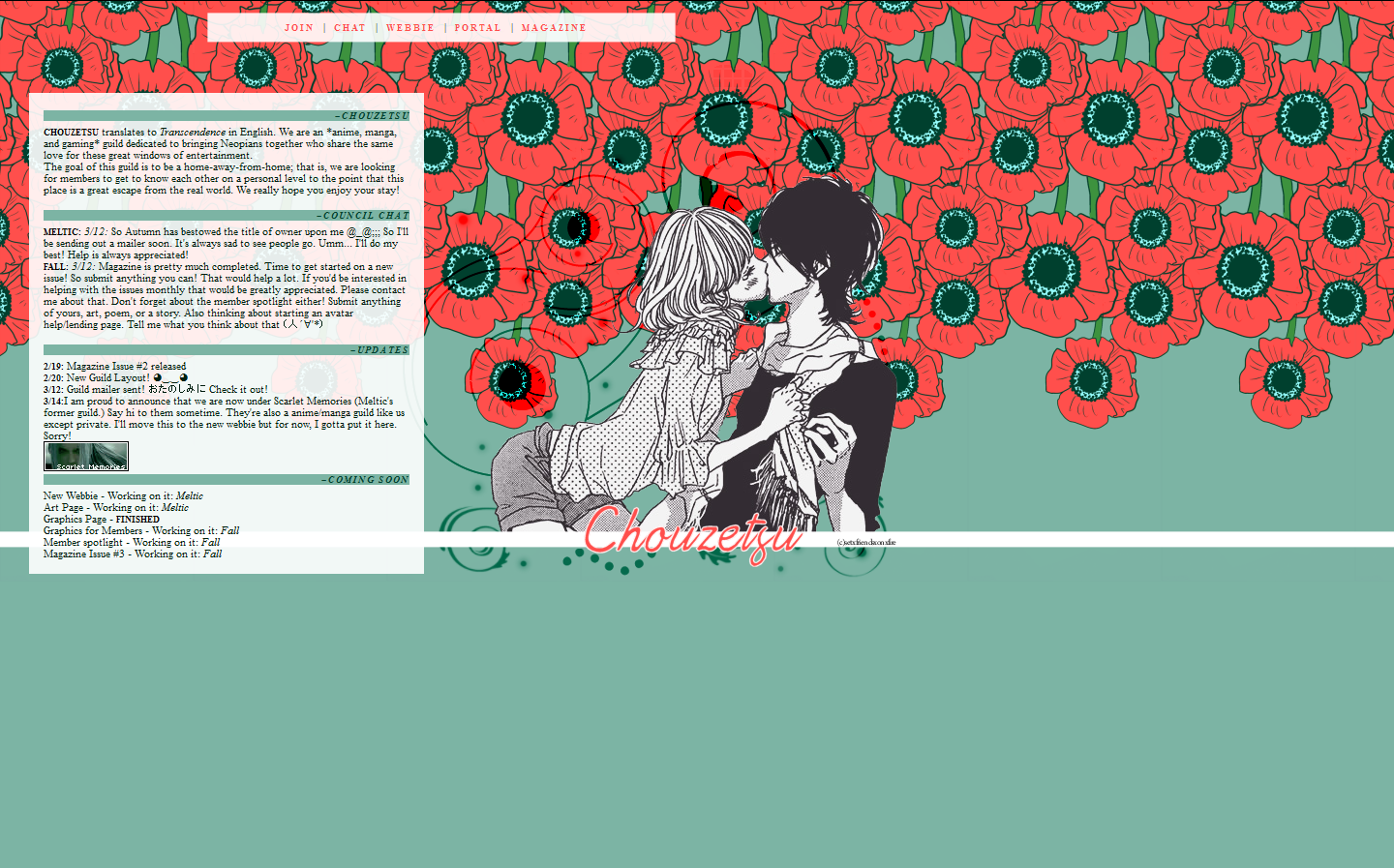 Created by: setxfriendsxonxfire
January 29th, 2013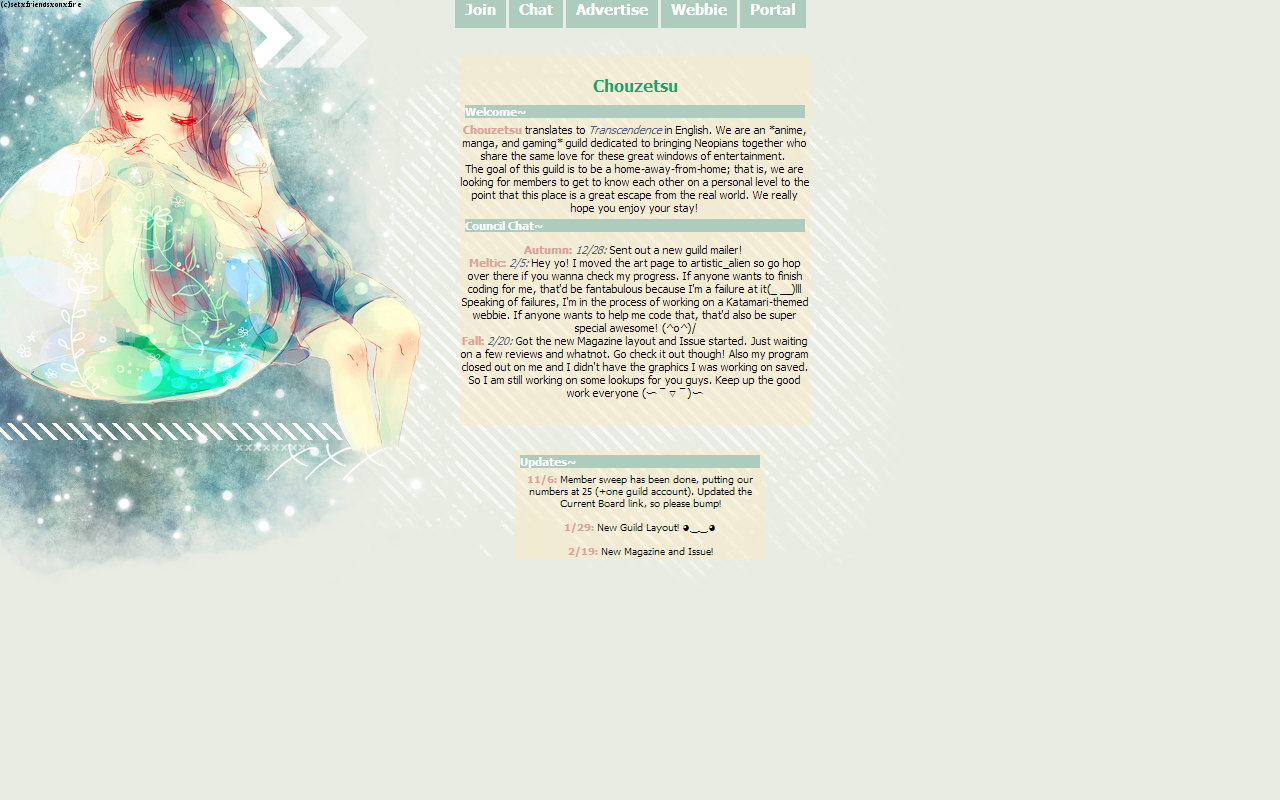 Created by: setxfriendsxonxfire
January 1st, 2013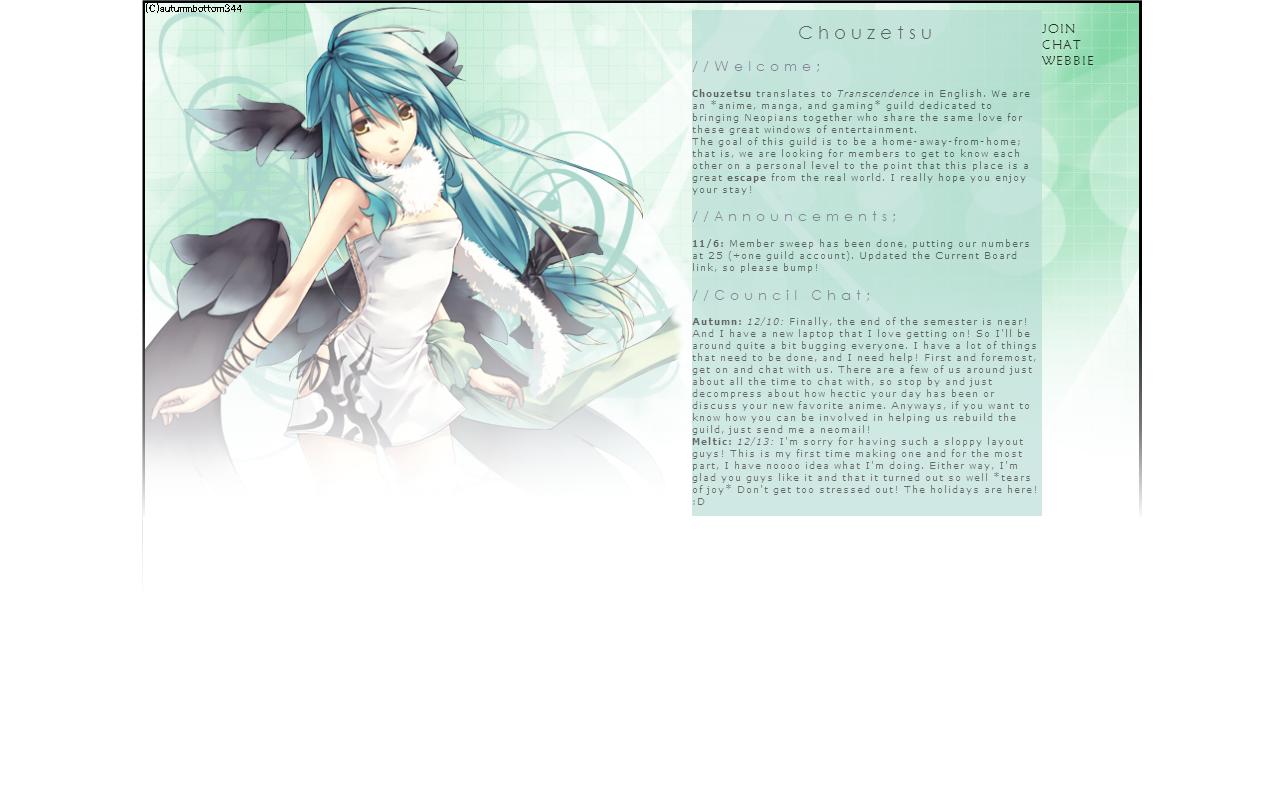 Created by: setxfriendsxonxfire
December 8th, 2012 - December 20th, 2012
Created by: masternecco_10
November, 2012
Created by: chocoholic
September 15th, 2012 - October, 2012
Created by: kamiraion
August 26th, 2012 - September 15th, 2012
Created by: chocoholic
August 3rd, 2012 - August 26th, 2012
Created by: chocoholic
July 18th, 2012 - August 3rd, 2012
Created by: chocoholic
July 10th, 2012 - July 18th, 2012
Created by: leighfall
July 1st, 2012 - July 10th, 2012
Created by: leighfall
June 26th, 2012 - July 1st, 2012
Created by: flyingape
May 29th, 2012 - June 26th, 2012
Created by: leighfall
Website Layouts
December 2012-April 2013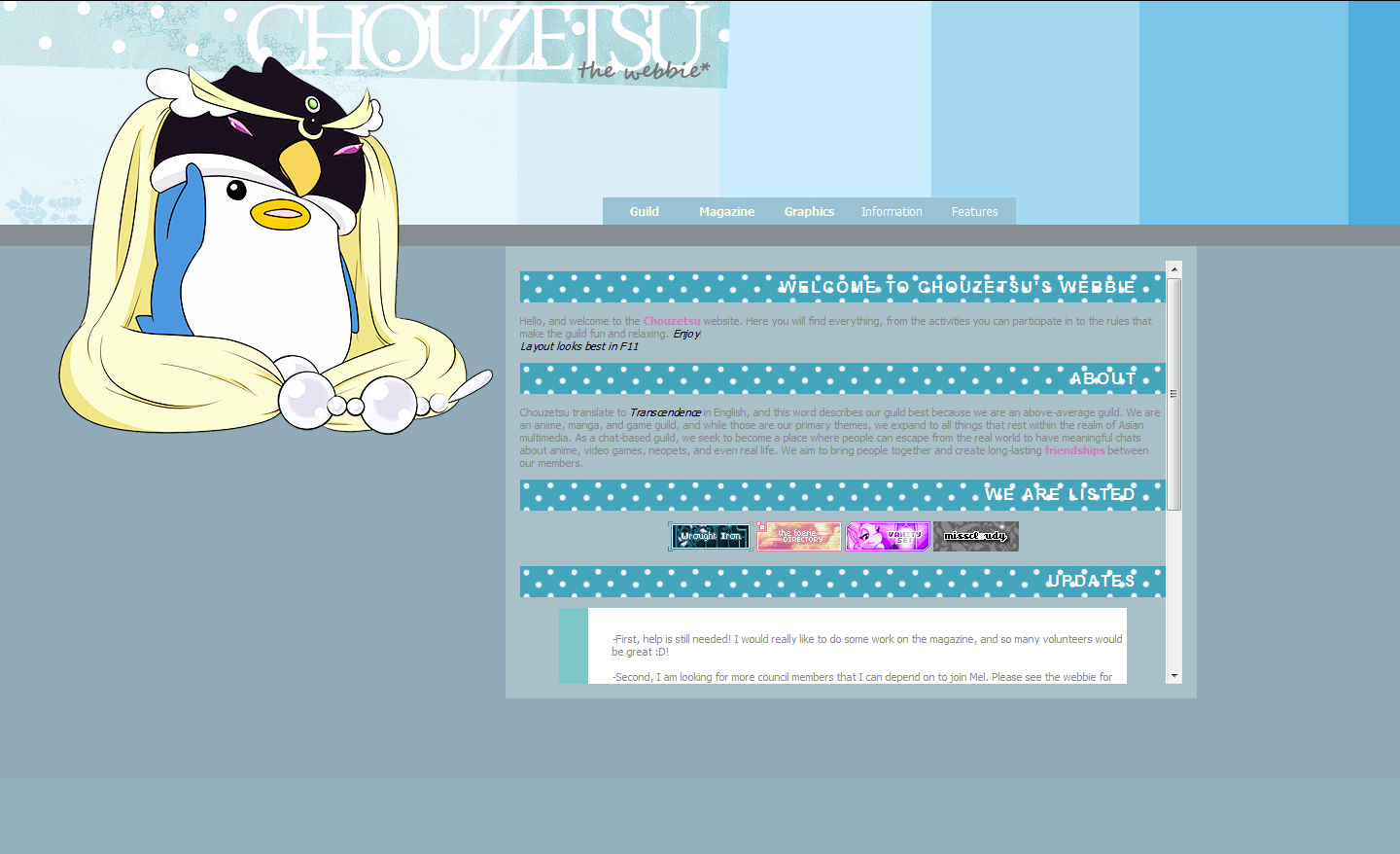 Created by: 68states
September 3rd, 2012 - November 6th, 2012
Created by: 68states
August 3rd, 2012 - September 3rd, 2012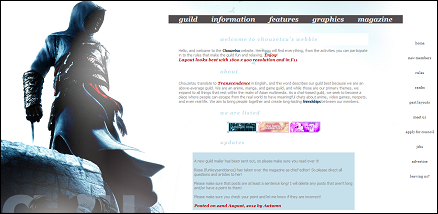 Created by: 68states
July 1st, 2012 - August 3rd, 2012
Created by: leighfall
June 26th, 2012 - July 1st, 2012
Created by: leighfall
May29th, 2012 - June 26th, 2012
Created by: leighfall
Meet the Members
Want to get to know your members better? Here you will find information on each member in the guild. In order to be included, please fill out the form below and neomail it to
chouzetsuaccount
! Feel free to omit any section you wish to not answer.
Press
ctrl + f
to search for a member!
Council Members
Username: masternecco_10
Name: Meltic (or Mel)
Joined: 07/27/12
Hobbies/Interests: gaming, learning languages, drawing (anime/manga), listening to jrock (including vocarock), cooking, complaining (?)
Favorite Anime, Manga, Game: Le Chevalier D'Eon, The Tatami Galaxy, Mononoke/Donten ni Warau, Dolls, Maoh: Juvenile Remix/Guilty Gear, Shadow Hearts
About: I really like to draw anime/manga. When it comes to anime and manga, I'm very picky. I prefer shonen or action series. I also prefer shorter series though. I'm still in high school and I'm teaching myself Japanese. There's really not too much to say about myself.

Username: setxfriendsxonxfire
Name: Fall
Joined: 12/13/2012
Hobbies/Interests: I draw, paint, and write a lot. I can play the piano and love to sing. I spend a lot of time with my 2 cats.
Favorite Anime, Manga, Game: FLCL and Hourou Musuko. Ao Haru Ride and Strobe edge. Amnesia and Bastion.
About: I am crazy. I spend a lot of time on my blog and watching silly shows. I love music. It helps me get through a lot. I am a crazy cat lady. Love my cats and can talk about them for hours. I'm awkward and never really know what to say. I enjoy making friends though. Real name is Autumn. I'm twenty-one and make a lot of graphics.
Username: x_neonut
Name: Aki (Autumn)
Joined: 5/31/2014
Hobbies/Interests: Graphics design, drawing, hearthstone, tennis, astronomy.
Favorite Animes: Sailor Moon
Favorite Games: Kingdom Hearts, The Final Fantasy Series, Xenosaga.
About: I'm married, have a two and half year old as well as work a full time job. In my spare time I design layouts and play on neopets.
Guild Members
Username: leighfall
Name: Autumn
Joined: 04/29/2012
Hobbies/Interests: Watching television, getting on the computer, playing video games, yoga, environmental awareness.
Favorite Anime, Manga, Game: My favorite anime is Fullmetal Alchemist and I have a list of favorite games: COD Black Ops, Oblivion, Mass Effect, Sims 3, SSX, Soul Calibur 4.
About: I'm a rising sophomore in college right now and I'm currently majoring in Earth and Environmental Science and minoring in either Spanish or Biological Sciences. I'm a busy, busy person, but I definitely make time for the things I love. Our motto at my college is "Work hard, play harder," and that's what I do.

Username: Shinypok3mon
Name: Mike
Joined: 08/21/12
Hobbies/Interests: Music (Country, Rock, Pop, Jpop, Kpop, Vocaloid, you name it), Pokemon, journalism, speaking different languages (Spanish, but Japanese might be in the near future), Emilie Autumn, Anything horror (especially urban legends, creepy music and scary games!)
Favorite Anime and Games: I really like these animes: Pokemon, Avatar The Last Airbender, The Legend of Korra, The Melancoly of Haruhi Suzumiya, and Bincho-tan.
Anything playable on the 3DS would have to be my favorite game, especially if it's horror! Also I like Ib and The Witches House, playable on PC.
About: Well, I'm in High School, currently trying to learn Spanish, so habla conmigo! lol. Maybe I'll start learning Japanese... but lets just wait and see lol. I'm pretty chill, and yeah. That's it. Eso es todo!
Username: __bubbles
Name: Trash Boat
Joined: 7/19/2012
Hobbies/Interests: Doing layouts sometimes, marine biology, watching anime and reading manga, that's about it.
Favorite Anime, Manga, Game: One Piece, Bakuman, Mushishi, Black Lagoon, Angel Beats!, Hanasaku Iroha, The World God Only Knows, Tiger & Bunny, Tokyo Godfathers, The Girl Who Leapt Through Time, Samurai Champloo, Sayonara Zetsubou Sensei, Tekkon Kinkreet, K-On!, Baccano!, Kuragehime, Deadman Wonderland, Yotsuba&!, Franken Fran, and Pokemon for games.
About: I live in California and I'm 18. I'm half white and half Chinese and I'm 5'10". I eat too much but that's what high metabolisms are for~ Well I don't really do much. I spend most of my days on the internet, most of the time watching anime. I'm really bad at learning new languages, but I'm trying to learn Japanese so I can study abroad there. I have a really bad habit of not doing work but I hope to change that for college and hopefully life, lol. But being a procrastinator will always stay with me, yup.

Username: moonlight_echoes
Name: Laura
Joined: 12/03/13
Hobbies/Interests: Acting, reading, writing, singing, drawing, gaming!
Favorite Anime, Manga, Game: Studio Ghibli, Ouran, Anohana, Princess Tutu, Baccano!, Akagami no Shirayukihime, Negima, UQ Holder, LAST GAME, Final Fantasy (most of them), Mass Effect, Assassin's Creed, Ni no Kuni, Sims. I like way more than that, of course, but my list would probably go on forever...
About: I'm a 17 year old Canadian girl who has been on Neopets for most of my life on various accounts. I go to an art school where I study acting and singing!

Username: princess_de_cleves
Name: Julia
Joined: 12/25/13
Hobbies/Interests: Writing, cooking, gaming, reading, crossword puzzles.
Favorite Anime, Manga, Game: K-On!/Ouran, Fushigi Yugi: Genbu Kaiden, Assassins Creed (all except first one)
About: University student studying East Asian studies, Celtic studies, and English literature. Korean has replaced French as my second language (not fluent yet). I'm addicted to crossword puzzles

Username: Remmi3
Name: Remmie
Joined: 4/15/2014
Hobbies/Interests: Gaming, watching movies/anime, web dev/design
Favorite Anime, Manga, Game: [Anime] - Gundam Wing, the wallflower, Attack on Titan, Hellsing, Air Gear, Last Exile [Manga] - Claymore, Negima, Lovely Complex, Skipbeat [Games] - Last of Us, Catherine, Katamari, Pokemon, Golden Sun
About: I'm in my early 20s and work as a Software Engineer designing websites. I spend a lot of my free time watching anime and playing video games.

Username: rathas_creature
Name: Rachel
Joined:07/03/14
Hobbies/Interests: Reading, Writing, TKD, playing video games, and watching anime.
Favorite Animes: Ouran Highschool Hostclub, Attack on Titan, Sword Art Online_ Fairy Tail, Soul Eater, Vampire Knight, Death Note, and Rosario Vampire.
Favorite Manga: Ouran Highschool Hostclub and Rosario Vampire
Favorite Games: Kingdom Hearts and Skyrim
About: I enjoy anime in general, but if the art is off somehow it bugs me. I'm still in highschool and studying Japanese culture. I'm also a book lover.
Going on Hiatus?
Below is a hiatus form for members who need to take a break from the guild due to vacationing or school studies or just because real life is busy. Once this form is filled out and submitted, you will be added to this page, which will keep you from being deleted from the guild and allow other members to see who is gone and who's around.
Please fill the form out below and send it to
Chouzetsu Staff
. You will be required to list an approximate time you will be back in the guild. If you aren't back within a month of the time you gave us, you don't neomail us saying you will be gone longer, or you don't give us a date you'll be back and you aren't back within 3 months, you are subject to member sweep rules!
Neomail
Chouzetsu Staff
when you return so you can be removed from this page!
Members Currently on Hiatus
apply for council
Our council members are to be part of an elite group that runs and takes care of specific jobs around the guild. They will be your go-to person regarding specific tasks and they will help keep our guild running smoothly.
You must be aware that being a council member takes great commitment, and as such you should be an active member of the guild, posting and chatting at least 4 days each week. If I notice that you start to disappear on us, I will send you a warning. After the warning, you will be removed from the council. So please be committed!
In order to achieve council, you must
first
have a minimum post count of 100. If you are on regularly, this shouldn't be super difficult to achieve. And in the meantime you'll be able to show your dedication.
The
second
, and probably the most important, is you must be a communicator!! If something does come up or for some reason you can not be on for a specific amount of time, please let me know!! You will be running certain jobs, so in the event that you are unable to because, for whatever reason, you won't be on, I need to know so that I can take over whatever it is that you or doing or get someone else to do it. We aren't replacing you, but we don't expect you to take too long of a hiatus (1-2 months max). If you think you will be gone for so long that you cannot perform your tasks, we expect you to step down on your own accord so that someone else may take on those responsibilities.
Please fill out the form below and neomail to
chouzetsuaccount
The Form
Jobs
Here are a few guild job positions that need to be filled so that our guild runs smoothly without overloading any one person. You do not have to be a council member in order to apply, but please be committed to the job and accurate about the information.
Advertiser
- Will be responsible for getting our name out there. Will create boards to bump and advertise to those that are guildless.
Event Planner
- Will plan special events for the guild, including events for holidays and for the guild's birthday.
Graphics Designer 1
- Will be responsible for making new guild layouts.
Graphics Designer 2
- Will be responsible for making website and other page layouts.
Graphics Designer 3
- Will be responsible for adding new userlookups/buttons/banners etc. to the graphics page.
Please fill out the form below and neomail it to
chouzetsuaccount
.
Current Employees
-Autumn (
setxfriendsxonxfire
) -- Graphics designer
advertise us
We are looking forward to seeing the guild grow and be successful. New members are always exciting because we get to meet and know new people and enjoy each other's company in a warm environment. In order for that to happen, we have to make ourselves known! Below are some tips for advertising and topics to use on the guild boards, as well as a premade ad.
Keep In Mind
1) When advertising on other boards, respect the person that is looking for a guild. If they say specifically "No Anime" or "I only want NR," just go on your way. If there's more grey area and they say they will look at all guilds, then feel free to advertise. When they aren't giving any specific requirements at all, ask them what they are looking for or if they might be interested in the themes of our guild. Saves you and them time. Also, checking out their userlookup or looking at their "About Me" pages can often times give you a better idea if they may be interested in our guild or not, and can make things easier when trying to chit chat.

2) Stick around! Many times the person will have questions, so it would be useful for you to be there when they ask them. Also, chatting with them earns you bonus points. In addition, you get to know them better when y'all are chatting and in the end, if they choose not to join, you've met someone new.

3) Be unique with the ads. We do have premades, but we strongly encourage you to create your own! If you are new or just are not sure what to say, stick with our name and our theme, let them know our size, that we are semi-literate and chat-based, whether we are private or public, and leave them with a link to the guild and the website. If they ask questions that you do not know how to answer, let them know that they can neomail the council members.

4) Aid them as much as possible. Answering their questions is important! Also, in the event that they say no to our guild, but they are looking for a theme related to our guild, offer them suggestions. There are usually a couple of Anime-guild boards around. So provide them with some links if you can. Make their hunting easy for them! Otherwise, wish them luck on their search and be on your way!
Advertise
Board Topics
leaving us?
This is probably the saddest page that will ever be seen in this guild! This is the page for those members who have ultimately decided that our home was not the right place for them. Below are a few things that would be beneficial to both you and us. Of course, this is all optional.
Feedback
We would really appreciate any honest thoughts about the guild. Upon leaving, please neomail
chouzetsuaccount
with your reason(s) for leaving us. You will definitely not be argued with nor will anything be explained; you will simply get a "Thanks and good luck!" in reply. We want to make sure that this guild caters to the members the best way possible, and so your thoughts would really help us out and be greatly appreciated.
Guilds
If you would like me to help you find another guild, I would be more than happy to. Again, just neomail
chouzetsuaccount
.
Goodbye!
Have a great time! We enjoyed getting to know you as a member! Feel free to add people! We'd love to hear from you again!
Auctions
Looking for some cool items? Here's the place to stop! These are Chouzetsu's 1np auctions! Here and there they will be little things that you can use or sell for great neopoints, and every once in a while we may have something big! In order to be eligible for the 1np auctions, you must have posted at least 25 times in the guild. This is to reduce anyone just joining for the auctions. Once you have reached this number, you may friend the guild account, chouzetsuaccount. Check on this page to see what auctions are available, then proceed to the trades page to bid on items!

If you would like to donate items to be auctioned up, please send chouzetsuaccount a neomail with the title Auction and send items to the account!


Items Up for Auction
Adoption Agency
Welcome to Chouzetsu's Adoption agency. Here you will find pets that are up for adoption by members of the guild! In order to adopt pets, you must at least have 25 posts in the guild. This is to reduce people just joining to get good pets. Afterwards, just contact the owner to set up the adoption!


Pet Up for Adoption
Member of the Month
We seek to honor those members who have aided in making Chouzetsu what it is today, whether that means creating layouts, advertising, helping update pages, submitting articles, or just being a chatterbox and welcoming to other members. The member of the month will be chosen by the council and subcouncil on the last day of each month and will have a little blurb about their contributions to the guild on the guild homepage for a month! They will also receive a nifty banner to add to their userlookup and it will also be placed under their "Awards" section on our "Meet Us." page.