Welcome to Burst of Color!
Hello, kind visitor, and welcome to my button site, Burst of Color! Thanks for stopping by! I'll start by introducing myself. My name's Mink, my favorite color's turquoise and I play the guitar. I've been doing sites since I was around 8 years old. It's nice to meet you! I hope you enjoy taking a look around my site, and don't forget to order an AWESOME button while you're here. I'm relatively new to making buttons, but hope you'll find some styles you like and order one! But remember to read
the rules
before you order anything. Thanks,
Mink :)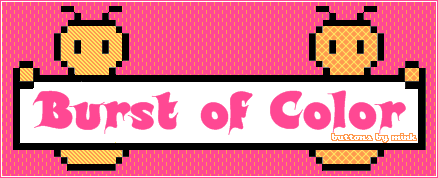 rules and status
First off, here are a few rules!
1. When you use my buttons, you must give me credit and link back to my site.
2. Remember that onions achieve greatness.
3. You can order up two buttons at a time.
4. Please use the form when ordering a button. If you don't, I will not make your button.
5.You can just say "surprise me" or "something pink" for the image specification. You don't have to have it right down to the specifics.

And finally, my current status!

Affie Applications:


Listed Applications:


Requesting:

updates
June 22nd, 2013:+1 Request, +1 Button Made. I have been gone for nearly a year, but I'm back and better than ever :D
August 12th, 2012:+1 Request, +1 Button Made. Sorry I haven't updated for a few days, I've been catching some rays at the beach :P
August 8th, 2012:+1 Lister, +7 Buttons on Waiting List, +3 Affies.
August 8th, 2012:+1 Lister
August 7th, 2012:+2 Listers
August 2nd, 2012:+2 Affies, +1 Lister
August 1st, 2012: Happy August! Geez, only one more month before school :/ +2 affiliates and +4 listings! Yay!
July 31st, 2012: Working on construction of the site.
request a button
Thanks,
minkbubble
, for your interest in requesting a button!
To Request a button, fill out the form below and neomail it to me
here
Waiting List
customater
templates
Note:
Gradient is available in
ALL
styles. You can also make any style have a dashed border. So, for example, on your form, "Dashed Dugout".
*
* *
* *
* *
* *
* *
* *
* *
* *
* *
* *
* *
* *
* *
*
fonts
Effects
Animations
Above is the
Novamate
style.
This is called Moving Lens, and is used on this button of mine:
Notie:
If you have any personal animation ideas I can try them, and also please only pick up to 2 animations and effects(combined).
Pick Up Your Button
requested customs
Please
neomail me
as soon as you pick up your button. If you don't message I'll delete it after 5 days.

For Sophie:

Portfolio
The following buttons are buttons I made for my own site, but nevertheless ARE buttons I made.
Sitely


Listed At

reviews and credits
Review coming soon...
---
• Premade layout by
Exclusive
• Content ©
minkbubble
2011
• Textures ©
Nienke's Resources
• Background and colors of premade layout edited by MinkBubble
•Pixels by
Amber's Pixels
•This layout was made on
September 10, 2011
for
Apartment Nine
(
v.9 Simplest Celebration
).