Calico Clothing is a clothing site that lists spare sets of paint brush clothes that people are willing to give away so that unclothed pets can be reunited with their paint brush sets! If you have any questions, check the FAQ on the right.
If you want clothing added, neomail
mousieamelia
with the species and colour of the clothing, and make sure you mention who to contact or I will assume the account you are messaging from. If you've given away or received clothing, please also neomail mousieamelia so I can remove it.
You must own the pet unclothed if you want the clothing!
FAQ
In the extreme offchance that your pet is stolen and my page has been abused to do so, it is not my fault, neomail me right away so I can remove them and you can send in a ticket to TNT. On that note, I suggest that if you are getting your pet clothed, screenshot all neomails and transfers involving the process until your pet is safely returned. 1. How does a neopet lose it's clothing?
A clothed pet can lose it's clothing in two ways. The first is, when a pet is repainted. If your pet is currently painted say, a Royal Kacheek, and you repaint it Green, the Royal clothes will go straight to your closet. If you have another Kacheek you have painted Faerie, you can put the Royal clothes on it. Any pet of the same species can wear paint brush clothing that belongs to their fellow species (except the colors baby, maraquan, mutant, fruit and vegetable pets and 8-bits). Another way for a pet to lose their clothing is when they are pounded. Let's stick to the Royal kacheek. Say you pounded that pet - the Royal clothes will stay in your closet, and the poor kacheek will be in the pound with no clothes. Their new owner can either repaint that Kacheek Royal, or find another person with extra clothing in their closet. The Royal Kacheek clothing is now stuck in your closet and unless you get another one, it will remain stuck.
2. What is cross-painting?
Cross-painting is when a neopet is wearing paint-brush clothing, but the pet is not the same colour as the clothes. This means that if you transferred the pet, the clothing wouldn't go with them. Cross-painting is popular as it enables your pet to have a dynamic customization that either is more relative to its character, or just looks better.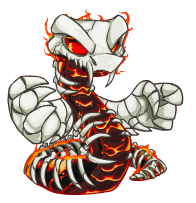 A Magma Hissi cross-painted with Halloween clothing.
3. Can I cross-paint my pet using clothing from this page?
No, as the clothing won't transfer unless your pet is the matching colour for the clothing set.
4. How do I get the clothing on this page for my unclothed pet?
You need to neomail the person who owns the clothing (listed below the pet), and you two can arrange a transfer. You would transfer your pet to the person, and when it was transferred back the next day automatically take the clothing from their closet with it.
5. Someone has their name listed for the same pet more than once?

This means that this person has more than one set of the same clothing.
6. Why are there only up to 3 people listed on some pets?
To keep the page cleaner, I only stack up to 3 people for each pet. This ensures that listings for certain pets don't have 57862348 people listed, so that the people who listed first will have their clothing taken first.
Note: If I see that you haven't been online for at least 50 days, your clothing will be removed. Mail mousieamelia to add it again.