Team Profile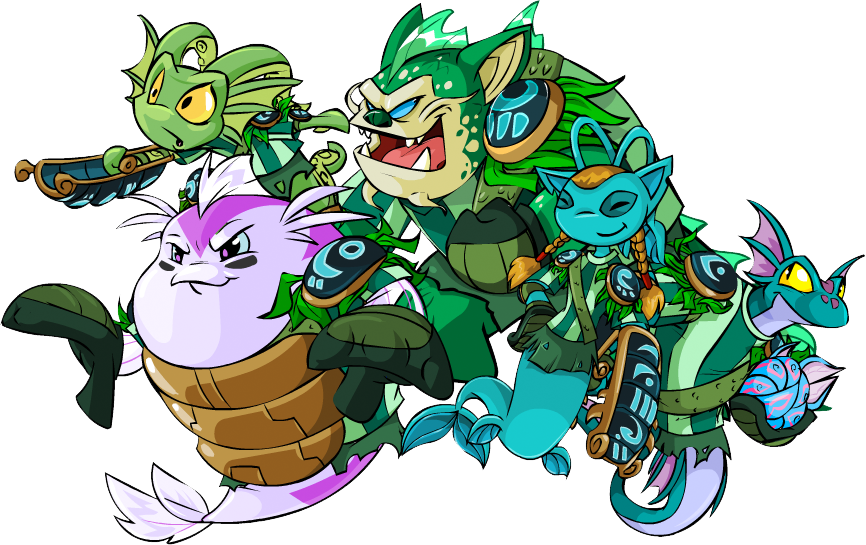 Team Stats At A Glance
Overall Annual Ranking: 6th
Fan base: Huge
Sportsmanship: Outstanding
Yooyuball Skill: Excellent
Slushie Slinger Skill: Average
Make Some Noise Skill: Good
Shootout Showdown Skill: Very Good
Overall Skill: Very Good

Maraqua's top avatars
Here are some avatars that are representative of Team Maraqua. Please note that some of them can no longer be unlocked, as they are retired. If you don't know how to unlock one of them, check out this solution guide. If you want to craft a matching font for your avatar, this font color chart and this guide might become handy!





















The Perfect Maraquan's closet
Show your Maraquan pride with clothing, background and accessories that are sea, water or Altador Cup related.
Neopoints Items
A star (*) beside the name of an item means it's specific to one species.

Dangerous Waters Cut Out

Golden Water Fountain

Underwater Background

Underwater Fire

Underwater Net Background

Underwater Shipwreck Background

Rainbow Sea Life in Shell Pot

Anemone in a Shell Pot

Conch Shell

Pink Coral in a Shell Pot

Shell Beach Background

Shell Faerie Wings

Shell Hair Clip

Shell Hairbow

Altador Cup Background - Maraqua

Altador Cup II Team Background - Maraqua

Altador Cup Maraqua Frame

Mossy Rock

Rocky Ocean Background

Maractite Cavern Background

Isca Negg

Giant Bubble Blower

Seasonal Maraquan Background

Kelp Holiday Garland

Pile of Drenched Gifts

Soggy Sewer Gift

Squid Hat

Squid Scarf

Squid Slippers

Squid Snowglobe

Seed Pod Ink Frame

Cybunny Diver Fins*

Cybunny Diver Gloves*

Cybunny Diver Goggles*

Cybunny Diver Suit*

Buzz Diver Gloves*

Buzz Diver Goggles

Buzz Diver Net

Buzz Diver Suit

Waterskiing Jetsam Rope*

Waterskiing Jetsam Shirt*

Waterskiing Jetsam Skis*

Waterskiing Jetsam Vest*

Waterskiing Jetsam Trousers*

Jetsam Sea Captain Rain Hat*

Jetsam Sea Captain Rain Slicker*

Koi Seaweed Ensemble*

Koi Shell Lei*

Koi Shell Tiara*

Koi Woven Seaweed Purse*

Golden Koi Bracelet*

Female Gypsy Koi Crystal Ball*

Female Gypsy Koi Hat*

Male Gypsy Koi Belt*

Male Gypsy Koi Headband*

Koi Life Preserver*

Koi Ocean Lord Crown*

Koi Ocean Lord Toga*

Koi Ocean Lord Trident*

Lustrous Pearl Koi Staff*

Maractite Koi Armour*

Maractite Koi Gloves*

Maractite Koi Helmet*

Maractite Koi Trousers*

Fashionable Koi Dress*

Kacheek Shell Goggles*

Maraquan Warrior Peophin Bracers*

Maraquan Warrior Peophin Chest Armour*

Maraquan Warrior Peophin Tail Armour*

Maraquan Warrior Peophin Trident*

Ocean Yurble Skirt*

Ocean Yurble Tiara*

Shipwrecked Techo Kelp*

Simple Starfish Lutari Necklace*

Flotsam Dress*

Fashionable Acara Sandals*

Flowing Peophin Wig*

Flowing Peophin Dress*

Flowing Peophin Bracelet*

Flowing Peophin Armband*

Flowing Peophin Necklace*

Maractite Lined Poogle Bangles*

Maractite Lined Poogle Trousers*

Maractite Lined Poogle Shirt*

Maractite Lined Poogle Shoes*

Maractite Lined Poogle Wig*

Strange Blue Mist

Slushie Slinger Background

Altador Cup Fan Goblet

Altador Cup Flag Spear

Scarf Blowing in the Wind

Yooyuball Shoulder Armour

Altador Cup Teams Garland

Discarded Yooyuball Gear Foreground

Cybunny Ocean Warrior Wig*

Cybunny Ocean Warrior Cape*

Cybunny Ocean Warrior Dress*

Cybunny Ocean Warrior Gloves*

Cybunny Ocean Warrior Shoes*

Water Curtains Foreground

Golden Maraquan Trident

Maraquan Fin Wings

Altador Cup Score Board Tiara Wig

Icy Altador Cup Shoulder Bandage

Yooyu Balloons

Paper Yooyuball Lantern Garland

Ocean Koi Top*

Ocean Koi Skirt*

Ocean Koi Bracelet*

Ocean Koi Wig*

Glowing Spell Runes Foreground

Twisted Golden Stave

Water Faerie Eye Shadow

Gormball Splat Foreground

Grarrl Enchantress Staff*

Grarrl Enchantress Wig*

Dressy Eyrie Bracelets*

Dressy Eyrie Necklace*

Maractite Lined Bori Shirt*

Maractite Lined Bori Trousers*

Maractite Lined Bori Boots*

Maractite Lined Bori Wig*

Cobbled Maractite Path
Neocash Items

Exploring Maraqua Background

Magical Maractite Sword

Marafin Hat

Maraqua Altador Cup Jersey

Maraqua Altador Cup Team Spirit Banners

Maraqua Frame

Maraqua Team Cuffs

Maraqua Team Foam Finger

Maraqua Team Hat

Maraqua Team Mask

Maraqua Team Sport Shirt

Maraquan Castle Background

Maraquan Exploration Helmet

Maraquan Exploration Suit

Maraquan Exploration Tank

Maraquan Fancy Dress

Maraquan Maiden Arm Bracelets

Maraquan Maiden Dress

Maraquan Maiden Wig with Flower

Maraquan Summer Shirt

Maraquan Wig

Maraquan Wind Chimes

MME2-B1: Gold and Maractite Fish Shield

Isca Wig

Iscas Dress

Beautiful Bubble Maker

MME6-S1: Magical Shapes Bubble Wand

MME6-S2: A Bunch of Popping Bubbles

MME6-S3: Beautiful Bubble Earrings

MME6-S3: Beautiful Bubble Necklace

MME6-S4: Lighter Than Air Bubble Wings

MME6-S6: Trapped in a Bubble Foreground

Seaweed Bubble Shower

Yooyu Floating Bubble Shower

Fanciful Seaweed Dress

Fanciful Seaweed Headband

MME7-S5: Undersea Coral Garden Foreground

Sea Foam Green Wig

Sea Shell Foreground

Seaweed Curtains

Seaweed Wig

Lifeguard Flipflops

Gulp... Underwater Reef Background

MiniMME8-S2: Super Splash Water Slide Background

MiniMME9-S2: Water Drugal Handheld Plushie

MME7-S2: Water Rising Foreground

Rocks and Water Foreground

Sparkling Waterfall Background

Underwater Fishing Background

Water Hose Wings

Water Skirt

Water Splash

Waterfall Diving Background

Wings of Water

Beaded Shell Earrings

Beaded Shell Necklace

Beautiful Clam Shell Purse

Bubbling Clam Shell Foreground

Pearls and Shells Garland

Pretty Shell Chair

Sea Shell Foreground

Shell Wings

Cresting Wave Wings

MME7-S4: Hidden Beneath the Waves Background

Rainbow Ocean Waves

Wave Splash Surfboard

Colourful Coral Trident

MME7-S5: Kelp and Coral Garland

Starfish and Coral Staff

King Kelpbeards Collectable Orb

Nautical Souvenirs Garland Orb

MME9-S2: Tentacle Takeover

MME9-S4a: Tentacle Skirt

MME9-S4b: Tentacle Wig

Tentacle Beard

Silly Octorna Sprinkler

Beware of the Squid Sign

Giant Squid Costume

Giant Squid Hat

Giant Squid Mask

MME2-B1: Gold and Maractite Fish Shield

MME2-S3: Puddle with Golden Fish Tail

MME2-S4: Golden Fish Sword in a Stone

MME2-S4: Playful Peeking Gold Fish

MME2-S5: Beautiful Fish of Gold

MME2-S5 Glorious Golden Fish Sword

Bucket Of Fish

Fish Negg Meerca Costume

Fish Puddle

Fishing Net Garland

Jellyfish Hat

Net of Fish

Starfish and Coral Staff

Starfish Mask

Pretty Tropical Lagoon Background

MME2-S1: Mystical Rain Shower

Rain Shower

Amidst the Coral Foreground

Jellyfish Umbrella

Seashell Bouquet

Seashell Throne

Shell Shield

Isca Handheld Plushie

Ocean Hues Makeup

Seashell Tutu and Tights

Underwater Flowerbed Foreground

Iridescent Scales Skirt

Lovely Seashell Dress

Shell Coif Wig

Coral Wings

Crown of Shells Wig

Green Fishtail Gown

Underwater Tea Party Background

Kelp Forest Path Background

Beach Sandals

Maraquan Summer Cloak

Arkmite Pool Foreground

Aquatic Cape

Wave Surfer Background

Baby Summer Swimsuit

Floating at the Beach Background

Elaborate Shell Wings

Ornate Maractite Wings

City of Maraqua Background

Maraquan Jail Cell Foreground

Lovely Sea Monster Dress

Iridescent Sea Monster Wig

Scaly Sea Monster Facepaint

Fearsome Fish Bone Staff

Eerie Underwater Grotto Background

Silver and Blue Facepaint

New Years in Maraqua Background

MiniMME11-S1: Approaching Eventide Skirt

MiniMME12-S2: Maractite Noil Handheld Plushie

MiniMME12-S2: Ornate Maractite Trident

MiniMME12-S2: Elegant Maractite Wig

MiniMME12-S1: Grand Maractite Hall Background

MiniMME12-B: Maractite Shoulder Armour

Maraqua Altador Cup Locker Room Background

Maraqua Team Face Makeup

Maraqua Team Crazy Wig

Maraqua Team Trousers and Cleats

Altador Cup Fan Shirt Dress

Altador Cup Towel Cape

Mint and Aqua Flower Wig

Altador Cup Trophy Crown and Wig

Altador Cup Trophy Garland

Grand Altador Cup Shield

Maraquan Ombre Ocean Wig

Sparkling Aqua Sequin Skirt

Shallow Waves Foreground

Water Wings

Maractite Pirate Hat

Tears of Caylis Face Paint

Maraquan Pirates Background

Basic Short Azure Wig

Short Mint Green Wig

Maraqua Team Braided Wig