About This Site


Hi! I'm Brydronia, an MSP Poogle. I was created on Poogle Day 2007, as a green poogle, but my owner, evazora, started to zap me on the lab ray. At first, I was changed into a Sketch Poogle, but my owner wasn't satisfied. After that, I got lucky and the lab ray turned me into MSP! My owner is also dying to get the MSPP (TCG) for the avatar.

This petpage is dedicated to all the MSP Poogle owners out there. I've made a guide with a list of all the MSPP things that ever existed in Neopia. Also, I've creating a directory of MSP Poogles so if you happen to own one, neomail me so I can add him/her to my list. My dream is to create a directory of all the MSP poogles of Neopia!

Counter:
Main MSP Info
What is MSP/MSPP?
MSPP stands for Malevolent Sentient Poogle Plushie
(mal-ev-oh-lent sen-tee-ent poo-gull plush-ee)
. Best known for scaring young neopets, but considered a hero in the Neopets TCG game. Its physical appearance is quite evil looking (although I think MSPs are quite cute!) and plenty of Neopia's legends include this little guy as one of its villain characters.
How can I get my Poogle to change into MSP?
To obtain a MSP Poogle, all you need is luck, neopoints, and patience. You must already have collect all the pieces of the secret laboratory maps (800-900k on TP) and have access to the daily zap. It is random of what you get from the ray each day, so there is no guarantee you'll ever be lucky enough to get one. I got Brydronia to change into MSP after approximately 7 zaps, but its completely random. The MSP Poogle is not even available from a Faerie Fountain Quest.
I've seen many neopians on the NeoBoards with an MSPP avatar. How do I get it?
You must first buy, find, or some how obtain a Malevolent Sentient Poogle Plushie (TCG). The current price for it on the Trading Post is approximately 110,000,000 nps, which is a LOT of $$$! Once you have it, put it into your inventory and refresh. You should now have the avatar. It looks like this:

I've seen many neopians with a MSP Poogle standing upright, why is mine standing on all fours?
The Neopets Team had some of the painted pets redrawn. The old ones are referred to as Unconverted MSP Poogle. (UC)
MSPP in Neopia
Items:
| | | | |
| --- | --- | --- | --- |
| MSPP Backpack | MSPP Notepad | MSPP Pen | MSPP Pencil Case |

MSPP Plushie

MSPP Squirty Toy

MSPP Toy Drum Set

MSPP Yoyo

Malevolent Sentient Poogle
Plushie (TCG)
Total Count: 9
---
Shopkeepers: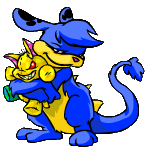 Zafara - hugging MSPP Plushie
---
Backgrounds: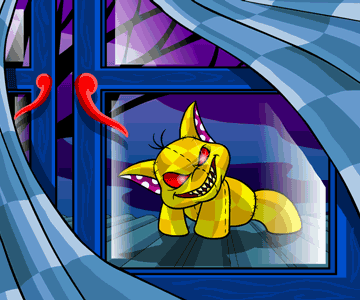 ---
Shop Blogs: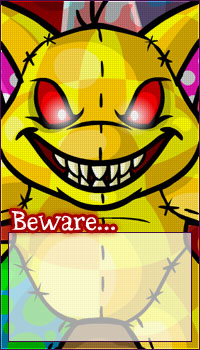 MSPP - Beware!
---
Caption Contests: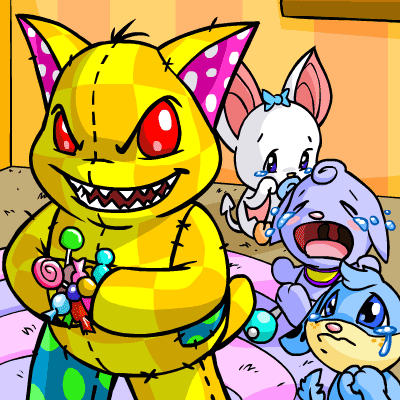 Caption Competition #714
---
How to Draw:
How to draw The Malevolent Sentient Poogle Plushie
| | |
| --- | --- |
| | Start by drawing a medium-sized circle for the top part of the plushie's head. |
---
| | |
| --- | --- |
| Next, make a wide oval that overlaps the bottom half of the circle you drew in the first step to complete the plushie's head shape. | |
---
| | |
| --- | --- |
| | Lightly sketch a pair of crossed lines on the plushie's head. The horizontal line should be slightly curved, because the plushie's head is lowered a bit. These lines will help you place the plushie's facial features later on. |
---
| | |
| --- | --- |
| Add the plushie's pointy Poogle ears to the top of his head. | |
---
| | |
| --- | --- |
| | Starting where the crossed lines intersect on the head shape, draw a large, rectangular shape for the plushie's body. |
---
| | |
| --- | --- |
| Next, overlapping the bottom part of the plushie's head, add an arm to each side of the body. | |
---
| | |
| --- | --- |
| | Draw two legs at the bottom of the body shape. Also, add a short tail that peeks out from behind the plushie. |
---
| | |
| --- | --- |
| Now it's time to make your Poogle plushie malevolent! On the horizontal guideline you made, draw two glaring eyes. Just below those eyes, make a curved line for the plushie's nose. Finally, draw his wide toothy grin. Don't forget to make the bottom part of his face curve out a little bit below his mouth for his chin. | |
---
| | |
| --- | --- |
| | As malevolent as this character may be, the fact is, he's still a plushie, so add some stitches and seams along his arms, legs, and ears. Also, add a little line on his body for MSPP's stuffed tummy. Lastly, fill his wicked smile with lots of nasty, big, pointy teeth. |
---
| | |
| --- | --- |
| Are you getting scared yet? Draw some cute plushie patterns on your MSPP's head and body. Finally, add a tiny circle to each of his eyes for their wicked glint. | |
---
| | |
| --- | --- |
| | If you haven't run away from your drawing in fear yet, give it some colour and shading for extra depth. There you have it, your very own Malevolent Sentient Poogle Plushie! Lucky for you, it's only a drawing.... |
---
Neopets TCG:
| | |
| --- | --- |
| 1st Print | 2nd Print |
---
Have I missed anything? If you have anything you'd like me to add to this list,
neomail me
!
Directory of MSPP Poogles
The MSP Poogles listed here are never going to be up for adoption. Do not spam their owners!
Total Count: 71
Do you own a MSP Poogle? If you do and like to be added onto my directory, neomail me!
Link Back
My old image host stopped allowing hotlinking. I've uploaded the button onto good old tinypic. Please change the link back code to the one below. Thank you!
| | |
| --- | --- |
| 88px by 31px | |
Affies
Neomail me to apply! A link button that is 88px by 31px is preferred.
---
Thank you all who contributed to the site content and MSP Poogle directory!