may 28, 2012
requests closed | waiting list temporarily shut down
+ well, this is embarrassing... haven't been available in quite some time. brilliantsecrets may shut down permanently soon, (maybe not?) but i will leave the content up for the time being.
december 23, 2011
requests
closed
| waiting list
1
+
Sorry for the unannounced absence! Work/holidays/applications got to me. I'm back!
+
A big thank-you to Borealis at
Third Impression
for reviewing Brilliant Secrets!
+
Overdue though it is,
Toastyee's
layout is ready. One left!
+
Affiliates with
Ginger Glaze!
december 7, 2011
requests closed | waiting list 2
+ nearly finished with the next layout on the waiting line;
+ starting work on a siteowner's tutorial site!
december 4, 2011
requests
closed
| waiting list
2
+
just finished
eve's
custom layout
+
I've completed the pathway poll votes; everyone asked for more custom layouts and some graphics tutorials, so I will complete the waiting list and then start making some tutorials.
+
Special thanks to
Valerie
at Green Jasper for reviewing Brilliant Secrets! The results are linked on my
sitely
page.
+
Now affiliates with
Emily's CSS
and
Sample Reviews
. Go take a look at them - they're excellent!
november 29, 2011
requests closed | waiting list 3
+ i'm so sorry for the lack of updates this week! my four year old laptop was dead. today, in a final gasp of hope, I took it into the apple store and - lo and behold - all it needed was a new battery! rejoice, the laptop is revived!
+ doing some serious layouts to catch up. back soon.
november 23, 2011
requests
closed
| waiting list
3
+
another challenging day; photoshop version is outdated. requests will be stalled while I figure out how to work with it. I apologize for the inconvenience, and will have things running as soon as possible!
+
be sure to cast your vote in kaleidoscopic's
SOTM
contest!!
november 22, 2011
requests closed | waiting list 3
+ had a bit of a rough day today; my laptop is crashing a lot. however, I just discovered that dad's desktop has photoshop!
november 21, 2011
requests closed | waiting list 3
+ completed 1 custom request today
+ quick note: highest page views this month were on the 5th at 210.
november 18, 2011
requests
closed
| waiting list
4
+
completed the first request this morning. I plan to start the second later this weekend.
+
I have filled up my waiting list - thanks so much to everyone who sent in requests! - and will work through it as quickly as possible so that I can re-open again soon. as always, you can watch my progress on the
waiting list
.
november 17, 2011
requests
closed
| waiting list
0
+
remember, requests open up tonight at midnight NST. again, I apologize that it's so late and next time I will set it at a more convenient time!
+
now ranked #6 at
echelon
! thanks caitlin!
+
just added one new
premade
.
november 14, 2011
requests closed | waiting list 0
+ i've spent the past few days working on law school applications, hence the quiet front! sorry for being away; I will probably add one or two more premade layouts today.
november 9, 2011
requests
closed
| waiting list
0
+
now affiliated with
a small list
!
+
sorry for the trouble this morning; my bandwidth was exceeded because I had my pro account set to manual renewal only. I didn't realize how many images i've uploaded in the past month! it should be fixed now.
+
I realize how late at night the request opening is for most of you, but as i've already posted the opening time, it would be unfair to previous visitors to change it up on them. I will make it at a more convenient time next round, I promise!
november 9, 2011
requests closed | waiting list 0
+ another new premade layout! i'm getting rid of old ones as I go, but I think i've gotten rid of all the ones I don't like any more, so now it's expansion time.
november 8, 2011
requests
closed
| waiting list
0
+
remember, requests will open on
november 18th
at midnight NST. I will take the first 5 neomails who are in line with the
rules!
+
added a new premade petpage and a premade userlookup.
november 7, 2011
requests closed | waiting list 0
+ added 1 new premade.
+ I think after work tonight I will start the userlookups.
november 6, 2011
requests
closed
| waiting list
0
+
added 3 new
premade
layouts.
+
redid the premades section.
+
although requests are closed, I am more than happy to take suggestions for banners and premade layouts. send me a
neomail
here.
november 4, 2011
requests
closed
| waiting list
0
+
yay!
requests are all finished! I will reopen requests in 2 weeks, on
november 18
. I will accept the first 5 requests I get on that day, NST, that are in keeping with the
rules
.
+
a big
thank you
to everyone who voted in newsflash's
SOTM
contest!
november 2, 2011
requests closed | waiting list 1
+ one more layout on the list! going to finish it tomorrow, then i'm going to keep requests closed for a bit longer so I can work on the premades section.
october 30, 2011
requests
closed
| waiting list
2
+
ranked by megan at
tastic
- she wrote the sweetest review i've ever received, and i'm honored. thank you so much, tastic!!
+
finished
thetidings
layout. it's got a really cool layered effect that i've never tried before, but I think I like it!
+
I have time tonight to try and pump out some more layouts.
october 29, 2011
requests closed | waiting list 3
+ I have people visiting for the weekend, so there's really no time to get layouts done... be back monday!
october 27, 2011
requests closed | waiting list 3
+ next layout on the list is done - and one is still just waiting for a title, so it's basically finished as well.
october 26, 2011
requests closed | waiting list 4
+ I have the next layout ready to go; just waiting to find out the title. the one after that is about halfway done. finished! hopefully today i'll get the waiting list down to 2 or 3.
october 25, 2011
requests
closed
| waiting list
5
+
finished another request; I have one more to code right now, and
hopefully I can get the line down to as low as 6 by the end of the day.
+
finished the next 3 requests on the list. on a roll.
trying to do one or two more this afternoon.
+
added another new linkback button.
+
hoping to do a few premade layouts once I clear the waiting list! feel free to send in recommendations via
neomail
.
october 24, 2011
requests closed | waiting list 9
+ dear readers, just got my LSAT scores back and I did phenomenally. your patience with my product line has paid off in the form of potential admission into top-ten law schools. I just want to express my gratitude to all of you for your love and support!
+ after a brief celebration, I might make the next request on the list... or most of it.
+ i've added two new link back buttons, and I like them a lot!
october 22, 2011
requests
closed
| waiting list
9
+
on a roll with the waiting list and I cannot wait to have everybody finished and satisfied!!
+
added to 2 new directories and found 3 new affiliates.
♥+
finished
iamsupernikki
s request, and so happy with how it came out! starting the next one on the list tomorrow.
+
don't forget to vote for your favorite site in
Newsflash's SOTM
!
october 21, 2011
requests
closed
| waiting list
10
+
now affiliates with
intuition
and
newsflash
!
+
be sure to vote in the SOTM competition at
newsflash
!
october 20, 2011
requests closed | waiting list 10
+ finished the next request on the list.
+ so sorry to everyone on the list who has been waiting so long! i'm doing my best to get caught up. thanks for your patience!
Welcome, Traveler
The woods are dense and shrouded with fog. You've been wandering a little too long now; it's starting to get chilly out, and you notice some condensation on the air with each breath. "Where am i?" you mutter, to no one. You are surrounded by vast, wooded emptiness. As you look skyward, the clouds scatter briefly to expose the moon and stars. It's going to be a beautiful winter...
About This Site
Brilliant Secrets was founded by
Monica
on July 2, 2011 to provide a higher caliber of customized graphics. It has since expanded to include some extra material, including premade layouts and various web owners' resources. Finally, if you have any questions about coding your own website, I am always happy to help and just a quick neomail away. If my inbox is full, just neomail my side account,
Silkblend
.
Request Status
Buttons: Closed
Layouts: Closed
rules
001
always leave credit! use the links i've made for you
here
or add a text link back to my webpage if you use anything - anything at all. link back must appear somewhere on your page!
002
remember, neopets images can only be used on neopets-related websites without credit to neopets' original copyright; i've kept the graphics that use neopets images separate. anything that is under "neo-related" should not be used on a non neo-related website.
003
don't change the graphics, take out my name or add anyone else's.
i agree
requests are
closed
. I have filled the 5 spots I promised to make available; I kept it shorter this round so that I might be able to work through it more quickly. (for anyone who was around for the last line of requests, I had 15 in my waiting line and it took a whole month!) you can watch my progress on the
waiting list
page, and once I work my way through these requests, I will set a date to re-open again. thanks so much for your requests - keep your eye on this page!
please use the links above to navigate about the requests section.
rules
01 one request per person per 2 weeks.

02 you must have either a button link to me or a text link to me. text links must include my website's name.

03 please do not neomail me asking where you are in line; it is listed right here.

04 your request must include either a neopets image (you can pick a specific one, or let me choose for you) or an image that I find somewhere that specifically says it's in the public domain.

05 if you want to make changes to your request, please re-submit the full request.

06 I will not accept overly complicated requests; try to keep your request to one neomail.

07 in order to get your request accepted, be sure to make the subject line of your neomail "shakespeare".
the line
1. abbiebriannanelson
2. poundfreeze
3. awong22
4. toastyee
5. coconut_rat

recently completed
acupofjoe
tartylicious
thetidings
jesindistress
undertheocean87
4coolcookies
wildstar_of_darkclan
socks506
request guide
step 1
pick a focus for your request
there are several different components of a request: color scheme and image are the two biggest. generally, you can only focus on one of them; the other should be selected to match. if you are very certain you want a particular color scheme, I strongly recommend you let me choose the image and just give me a general idea of what kind of thing you want. for example, if you want a pink color scheme, then you should tell me that you want pink and perhaps an image with flowers or scenery. on the other hand, if you have a specific image in mind, it will come out best if you let me pick the color scheme.
step 2
when picking an image
first, I should note that I won't work with copyrighted images. you must either let me find a public domain image myself, so I am confident that it is in fact public domain, or select a specific neopets image - which are free to use on the neopets server, as long as you don't claim them as your own. now that that's clear, here are two wonderful places to find neopets images:
wallpapers
and
wearable backgrounds
. ideally, you'll send me the URL of one of these images.
step 3
requesting extra boxes
when requesting more boxes to put on your layout, keep in mind that more boxes equals more clutter. if you aren't sure you want or need a box, please say so on your form; while I am working on placement, i'll decide whether I can make your layout look better with or without. I highly recommend a maximum of 3 extra boxes; otherwise, your layout will start to look a little too, erm... boxy.
step 4
telling me your links
i ask you to let me know how many links you will have in your layout. if you also send me the text you want for your links, then you have the option of getting beautiful customized links included to match your layout.
step 5
telling me about your tone
the "look" or "feel" of a layout is determined primarily by the choice of font, the color scheme, and the textures I use on it. if you have a specific font in mind, note that it must be free to use, and that it will go a long way in determining the tone of the layout. if the tone in your request doesn't match the tone of a font you like, I might ask to change it.
step 6
giving me artistic license
because I am making these layouts for you for free and putting my name on them, I want them to come out beautifully. if you request something that isn't quite in my taste, I might change it - if I can't make it look great the way you wanted it, first.
border menu
these aren't intended to limit your options, but to get you started. if you have something else in mind, let me know!

| | | | | |
| --- | --- | --- | --- | --- |
| (1) | (2) | (3) | (4) | (5) |
| (6) | (7) | (8) | (9) | (10) |
button request
buttons

layouts
click and drag to your desktop or address bar
to see the full screen grab.
listed most recent first.
total count: 38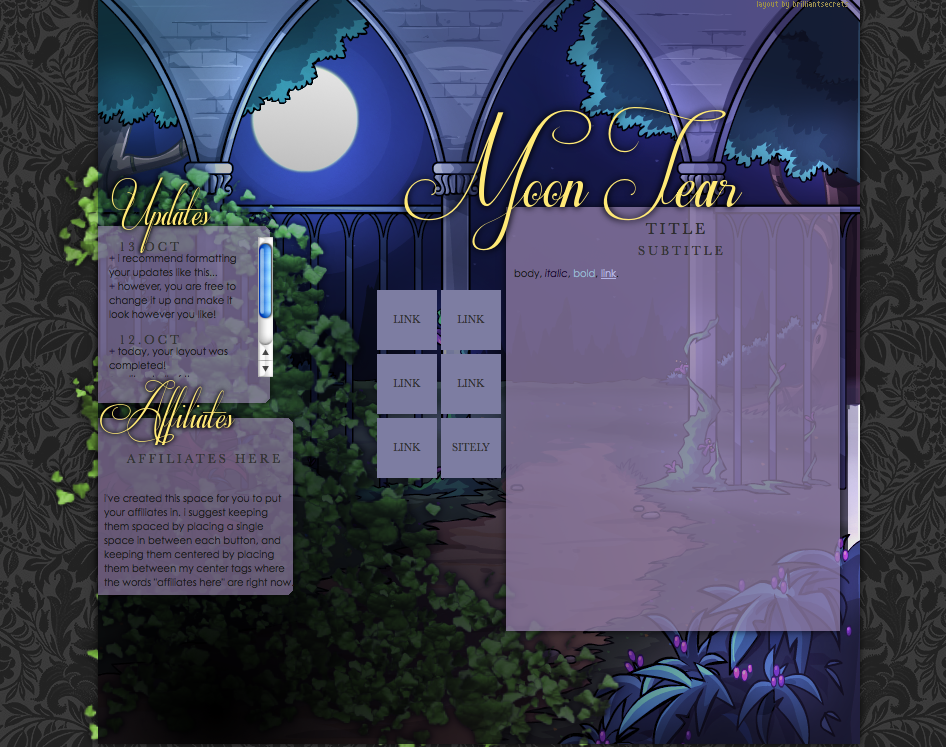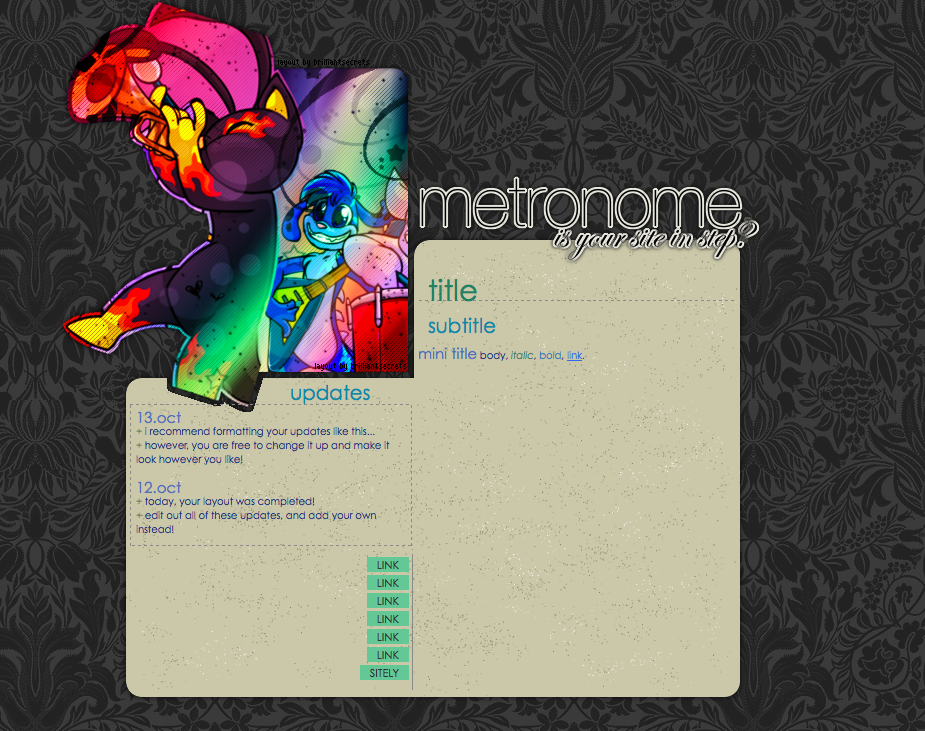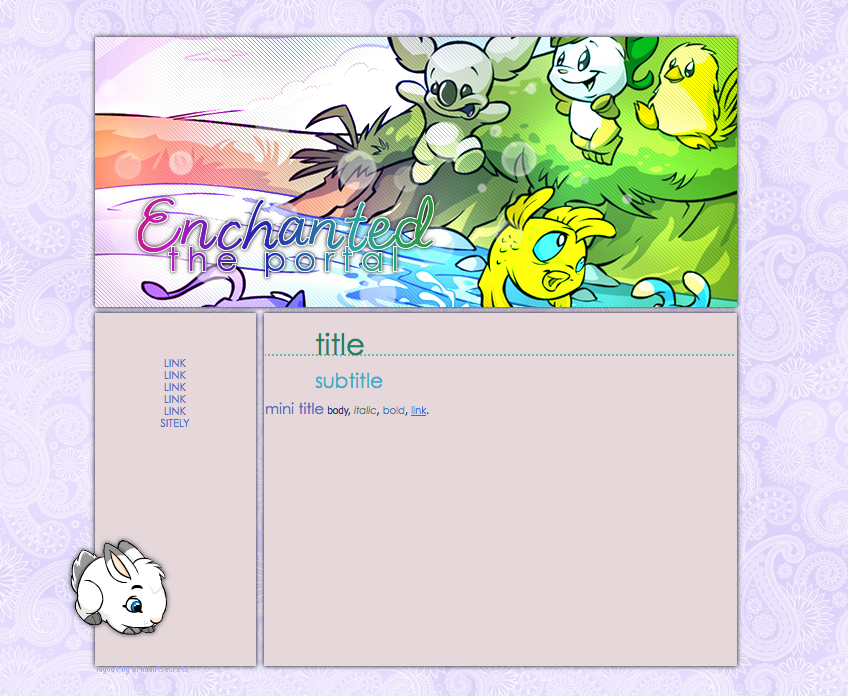 link me
sister site

i am veritably proud to be sisters with the talented charida, whose website memoir is beautiful, well-organized, and has tons of amazing content. visit her today!
affiliates

affiliate requests are open. submit?

Closed/Inactive Affiliates  + The Paper Lantern  + Out of Focus  + Trinkets  + Intuition  + Rosette Directory
listed



Hover for status

Closed/Inactive listers
+ Elle's Help Guide (Recommended)
+ Enchanted
+ Rosette Directory (Recommended)
ranked
reviews
please hover for score.

awards
previous layouts
credits
+
layout and coding by Monica @ brilliantsecrets
+
website hosted by neopets
+
textures from free-brushes (dot) com
+
skinny jeans font by brittney murphy at dafont
+
NEOPETS and all related indicia are trademarks of Neopets, Inc., © 1999-2011
Main | Banners | Signs | Icons | Backgrounds | FAQs | About Me
rules
01
if you use something of mine, link back using one of
these
buttons or a text link with my site name.
02
do not claim my work as your own.
how to use
some of these items do not include a code with them. in order to place them on your website, follow these steps:
01
click and drag the desired item to your desktop, or right-click and save it to your desktop.
02
go to any image hosting site, and if you don't already have one, create an account. it's free!
03
upload the image you've saved on your desktop. it should now have its own URL on the internet.
04
use the following code on your website where you would like the item placed. be sure to substitute in the item's new URL for the URL i've put in!
need help, or got lost?
neomail
me.
Main | Banners | Signs | Icons | Backgrounds | FAQs | About Me
how soon can I expect my request to be finished?
typically, I will complete 1-3 layout requests per week. aside from requests, I try to keep the rest of the graphics content balanced. if you have suggestions, comments, concerns or questions, you are more than welcome to
neomail
me!
what kind of content do you use?
i am watchful of copyright law - I either use public domain images (just do a web search for public domain content!) or something from neopets - try
neopets backgrounds
or
background bonanza
for some good choices.
will you make me something else?
yes, I know or am able to learn a variety of different types of projects. however, things that aren't in my usual repertoire might take me a little longer to learn, so be patient!
sooo... what do I do with those premades of yours?
use them! just be sure they contain credit to me. removing my credits is paramount to stealing and is a freezable offense!
can I change the credits you placed on a page?
yes, as long as there is something there. it can be either (a) a text link like this one: or (b) one of the buttons from
here
.
can I change your coding?
only with my express written permission.
Main | Banners | Signs | Icons | Backgrounds | FAQs | About Me
about me
My name is Monica; I am 23, recently graduated from college, and taking a year off before law school. i'm currently working full-time at a law firm, which is absolutely delightful, and in my (somewhat less than copious) spare time I work on this website. which I
love
.
i wanted to study graphic design after high school, but my parents insisted that I go with something academic first - for which I am grateful - but I still do love it as a hobby. i'm still refining my skills, and using very basic resources and materials to work with, but I strive to bring a little bit of beauty back to everyone's experiences on neopets nonetheless.
on neopets...
Right now I am all about improving this site and saving up for a paint brush. My neopoints method is a mix of restocking, games, and the stock market. I play enough games each day to fund a little bargain stock market investment, and from time to time I sell stocks that have doubled or more. aside from that, I try to get into the pharmacy, sea shell shop, or (as of right now still completely unsuccessfully) the magic shop, and restock a little. It's not much, but the account has grown over time, and a good stock market payout or restocking score gives it an awesome bump.
my wishlist
the big stuff
really the only big thing i'm saving up for at the moment.