At times when you feel down, something went wrong or you simply seem like someone who could use some help...







There is a creature who might be nearby and decide to solve your problems.







You don't need any help? Pffft! Sure, everyone says so. But don't worry – I am here and I have a cunning plan!







So, you weren't in trouble really? Now you are.







News
December
Blitzbiene is ready for witner weather ;) (used Jellyneo Wardrobe)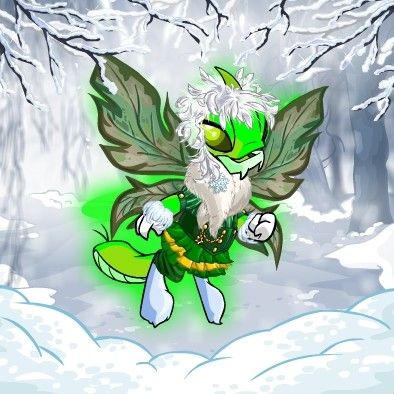 A Miracle is Born
Do you remember that it was the Space Faerie who defeated Dr Sloth?
Everyone does.
But not all, if any, realize that many have contributed to this success. All alone the Space Faerie could not regain her power so quickly and time was fleeing. Using her telepathic powers she called for help from her sisters who inhabited Neopia. They all responded by aiding the Space Faerie with their magic. Even the dark ones had their reasons to banish Dr Sloth forever, perhaps just to wipe out their competition.
Among all faeries who were converting and transferring their magical energy, one aimed to do her best. For that light faerie it came the moment to shine. She always felt underrated and not taken seriously by her sisters. Now she could prove she had a true gift. If she concentrated hard enough, she thought, that spark of hers will lighten the sky and give the Space Faerie an energy boost to destroy the villain and then, her mysterious sister who travels through infinite space will recognize that spark and descend from the sky to thank her. No one would dare to call her clumsy or unhelpful again! A quick thought ran through her mind: is not destroying evil the only and best prize she could get? But she hadn't time to ponder upon it: she was so focused on that one aim, she didn't stop even when she felt something breaking inside her. A blinding flash lightened the area. She collapsed to the ground and the world around grew bigger and bigger. Or it was her that became smaller and smaller, soon just a dust carried by the wind. I do not know her name. Neither does the Space Faerie, who successfully collected the energy sent by her sisters and defeated Dr Sloth.
But that single bolt of magic did not contribute to it.
The magic released by that light faerie didn't have the right direction. The will put into it was oriented towards other desires. The strong wish to help was tainted with hunger of recognition. Making oneself useful at any cost. Blind to see the true goal, the depersonified magic bolt was flying chaotically across the woods. It could either dissolve and become part of the magical currents that gently flow across Neopia, too subtle to be even felt, but vital for casting any spell. Or, driven by the natural force, it could attach itself to something.
Somewhere in a forest was a valley full of bushes whose flowers and fruits were equally delightful to the buzzes who made the valley their home. Under a leaf, in a cozy grass crib, a baby buzz was asleep. What one might dream of before it hatches no one knows. Through the semi-transparent egg shell you could see the baby wriggling, soon to be ready to poke through it's sphere. A thunder hit it. The guards made a circle across the valley, but seeing no damage or fire, they retrieved. The only thing different, what they didn't notice, was a faint glow coming from one of the cribs.
The nurses were surprised to see an egg hatched before the expected date. But the baby was lively and looked healthy. The only thing that worried them at first, was a little round bulb on the end of baby's tail that gave a green glow at times. But when they took the baby to the elder nurse she just said she saw such features in her life in Buzzes of foreign tribe, so as long as the baby was healthy, it was nothing to be concerned about.
In the colony there were now 5 council members, 10 nurses, 15 guards, 8 watchers, 60 regular workers, 11 of those who performed various minor jobs and one magical creature.
In a Blitz
Name:
Blitzbiene
Gender:
female
Family:
never had mother or father, because all larvae were raised by the colony. No currently living relatives known.
Age:
Unknown.
Size:
~23 cm.
Appearance:
Her skin is green, but her body doesn't really glow unless charged with elecricity. Has a pair of long, wide, but flat antennae that resemble ribbons or rabbit ears and are bent to the front. Her tail is also long, looks like belonging to a lizard, with an orb at the end. The orb can glow at Blitz's will or when she experiences strong emotions such as surprise, excitement or anger. Part of her abdomen, mostly the front up to where shoulderblades should be, is covered in white-cream "suit". It is not fully determined wheter it is clothing or a hardened skin. Like most buzzes, she has a pair or double, semi-transparent wings that come in a delicate shade of green.
Abilities:
can fly at high speed and generate electrical current strong enough to knock someone out (happens rarely, she has to try hard or be very angry). Hard skin protects her from damage. Has amazing artithmetical and language skills.
Weaknesses:
limitations coming from her size and personality
Aim:
To help everyone who (in her opinion) needs help.
Likes:
flowers, dancing, helping others (even if they don't want it)
Dislikes:
those who reject her help and do not express gratitude.
Personality:
chatty, daring, ignorant, outgoing, self-important, snappy, stubborn.
Zoom
A closer look on character's details.
Name:
Blitzbiene
She chose the name herself. One of the watchers who returned from his journey has brought back a strange language. She heard him speaking in that language to the adult buzzes, explaining meanings of some words. He didn't have to explain it all. She loved those mysterious sounds and had her favorites. Soon, much to everyone's great irritation, she was ignoring anyone who didn't address her by one of those words and finally decided that no one shall call her any other name than Blitzbiene. Call it intuition, if you wish.
Family:
In the buzz colony, that was set in other land and different time, all eggs were the colony's eggs. There was no such thing as a "parent" and no one was addressed "mother" or "father". You belonged to the hive.
Age:
Unknown.
More than a century.
The faerie's magic granted her longevity. You would expect such aged individual to act in quite different manner. But her brain works differently than other mortal's minds, alas sharing some of the bad traits. She is far too occupied with temporal affairs to seek out the knowledge about universe or the meaning of life. No time for that.
Green - the color of...
The word green is closely related to the Old English verb growan, "to grow". It is used to describe plants or the ocean. Sometimes it can also describe someone who is inexperienced, jealous, or sick.
Culturally, green has broad and sometimes contradictory meanings. In some cultures, green symbolizes hope and growth, while in others, it is associated with death, sickness, envy, or the devil, or both, depending on the context.
The most common associations, however, are found in its ties to nature.
~from an online encyclopedia
Busy helping others
To be added :)
Links
If you need help... it's better not to call for Blitzbiene. Here is a bunch of useful links for everyone ;)
If you want to see ppl who are really good at helping and granting wishes - visit ZYDP. The wishlist page is a place where you can wish for up to 3 (avaiable through labray) dreampets.
ZYDP's subdivisions:
Adoption Agency
,
Extra Paint Brush Clothing
,
Magma Customs
.
If you need a hand with coding (petpages or board fonts) I higly recommend this guide for a start.