Welcome to Tiffany's In-Depth Freaky Factory Guide!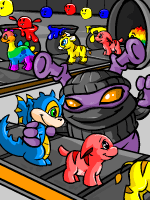 Introduction&Contents
Hi there, guest! Welcome to my (peacenjoy58) Freaky Factory Guide! Hopefully, this page will help you get the very spiffy avatar or perhaps the shiny shiny trophy =)

To get the Freaky Factory Avatar, you must get a score of 1250+. =) Good luck. And for the shiny trophy, play on reset night for a better chance ;)

Please come to this site knowing how to basically play this game. This guide is just to tell you how to possibly increase your high score; not teach you how to play the actual game for that will take up a lot of text and be awfully boring for you. =P

If you have any tips you'd like to share with me, I'll be glad to include it in this site. You will also get credit for it, unless you want me to keep you anonymous.

This guide contains various sections;;
The basics about Freaky Factory
Tips from me and other Neopians
Q&A;; just random questions Neopians have asked me about the game/me =)
Link to my other guide for Attack of the Revenge
A banner for you to put on your userlookup or anywhere else after you used my guide! =D
Freaky Factory... what is it?





Let's start with the basics:

The Objective:

Basically put, you work at a Neopet Miniatures factory and you need to make enough Neopet Miniatures that is required before the time runs out!

There are only two ways of losing:
You've run out of time before you could create enough toys
You've created too much waste!
How Freaky Factory Keeps Score:

Although you cannot control what color or pet you have to create, I thought I'd include a table which will give you the details of how many points each color and each species of pet can be.
| | |
| --- | --- |
| Plushie Species | Score It Gives |
| Jubjub | 1 |
| Poogle | 2 |
| Scorchio | 3 |
| Kau | 4 |
| Chomby | 5 |
| | |
| --- | --- |
| Plushie Colors | Score It Gives |
| Red, Yellow, Blue | 1 |
| Purple, Orange, Green | 2 |
| Rainbow | 3 |
| Angel | ?? |


After you complete a level, a little menu shows up telling you how many points you got from the level, bonus points you get, and the final total of points you get for that level.

Bonus points you get at the end of each level:
Current Score - Tells you how many points you got from the plushies you completed.
Time Remaining Bonus - Converts your time remaining to bonus points; this is why those extra time blobs are super important (See below for more details on Bonus Blobs)
Toys on Conveyor Bonus - Sometimes even though you have completed the amount of plushies needed, there are still remaining plushies on the conveyor belt; you get points for this too =)
Toys In Queue Bonus - The machine can only make so many toys at once so toys in queue are the plushies you have finished making but have not come out yet.
Remaining Consecutive Bonus - There is little square on the left of your playing screen which gives you a bonus for every consecutive plushie you make, this just calculates the remaining bonus you have =)
The Bonus Blobs:




All blobs (including the bonus blobs) will scroll across the top of the game screen. But apart from just regular color blobs, there are also bonus blobs! Most of these DO NOT require to be put into a vat except for the Angel Blob.

Here are the different types of bonus blobs:
Freeze Blob- BAD!
What it looks like: a frozen jagged block of ice.
This blob slows down the conveyor belt temporarily and therefore it takes longer to complete all miniatures. This is because your miniatures that are produced from the lower right tube has to reach the left tube before it is counted to be officially created and completed.
Speed Blob- GOOD!
What it looks like: purple with gold/yellow wings.
This blob speeds up the conveyor belt temporarily and therefore it is quicker to complete all miniatures. This is because your miniatures that are produced from the lower right tube has to reach the left tube before it is counted to be officially created and completed.
Cleaner Blob- GOOD!
What it looks like: a bar of soap.
This blob cleans up a portion of the waste you have created! Especially good if you are very close to the top of the 'Waste Thermometer.'
Updating Blob- GOOD!
What it looks like: it glows and its green! =O
This blob makes toys go one level higher. (Primary colored toys turn secondary colored, and secondary colored toys turn rainbow). Thanks, raiden638218384!
Angel Blob- QUITE GOOD!
What it looks like: white with a yellow halo.
This blob can fill any color vat up to the very top! :) This blob acts like the regular blobs which means you have to aim it to the desired vat.
Clock Blob- VERY GOOD!
What it looks like: a miniature of the clock.
This blob is what I think is GREAT!! It increases your time! :D It looks like a mini version of the clock so it'll be easy to tell. =)
Mutated Blob- VERY BAD!
What it looks like: a normal blue, yellow, or red blob with a horrid looking face =[
This blob is a mutated version of all those good colored blobs. But instead of filling up vats, it creates A LOT of waste!
Hyperfill Blob- VERY GOOD!
What it looks like: a purple atom.
This blob is rarely seen throughout the game. It doesn't normally appear until your score has reached about 1100-1200.
The Grundo Thief:

This evil minion is trying to steal your miniatures that is going along your conveyor belt! Stop him by clicking on him or dropping a blob on him!




Meet the Grundo Theif!
Tips from me and other Neopians!
Here are some useful tips that my owner discovered on her own:
The angel blob is not only for the vat. If it hits a toy on the conveyor belt, it turns angel; which is the highest "color" in terms of points. (Thanks, robert_falcon_scott!)
Play the fullscreen version, that way, you won't accidently click off the window and waste time.
The vats are next to each other on the bottom of the screen and the blobs go in both directions on the top of the screen; left and right, right to left. Since the Blue vat is at the right side of the screen, only use blue blobs coming from the left. For the Red vat, use the red blobs coming from the right. It doesn't really matter with yellow since that's in the middle. =)

This gives you more time to prepare. NEVER try to get a speeding Angel Blob coming from the left into the left red vat, chances are, you're most likely going to miss and you'll create an enormous pile of waste!
Slower blobs will go straight down into a vat, however, faster/speeding blobs will travel in an angle as soon as it's clicked on/released. So, if you're trying to put a speeding blue blob into its vat, release the blue blob a few centimetres before the blob reaches the top of the vat.
Even if you are supposed to make a red plushie, still fill the blue and yellow vats there's a great chance that the next plushie is either one of those colors.
Even if all hope seems to be lost, don't press that restart button! Keep on going, maybe the game will bless you with a Hyperfilling blob and a Speed Blob! :D (The ULTIMATE combination!)
Don't look at your score if you're aiming for the avatar or a trophy, it usually gets you more nervous, just play! (This goes for any game =P)
Keep track of your score each time, write down what you got for level 1, level 2, etc. and reflect on how you think you could do better next time.
If you're trying to aim for a certain score, don't take huge gravity-moon steps, take small steps. Say "Today, I'll aim for 800 points and then tomorrow I'll aim for 850" Giving yourself a goal each time will boost your confidence and you will do better! :D
Only occasionally look at that clock and look at the clock mostly when you just start a level, then as you approach the end, you won't get so nervous thinking, "OMG, I only have that much time left!"
NEVER under ANY circumstances wait for a color to come UNLESS the other two vats are full up to the very brim. (You'll be able to tell it's full when there is no white spots in the scale on the vat.) Not only are you wasting time, but you're probably wasting some bonus blobs because you're so focused on finding that color you need!
NEVER under ANY cicumstances try to do two things at once unless you're extremely skilled with the game. What I mean by that is, don't try to shoo the Grundo Theif away while you're trying to get the Angel Blob into the Blue vat at once. Your brain gets less focused, you lose control of what you're doing and it takes awhile before you realized you've done neither AND you wasted time!
If you find something that helps you, write it down so you don't forget it! Then next time, use that technique to help you out! :)
When there are two blobs going in opposite directions which you both need, get the closest one first. If there is no closest one, get the fastest. Otherwise, just wait. Lol.
Q&A
Q. Adam's face randomly popped up when I dropped a blob into a vat, what happened?
A.TNT's idea of "funny." Nothing really happens, they just have random heads poppin out of there! =D

Q. Could you get that Freaky Factory avatar for me? I'll help you get the -insert game avatar name here- avatar!
A. No, no, NO.

Q. When did you first create your Freaky Factory tips page?
A. I started working on the Freaky Factory avatar on May 14th, 2005 and I thought I'd just write down what seemed to be helping me in the game. =)
Other guides I have written!
I have written one other for Attack of the Revenge that was published on the Neopian Times =) (It is in Issue 204!) -pokes shiny trophy-

Click HERE to read it!
Link back!
If this In-Depth Guide helped, link back to me! =D


Screenies!
These are various screenies that I took of memorable things that happened to this site =)





First day back and 100 views =D
Navigate
Credit
This css came from
Spiddi's css. (x_rooster_x)

My banner came from
Charlotte.
Thanks a whole bunch!