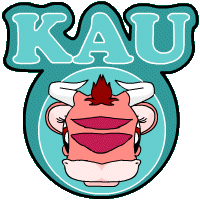 This is baby_kauprincess1822 Homepage

My owner is bunnyupqueenbee. I am 62030 old. My current Horn Level is 11.
My Kau Gruff is 25.
My Herd Flow is 17.
I have Kau Smarts of 28.
My defence is 21 with a maximum hit point of 11 and a current hit point level of 11.

I love going to school in the morning, because all my if you look above you can sfriends walk to school together. But the funniest thing is still practicing and sparring with my Kau friends after school. My Fencing Master, Kaeta the Chip, says I have promise and that if I work hard I may one day go to the Neolympics.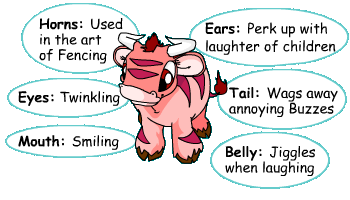 Name: baby_kauprincess1822

Species: kau

Hobbies: well I love to play games and do activities and run. Doing fights in the battledome but as I don't do many I haven't had much experience as other kaus have had.

Favourite possessions: My toys, doubloons, petpets, books (I love books they make me intelligent YAY!. I also love my food my mummy gives me.

Bit about myself: Well I am a baby kau and I love everything my mummy gives me and sometimes she even spoils we with the extra bit of jelly (shhh keep it a secret ,we cant tell my daddy). I am always happy and love to meet new pets and their pets. Mummy said that guilds are really cool because you can get new friends and play games and get things like prizes for doing things in the guild. We are in a guild called baby pet heaven. I have lots of other brothers and sisters but since there are so many out there in neopia my mummy said that I would never beable to see them all and sit down and have a nice chinwag. I was origionaly a grown up kau but now my owner has decided to give me a make over so now I look so beautiful and cute as a baby. my pet is a yellow pooppit and her name is poppy. her dad is the green one and her mum is the red one. i have ha her not that long. poppy is well manered and has respect for my mum and me.

Hi here are some questions that I get asked quite often! Please READ these before you neomail me!

Q: will your baby kau ever be up for adoption? A: no it will never be up for adoption

Q: can I have some items and money as I am poor and can't afford to buy things for my pet? A: if you ever ask me for items I will report you straight away

Q: am I able to become your neofriend? A: yes you sure are. I am always looking for new friends to talk to

Q: am I available to join your guild? A: no sorry, I am already in a guild called baby pet heaven and I love that guild so I am not leaving it for another one.

Q : if you have a trade up and I only want one item can I neomail you so I can just buy that item by its self / deals with items and money? A: yes you can

Q: can I make a joint account with you? A : I will if you are my friend and I see you every day but other than those two people (theundercoverlover and shortstuff_101402) I will not have an joint account and if you ask I will not respond and if you keep asking I will then report you.

Neopets is ment to be a safe and friendly site. Where people can chat on the boards about different things. Where you can look after a pet and save up money, and items to sell to one day being able to afford a paint brush. If you are a newbie and are going to annoy people to give you money and items it not gona work because every person who plays neopets has earned their things by saving up np and items. You have to work hard for your own neopoints just like every one else has.

Lastly just have FUN AND MAKE FRIENDS






NEOPETS, characters, logos, names and all related indicia
are trademarks of Neopets, Inc., © 1999-2013.
® denotes Reg. US Pat. & TM Office. All rights reserved.
PRIVACY POLICY | Safety Tips | Contact Us | About Us | Press Kit
Use of this site signifies your acceptance of the Terms and Conditions