story
There were certain things that Faeries had to do.
For one thing; they had to wait. Waiting was all Ix had
ever known
, but along with it went a sort of bursting excitement. Her fourth birthday was nearing, and with that, the promise of a life that
reached further
than hanging around Faerieland with her friends, playing amongst the
clouds
, daring each other to throw rocks at Jhudora's Bluff.
There were a few days
left, and Ix could
feel it
in her bones—power that she was going to be able to use in a little while.
The ability
to help others. To be more than just a child staring down from the clouds.
What was she waiting for?
When Faeries turned of age, they would be able to finally harness the
magic
that was contained within them. They would be
taught
by Neopia's finest Faeries how to help others, how to heal, how to fly, and most of all, how to make a
difference.
And for Ix, who had
spent her whole life
waiting to actually mean something to the world, it was an unbelievably enormous day. The seconds were going by too slowly...
tick...
tick... tick...
tick...
But when the day came
she knew that something was terribly wrong. There was nothing
different
about her. Ix felt exactly the same. A look in the mirror told her as much; her eyes were the same, her voice was the same, her mind was the same. She was
supposed
to have become a true Faerie—what was
wrong
with her?
Her family was disappointed.
That was an understatement; her family was
devastated
when they found out that Ix was not the Faerie they had wanted her to be. They had always
suspected
that something had been wrong with her—her temper, which she just barely managed to keep checked in order to keep respectable under
Fyora's
watchful eye; her twitchiness, her short attention span. They began to
wonder
if Ix had been destined to become a Faerie in the first place.
Devastated and turned away
by her family—and what did Ix do? She was angry, but at what? She was confused, but where could she find the answers she wanted?
Eventually
, Ix wandered to the outskirts of Faerieland, where she had been instructed never to go, for fear of falling. Most Faeries didn't have to
worry
about that, but Ix couldn't fly—and in that second, she realized that she was trapped.
Where could she go?
It was in that second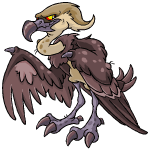 when she saw a
shadowy figure
emerging from the darkness just beyond the edge of
Faerieland.
The apparition had long, hanging wings, and at first Ix felt her hear clench with
jealousy
even before she had time to feel fear—but once they stepped into the light, she realized that the Lenny before her was not Faerie, but
Mutant.
To be honest, Ix had
never
seen a Mutant Neopian outside of books and classes—but with her already-crushed ego, she was in
no mood
to admit that he made her nervous. So she
stood her ground
, eyes level with his beady yellow sockets, and watched his mouth slowly
open.
Hello there, miss,
he croaked, stepping forward, his smile stretching impossibly wide across his beak—
Why the long face?
Ix swallowed nervously, trying to fight the urge to run. Perhaps if she gave the illusion that she had Faerie abilities, he would
leave her alone.
She opened her mouth defiantly, ready to
speak,
but—
Don't even try it,
the Lenny said, grinning.
I smell something on you, miss—is it disappointment? Shame? Fear? Loneliness? Oh yes, I smell it. Fresh, too.
He reached out a wing and placed it over her shoulder, so close that she could smell his reeking breath. The Lenny inhaled deeply, ignoring the shudders that were wracking Ix's body.
Oh, that's fresh. That's perfect, perfect. A combination of all of them. Excellent. Perfect.
What are you talking about?
she blurted, tearing herself free—
I'm a Faerie. You ought not to speak to me like that if you want to leave here in one piece.
Could it be possible that the Lenny's mouth had stretched even wider? His eyes brightened.
Oh, really? I thought Faeries weren't allowed to speak like that?
I—I'm a student of Jhudora
Ix lied, immediately regretting it. If
Jhudora
found out she had said that—
Something about you makes me inclined to disbelieve the words that are coming out of your lovely mouth, miss.
The Lenny stepped forward again.
You feel—saddened, am I right? Ashamed. A disappointment to—to the family, if I'm correct? Stop me if I'm not. And a distinct lack of power—you're not a Faerie!
He was almost cackling now, eyes like two enormous bulbs.
A lie, you are, darling. An outward appearance—
I am a Faerie!
Ix shouted, feeling all of the blood rush to her head in that second.
Just because I can't fly doesn't mean—
Now, calm down, miss,
the Lenny purred.
You can't fly, you say? Of course you're a Faerie, of course you are—how could I have been so mistaken? Must have been the lack of flight. Yes... must have been...
His eyes, which had dimmed slightly, began to glow violently.
You can't fly? It's a pity, it really is. I must admit, I've never met a Faerie that couldn't fly, though...
Ix watched, unable to make a sound.
You know,
he began, slow in contrast to the manic chattering of before—
I think I have something that could help you fly. Escape. Go wherever you wished.
Ix stared as the Lenny stepped back a few paces to reveal an enormous, glittering contraption that she could have
sworn
hadn't been there a few seconds ago. It was a
glimmering hot-air balloon
—or almost one. A handful of glowing balloons were tied to a basket. There was a strange chirruping noise coming from the center of the
basket.
Magical hot-air balloon basket,
the Lenny murmured.
It'll take you anywhere, everywhere. You'll be free.
He stopped and waited, as if considering.
Comes with a free Faerie Polarchuck, too.
Ix couldn't take her eyes off of it. It wasn't
extraordinary
—almost unremarkable altogether—but there was something about it that drew her closer. Was it the
promise
of flight? Freedom? Choices that she could make for herself?
Yes;
it was all of those, but something more. Suddenly, she realized she had stepped
inside
of the hot-air balloon as she felt the basket quake beneath her.
As she began to float away, a sinking
feeling
filled her stomach.
The Lenny below was smiling, and he opened his mouth for one last time.
Congratulations!
he cried, voice fading away.
There's only one catch...