Oh Arthelliom.
Goodbye my love." Arthelliom blows a kiss to Prince Indi of Faerieland, the man she is engaged to be married to. Off she soars into the beautiful clear sky down to the book store. Arthelliom had always been very fond of reading, give her a book and she will finish it that day. She often vanishes to her secret garden to get lost in the story she reads. At this book store Arthelliom finds a faerie tale book, her favorite kind of book. This book was a story about a beautiful princess which had a spell cast upon her by an evil witch. This poor princess would never see her beautiful prince again.
Arthelliom once again vanished to her garden, surrouded with nothing but nature. All she could hear was the swaying of the oversized trees and the river gently flowing. Sitting on the bench she had always known to belong there, Jhudorah suddenly appeared. Arthelliom gasped as she had never seen another soul in her secret garden before. " How do you know this place is here? I am the only one to know it exists" Arhtelliom shuttered. " I am here to bring you a gift Arthelliom, shall you accept it or not?" Jhudorah replied. "All you have to do is fly back with me to my cloud, I have a potion especially for you." She smiled. " A potion for what?" Arthelliom questioned. " Well I have come to learn you are engaged to Prince Indi, is this true?" Jhudorah said as she sat on the other side of the bench. "Well yes." Arthelliom whispered. Arhtelliom began to feel very uncomfortable with this visit from Jhudorah, for more reasons than one. "Any girl who is engaged to the prince will need to be brought safety. Once the prince becomes king he will be in danger forever, along with the queen there by his side as I know you will be." Jhudorah smurked, as if she had rehearsed it. " Well I suppose," Arthelliom answered, " but why do you care?" Jhudorah moved closer to Arthelliom and put her arm around her, " I have a potion to keep you and the prince safe at all times. You will never have to worry about anything happening. You wouldnt want to be lonely for the rest of your life if anything happened to your beloved husband would you? Arthelliom began to shake and replied to Jhudorahs offer, "You promise nothing will ever happen to us?" "Would I lie to you, darling?" She laughed in reply.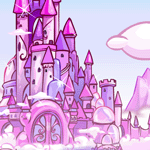 Arthelliom flies to Jhudora's castle getting colder and colder as she flys higher and higher along Jhudora's side. They finally reach the cloud and Arhtelliom gets a quick chill down her spine. She sets foot on the cloud and all her hooves start to tingle. "Why are you shivering?" Jhudora asked, "Not scared are you?" Arthelliom did not reply. Jhudora hands Arthelliom the potion, "Drink it! Drink all of it!" Arthelliom takes it from her hand, opens it and smells it before drinks it. As Arthelliom chugs the potion everything begins to fly around her. Every window in Faerieland shatters and the sky turns dark sending rain flying down with lightening by its side. Everything is so loud and so fast. Suddenly everything stops and it becomes completely silent. Arthelliom takes a moment to look around and notices she is strangely very green. "What have you done to me?" Arhtelliom cries. "Ahahahaha you foolish little girl. Now that I have taken away your beauty go out into this cruel world and see how you survive now. Oh the things you will have to do! I will love watching you suffer." Jhudora laughs.


Arthelliom looks in the mirror to find something that does not look quite like herself. Beautiful wings gently reaching the ceiling and a soft curl down her face are two things she does not see. She does not see her lavender coloring nor her subtle hints of sky blue. She does not see her twinkling turquoise eyes or her glistening purple horns. Instead what she looks at in this mirror is puke green colored fur with terrifyingly sharp devil horns and vampire teeth. She looks at her beat red eyes and repulsive warts placed on her forehead. Oh the hatred she feels while looking at her reflection.
Arthelliom screams, "I hate you Jhudora, look what you have done to me!" She falls to the floor, crying and whimpering. "I should have known better than to trust you." Arthelliom forgets she no longer has wings and runs full speed off the cloud, falling straight down instead of flying. Before she can even think to scream she plows through the ground creating a huge hole in the perfect field of grass. She crawls out of the hole whimpering and runs to the dark forest of Faerieland to hide. Prince Indi will never see his future wife again.
Loathes

Faerie: Jhudorah
Item: Mirrors and potions
Pets: Faeries; They remind her of how beautiful she use to be
Hobby: Running
Place: Faerieland

Loves

Faerie: Fyora
Item: Flowers Hobby: Reading
Place: Anywhere dark to hide herself
Specific Place: The Forest


Is There Any Hope?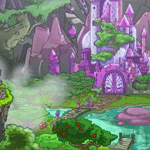 *Swoosh, Swoosh* The wind rushes through the trees, faster and faster, swaying back and forth through the dark nights sky. Arthelliom begins to shiver, trying to dig herself further into the hole she burrowed to block the wind. The forest is not a place she is use to in the middle of the night and she does not like it. The wind stops. The tress make no noise. The forest is silent. Then Arthelliom hears a cracking sound, perhaps something stepping on branches that have fallen to the ground. She perches up enough to see out her hole, scared, not knowing what to expect. She hears more cracking but can not see a thing through the pitch black sky. Then the cracking sound gets louder, now it is closer and it is faster too. Arthellioms heart begins to race, scared to death. Faster and faster it is getting close, too close. Something big finally breaks through the trees in front of her, she gasps and hides herself into her hole. "Please go away, please go away." She whispers so quietly it is almost silent. The being has finally stopped and begins to breath very heavily.

Arthelliom peaks her head out to see a beautiful faerie ixi. A tear begins to run down her face, missing herself as the beautiful faerie she use to be. More tears begin to run down her face uncontrollably. The faerie ixi approaches her confused and surprised. "What is wrong?" She says ever so gently. Arthelliom tries to speak but is crying so much she can not get a single word out. She finally gains control and lets out a big sigh, " I miss being you." The ixi does not understand but Arthelliom did not expect her to. This innocent ixi says to Arthelliom, " I do not know what is wrong but I know how it is to be sad. If you want to talk to me about it you can." Arthelliom begins to smile slightly, " Thank you." The ixi finally introduces herself to Arthelliom as Leila. Arthelliom introduces herself and Leila immediately recognizes the name. " You know Prince Indi was supposed to marry a faerie ixi, like myself, names Arthelliom! I have never heard the name before, I find it quite interesting to know two Arthellioms now. I don't know what happened to Prince Indi's Arthelliom though, they did not get married.. She seems to have dissapeared." Arthelliom begins to sob once again. " I am sorry did I upset you?" Leila asks apologetically.

Arthelliom tells Leila the story of what has happened to her. Leila is shocked and then she gasps, " I can help you!"
How could you possibly help me?" Arthelliom laughs in an unbelieving way.
Well I make potions myself." It is a long story but I learned how to make them to change people into different things. The one I created changed neopians into stone but I suppose I could switch it up a bit to help you out. Maybe I could change you back into a faerie.
That would be great!" Arthelliom finally gains hope again, not even bothering to ask why she would turn neopians into stone.

You Are What You Drink



Are you sure you made the potion correctly? Are you sure I will turn into a faerie and not stone?" Arthelliom begins to question. " Well I have never made this potion before but I am pretty sure I made it right." Leila replies. Arthelliom was very unsure about drinking this potion. She already did it once and look what happened to her. " Well I guess whatever happens can't be much worse than this. I mean what other choice do I have?" Arthelliom sighs. " That't the spirit!" Leila exclaims as she hands her the potion, "here you go." Just drink half of it and you will turn into a beautiful faerie again.
Arhtelliom takes the potion and looks at it's funny redish coloring. *Gulp* *Gulp* *Gulp* "Ahh" Arthelliom exclaims, finishing half of the potion. "Well lets hope for the best.
Arthelliom begins to feel funny. She becomes dizzy and faints, falling to the ground unconcious. " Arthelliom? Arthelliom?" Leila begins to panic. " Oh no please wake up. Please. Please. Please! ARTHELLIOM!"
An hour later Arthelliom finally wakes up. " Arthelliom you scared me. You don't even know!" Arthelliom looks at Leila and she is out of focus, the blurryness makes her feel naucious. "Are you okay?" Leila questions, worried. Arthelliom closes her eyes and opens them back up to find her vision becoming clearer. She looks down at her hooves and they are creamish. Not purple, creamish. She looks at her fur and she has brownish spots. "What did you do?" Arthelliom questions."You look good! Your not a faerie but you sure do look a lot better." Leila grins."Well what am I?" "Your biscuit! Quite cute if I must say myself. You also have long beautiful blonde hair. It must have been a side effect of the potion." "Wow" Arthelliom whispers taking her word for it. " But I am not a faerie. I still can not marry Prince Indi my true love if I do not look like myself. No one will believe that I am.. well.. me." What Arthelliom did not know was that Leila purposely turned her into a biscuit. She did not want Arthelliom to be as beautiful as she was. "Thank you for trying. I would much rather look like this than the hideous monster I was before." Arthelliom said with a weak smile.