Finally happened, the wicked clown has come to your town.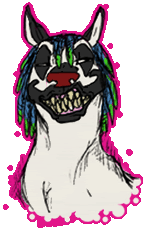 What is a juggalo?
A
dead body
.
Well he ain't really
dead
, but he aint like anybody
That you've ever
met before
.
What is a juggalo?
I dont know, but
I'm down with the clown
,
and I'm down for
life
, yo.

name.
arrmore (or just armor)
gender.
male
age.
equivalent to 22 human years
breed.
lupe-pitbull
hair.
blue/green dreadlocks
eyes.
extremely small pupils, yellow iris
lifestyle.
juggalo
residence.
new jersey
specific traits.
confident, arrogant, cynical, pessimistic, smug.
anthro/quad.
either
bio.
armor's gone through quite a bit in his life, starting out as a tattoo artist in california, he lived it up among cali's nightclubs and parties. this didn't last long, however, as he was soon captured by an illegal testing facility, at0m, among thousands of other lupes. an escapee from the horrifying place, he organized a pack of other lupes who had broken out with
program
. armor eventually lost track of his pack, and program runs it to this day, since armor proved to be a poor leader.
he disappeared for almost a year, and has now returned, with a new mindset.
Me and my homies stay tight like a noose, and if you step to one of us, you betta step to the whole crew.



-Friends-

if you wanna roleplay with armor, mail atalleph. be able to type coherently, and i'd prefer if you had petpages and stuff, too.

Noxir hey hey heyhey hey heyhey hey heyhey hey heyhey hey heyhey hey heyhey hey heyhey hey heyhey hey heyhey hey heyhey hey heyhey hey heyhey hey heyhey hey heyhey hey heyhey hey heyhey hey heyhey hey heyhey hey heyhey hey heyhey hey heyhey hey heyhey hey hey



-Family-







this is Zen. I haven't seen 'er in ages, since I left Cali. We never really got along though, her bein' depressed and all, it ain't to my liking. The only reason I'm mentionin' her is 'cause she's a ghost, which is killer, I just wish she'd quite groaning and whining about everything.







Mirror Mirror on the wall, who's the wickedest of all?



Yah, you know you wanna turn your lupe into a Juggalupe, right? of course ya do, killa.

BEFORE YOU ASK ME FOR ONE, THOUGH:

I WILL NOT DO ADOPTABLES WITH 80 MILLION ACESSORIES. don't ask me for one if your design has too much extra stuff all over it. thanks.

i require a reference picture. i will not work from descriptions. why? i've tried to in the past and it never worked. no reference picture, no adoptable.



you should know these already, but i'll post 'em regardless:

1.) do not enter them in ANY contest. none! no beauty contest, no nothing.
2.) do not copy/trace and then claim that you drew it all by yourself.
3.) do not remove my name from them.
4.) don't take a custom unless it's specifically for your lupe.



requests. closed
trades. closed




check it out, my adopties got an AWARD!




to do:



regular colors
(alphabetized)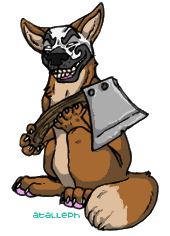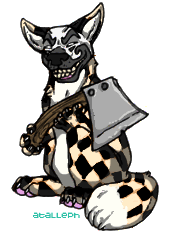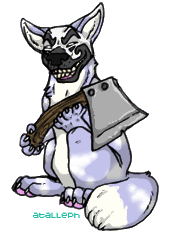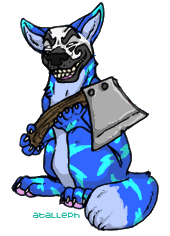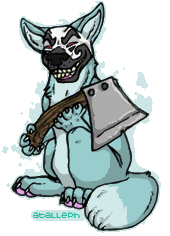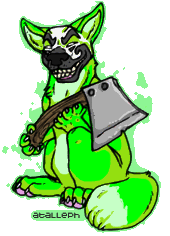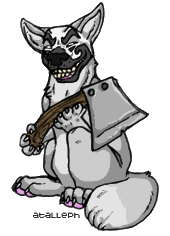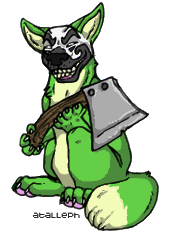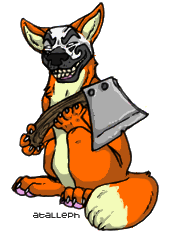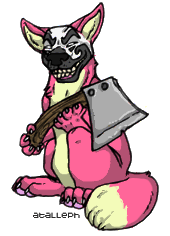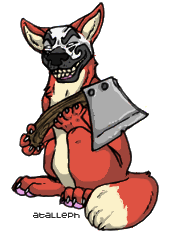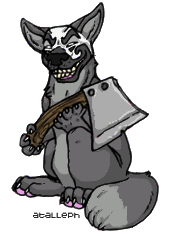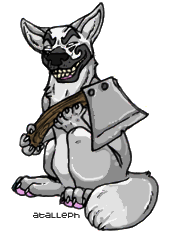 customized
my customs


50x50


-Family Links-




i try to link pages that are nice but still haven't got much recognition - tell me if you know of any, or if you want a link trade.











visitors since feb '08


art drawn 2008 by paige k, (atalleph). any stealing/copying/USING WITHOUT PERMISSION is not tolerated, so don't do it. you WILL get caught.

Insane Clown Posse is © Violent J & Shaggy 2 Dope.