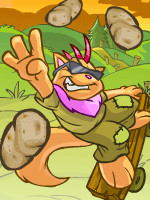 I've heard so many people tell me how hard this game is and that they are shocked how I have the avatar.
So I thought I'd share my wisdom, as I find it relatively easy.
*Rewards*
Let's start off with what you can get from this game:
The avatar:


The trophies:




This guide is mainly here to help you to get the avatar, as I have never gained much of a hi-score, and have only earned myself a bronze trophy.
I don't understand how some people manage 500 or so xD
The score needed in this game to achieve the avatar is 200 points.
This isn't specifically here to help you to get to the top of the leader board, but you never know.
If you're good at the game and this strategy works for you, there's no reason why you shouldn't really =)
*The Game*
Ok, so the aim of the game is extremely simple, and I'm sure you already know it:
To count potatoes.
Sounds thrilling, right?
Ohh, indeed it is!
It is called Extreme Potato Counter, if I remember rightly!
Ok, so it's not that exciting, but the game can earn you a shiny avatar.
Or at the least, it can relatively easily get you 3,000 NP per day (dependent on the monthly score-NP ratio).
Potatoes will fly across the screen from ALL directions.
Despite what you may have read elsewhere, they DO also fly from the top of the screen, so be aware of this!
At the end of each round, you are presented with a box in which you type in how many potatoes you think you saw.
Be quick though, it is timed! You get about 15 seconds to type in an answer.
However, if you get the answer wrong, even by one, it's game over! =(
*My strategy*
*Quality & Size*
Firstly, I advise you to play the game in low or medium quality if your computer (like mine) is prone to lagging.
This is because, if the potatoes start to move slower, it makes it more difficult for me.
Some may find it easier to count them moving slower, but in my personal opinion it gets you very confused, as they go very jittery!
I often find myself counting potatoes twice, forgetting that I've already counted them if this happens.
When it comes to size, I've always played it in the regular size.
However, if your computer still lags a lot, again I would suggest the smallest size.
It could also be easier to count the potatoes this way, as you have less of an area to watch...
However, it is argued that by having it on the largest size, you have more time to count them before they exit the screen.
However, I've never really found it much easier or harder on any window size.
It's up to you really =) I suggest trying each way to see what works best for you.
*Sound & Music*
Gahh, the sound in this game really annoys me!
I always turn it off because I find it easier to concentrate.
With most games, I find it easier to have my own music playing. However, I would NOT suggest that with this game!
It splits your focus (especially if you start singing along! *points to self*), and you can also get into the habit of only counting potatoes to the beat of the music xD *again points to self*
But again, I'd try it either way to see what works best for you, if you're unsure.
*My Play Style*
Every. Potato. Counts.
I lost at 199 points before I got the avatar. Yeh, I know xD
So what I do is make sure that I get at least 10 potatoes on the first level.
If I don't, I deliberately guess wrong and start again.
When it comes to actually counting the potatoes, the first few levels are pretty easy.
However, once you get to later levels, they start moving very fast, and more random vegetables are added in =O
It's relatively easy to avoid counting them, but they do get in the way a lot and can hide potatoes, so be aware of this.
This is the order in which these other vegetables are introduced to the game:
Level 3: Carrots


Level 5: Sweetcorn


Level 7: Aubergines

There are others that are brought in at later levels, however, at this point there are so many items flying across the screen that a screenshot of these proved quite difficult!
The level numbers indicated are the earliest in which I have found these other vegetables to first appear in the game.
However, they will NOT always be first seen in the level I have put above, this is just an indication.
Although they may arrive only in later levels, there should not be any vegetable other than potatoes before level 3!
Once I get to the later levels, I stare straight into the middle of the game window, and use my peripheral vision to count the potatoes as they enter from the sides.
This means that you aren't focusing on any specific potatoes, and therefore are less likely to miss others.
However, it's tricky in the later levels to tell if more than one comes through on top of each other by counting them this way.
Luckily, they usually separate further across the screen and this isn't too hard to spot...
But nevertheless, keep on the look out for it!
Finally, on the really 'extreme' (see what I did there?! xD) levels, if you really don't think you've counted right, go with your first instinct or add a few on!
I would suggest to never subtract any from your guess unless you're pretty sure that you have over-counted.
This is because it is much more likely at these stages that you have missed some than over-counted.
And if all else fails.. Take an educated guess!
The number of potatoes usually increases slightly from one level to the next, so just have a go if you're really unsure or gave up counting!
Ok, well that's all I have to say really, except for GOOD LUCK!!
And, as always, practise makes perfect ;)
...Bet you knew that was coming =P
Anyway, I hope this guide was helpful!
If you have any questions or other suggestions, feel free to neomail me, naomirnorthcott
I'll be glad to help out where I can and would love to have some feedback on my guide!
*Link to this guide!*
Please share this guide if you feel that my words of wisdom have helped you =)
Just copy and paste the code in the box below wherever you wish!