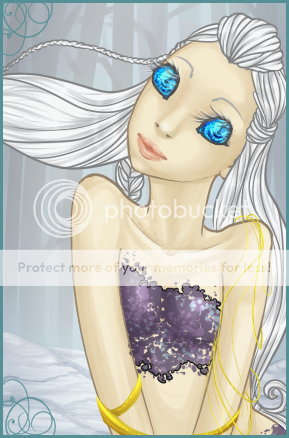 Name: Aries
Age: ????
Height: 5' 9"
Gender: Female
Personality: As she had spent most of her life as a snowflake and relatively little time with humans, many find her manner strange and disconcerting. She's often blunt, not human quite long enough to have picked up the art of subtlety and tact. Her train of thought skips from topic to topic without any sort of relation visible to humans; she never understands why those talking to her can't follow her logic.
When not being completely puzzling to those she comes in contact with, she takes a childlike pleasure in the simplest things like the sun glinting off a sliver of ice or a particularly unique pattern deer hooves had left in the snow. Despite this amusement, she is quick to turn violently defensive when she feels the Gate of Winter is threatened and she is called to do her duty.
Human Appearance: See reference. 8'D
Quad Appearance: On the day and night of the winter solstice, Aries has no choice but to spend her time in this animal form; she is forced into the change to protect the Gate. During the day and night of the summer solstice she is at her weakest and is stuck in her human form. Any other time she can change between the two at will. It is in this form that she is strongest, and during this time that the Gate to the Land of Winter is at it's most vulnerable. Her appearance is simple: a deer with fur of purple and silver horns of a stag, though she's female.
Ohgodohgodohgod. CB James finally finished a reference of my human design!
Sure, it took two weeks and it's ginormous. But oooh look how much effort she put into it.
Drag and drop for full size please. C:
Or I will hurt you because all that work man.
pssst, you should draw me now. ;D

Prologue
How old am I?
I do not know.
Decades. Centuries. Millenia?
I've been told I am one of the oldest remaining. Snowflakes, that is.
Yes, I am a snowflake. Or was at least. I no longer know what I really am anymore.
Let me tell you my story.
--
The first thing I became aware of was the feeling of cold. Of course, I didn't have a word for it at the time. I just knew I was something I had never been before.
I felt dull and sluggish, heavy. My field of vision was so narrow, so limited; and it was actual vision, not just the crisp awareness of everything around me that I was used to. I was no longer dancing in the sky. No longer falling falling, weaving in and out between my sisters as we plummeted our merry way down to the earth.
I could see the sky, clear and bright, the blue stretching past the limits of my new field of vision.
And then I could see her. I found myself flat on the ground, half buried in snow, with her leaning over me. She was beautiful. Pale and cold and white, features perfect as if a sculptor had carved his crowning masterpiece from ice. It was like all color had been bleached from her except for a slight blue pallor to her skin, a more severe shade at her lips.
Are you quite well now? she asked, her voice somehow reminiscent of both the harsh cracking of ice and the gentle whistle of a crisp winter wind at once. She reached out a dainty hand to help me up.
I reached up with my own, feeling thick and clumsy in my new limbs, and grasped her offered her hand. It felt like I had just grabbed on to a chunk of ice, straight from the arctic. My skin burned from the cold radiating off her thin fingers as she pulled me up to stand. I stumbled, feeling unbalanced, shivering as she steadied me in a cold embrace.
-To be finished later lul-
The Gate to the Land of Winter started out as nothing more than a shimmering to the air, a slight bending of the light, a practically invisible portal not really made of anything. Over many years a forest grew up around it. Rather than just grow through the portal in the air, the trees bended and twisted around it. Two trees on either side of it grew to meet at their tops, forming an arch and an actual physical gate. The portal itself adjusted to this growth, shaping itself to fit snugly between the two trees. As a result, the portal was now more solid, more real, and unfortunately, easier to spot and pass through.
It was at this time that the Queen of the Land of Winter decided the gate needed a guardian to keep trespassers at bay. The Queen chose one of the oldest snowflakes in her land, Aries, and gave her a new form and a new life as Guardian of the Gate.
For most of the year, the Gate is relatively easy to take care of. It sits deep in the heart of the forest, surrounded by thick growths of trees that not many are willing to travel through.
However, on the shortest day and longest night of the year, the Gate stirs from it's usual more or less dormant state and is blown wide open, bright and shining, it's light impossible to miss for miles and miles, sending out a sort of summons to all nearby. In her deer form, which she is forced to stay in on this day and night, Aries's task is to keep all from approaching the Gate and stumbling into the Land of Winter. There are also those who purposely seek out the Gate at this time and carry out a focused, well-planned attack to gain access.

The World of Eternal Winter, or the Land of Winter, is where Aries is originally from.
This world exists in a sort of parallel dimension to the real world. Here, there are no seasons, only winter for 365 days of the year. The whole planet is covered with snow year round, never melting completely.
There is a large variety of strange creatures that call this land their home, both harmless and dangerous, peaceful and fierce. All those who live in the Land of Winter, however, submit to the authority of the Winter Queen. She lives in a mountain that sits strangely alone in the heart of a frozen forest. Inside this mountain, a system of extensive passages and chambers had been carved out many millennia ago. Intricate carvings decorate every empty inch of wall and ceiling, depicting the Land's history and the halls are filled with every comfort a Queen could need.
The forest surrounding the mountain, as it so happens, grows completely parallel to the forest in the normal world where the Gate of Winter stands. Every tree, every twig, is an identical copy, except for the Queen's mountain palace that sits where the Gate of Winter is on the other side. When one passes through the gate in the normal world, they will find themselves inside the Queen palace. Unfortunately the Gate is a tricky thing and often likes to shift where it lets out those who cross, so exactly where one would arrive in the mountain palace is completely random. Sometimes they may end up in a proper reception room, while other times they may simply be dumped in the middle of an unsuspecting servant's quarters.

Art of Aries

Leaving so soon? Why don't you take a little something with you to remember me by?