He looks like he's five and in jail. You have to beat him 2 out of 3 matches to move on.
Prisoner 4-The Yellow Knight AKA The Obese Yellow Guy
Watch out, he might sit on you. You have to beat him 3 out of 5 matches to move on.
---

Prisoner 5-Number Five AKA The Senile Old Geezer
He probably doesn't know where he is and is probably wearing adult diapers. You have to beat him 3 out of 5 matches to move on.
---

Guard One-Galgarrath AKA The Guy with Bad Overbite
He needs braces and is obviously mad about it. You have to beat him 4 out of 7 matches to move on.
---

Guard Two-Haskol AKA The One You Can Get Rabies From
He's upset. Hey, you'd be upset too if you were covered in leprosy and oozing green liquid from the mouth. You have to beat him 5 out of 9 matches to move on.
---

The Warden-Master Vex AKA Mufasa's Brother
He's monkey...that invented a board game...and runs a prison. The info on him says he has never lost a game but that is wrong because I beat him all the time and he's not that great at the game. You have to beat him 6 out of 11 matches to win the tournament.

NOTE: Drag and drop the pictures to the address bar to see them full size.
Rules
The objective of the game is to place 5 of your own pieces in a row either horizontally, diagonally, or vertically on a 10x10 game board. Your opponent's pieces look like

and the pieces you play will look like

. If the entire game board is filled up and no one has placed 5 in a row, then the game will end and count as a loss for you. To make a move simply click on a valid square and press "Make Move". While selecting, hovering over a valid sqaure turns the square white. After clicking a square, the square will turn red. After pressing "Make Move" the game board will reload showing your last move outlined in red, and your opponents move outlined in yellow.
Win the game by getting 5 pieces in a row.
You will always make the first move.
In Tournament One, you can only place a piece if it is touching another piece. This changes after Tournament One. In Tournament Two to Tournament 10, you can place a piece anywhere on the board. In Tournament 11 and onward_ the game board will begin without any pieces on it and you can play a piece anywhere.
You have to beat your opponent a certain number of times to move on to the next one.
You can win only 5,000 NP a day.
You must get exactly 5 in a row.
Playing the Game
When starting a new game of Cellblock, you will be taken to a page that looks like this:
Hopefully, you can wipe that stupid grin off his face. You will make the first move and your opponent will follow you until someone has won or the game board fills. If you lose, you will see this screen: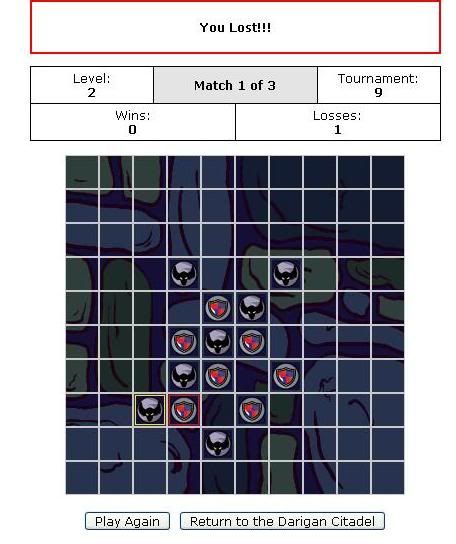 Try to control your anger because even if you can manage to take care of one of the prisoners or guards, you would have to get rid of the evidence and come up with a story as to why he is no longer there and the whole thing is just messy and complicated and you'd probably get arrested. You can, however, do the next best thing: beat him in a board game.
If you fail at that task, after seriously rethinking life, you will see this screen:

If, after some serious soul searching, you decide you want to try again, never fear! You do not have to start the tournament over; you only have to begin that round against the same opponent again and pay the fee.
Should you win, you will see this screen: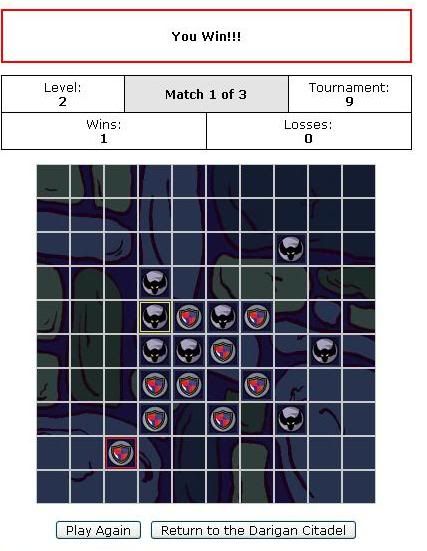 Now it's time for some hardcore gloating. I'll wait. Go ahead, scream yourself silly.


After rubbing it in his face and taking a lozenge to soothe your sore throat, you click "Play Again" to own him in a board game again. Yeah! You just beat a virtual character in a virtual children's board game! Your parents would be so proud. Now for some strategy...
Strategy
The best way to win Cellblock is to play in a way that you can make it where no matter what move your opponent makes, you can win. The best way to do that is to get a group of 3 pieces in a row and have at least two free spaces on either side. This way you can play on either end and regardless of where your opponent tries to block you, play 5 in a row. Sadly, you're opponents are not stupid and have picked up on this strategy and will even try to do it themselves. If you see your opponent try to do this, block him after he plays the third one or even before.
Another method is to play 2 pieces have an empty space and another of your pieces. _ _ X X _ X _ _ This way after setting it up, you can fill in the space between the two and be able to play on either side to win. You're opponents also know how to do this and will attempt it if you let them. Simply fill in the space yourself if you see them doing it.
The strategy that I have found works the best and the most is this one. Let the number of your move correspond with the number written on the piece.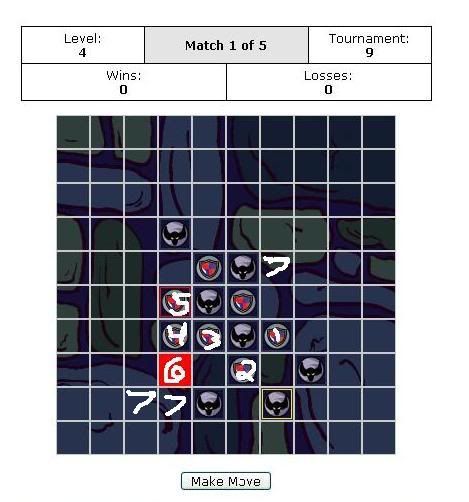 After making the sixth move, you should be left with at least one row of three that is clear by two squares on either side. Should he block the diagonal row of three created after making move #6, be sure to make your move 7 on the bottom of the vertical row and not the top. Playing onto that top square allows your opponent to block you on the bottom. Also, sometimes your opponent is really dumb and will play a square off on the other side of the board touching nothing. If he does that you will probably have a clear row of three before you have finished the pattern. I left that one square red because what he does each time is random. . What moves your opponent will do each time vary, and sometimes they will block you.
This is the only strategy I have found where the opponents block me the least and allows me to win the game a lot quicker.
One thing to note is that the game become a lot harder on Tournament 11 because the game board will no longer start out with 4 pieces already on it. There are also some rocks that some moron dropped on the board and then super glued down so you can't play a piece there.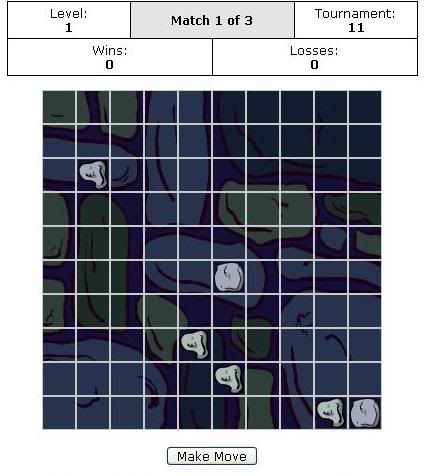 I'm pretty sure the rocks appear randomly each time and I do not know of any set strategy for the rocks. I have had some luck with attempting to recreate the pattern for previous Tournaments on the page. If you know of a good strategy for Tournament 11 please neomail gjpugh.
Should you wish to begin again from Tournament 1, start a game and scroll down and click "Start a New Game".
Another interesting thing to note is that you must get exactly 5 in a row, no more no less. I know this because I got 6 in a row in this picture and didn't win until I got the 5 in a row.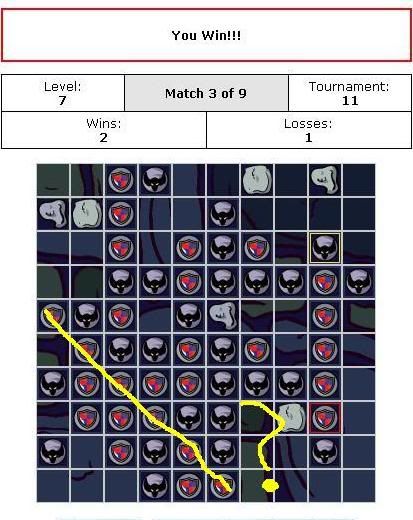 How strange.
Rewards
Odds are you are playing this game to get the avatar or to snag an easy trophy.

This is the Runner-Up Medal you will get after winning Tournament 1 Level 4.

This the Third Place Trophy you will get after winning Tournament 1 Level 8.

This is the Second Place Trophy you will get after winning Tournament 11 Level 4.

This is the First Place Champion trophy you will get after winning Tournament 11 Level 8.
You can also win a spiffy avatar for the Neoboards.

See the Avatar Section for more info on it.
You can win NeoPoints for playing Cellblock. The maximum amount you can win is 5,000 a day. You will only earn NeoPoints when you complete a level. To find out how much you will win, simply multiply the entry fee by 4. Sometimes it is better to pause on a level and wait for the next day to complete to win maximum Neopoints. Note: You will always win the full amount of NeoPoints for completing a level unless you have already reached the 5k limit. In other words, say you were playing Master Vex and you have already won 4k from Cellblock that day, you will win the full reward from beting Vex even though that will put you over the 5k limit. You will not be able to earn any more Neopoints for the next Level you complete. You will see this if you have won the limit already:

Avatar

You are most likely playing Cellblock to get the "Vexed" avatar. Getting this avatar is not random but it is unknown exactly how to get it at this time. TNT has answered a question about in the Editorial of The Neopian Times Issue 210:
TNT, can you make it where you can go back to tournament 1 on cellblock, most game avatars are hard to get, true. but dang this is just crazy, at least on flash games it dosnt just keep getting harder and harder to the point where you cant play it anymore, thats just crazy. it bugs about 30% of the people that play and arnt lucky couse you made the avatar random, i mean why does it have to be "SUPER HARD" AND "random". dosnt make it fair one bit for us unlucky ones.
After shivering at the unsightly and sickening grammatical and spelling errors, TNT responded with this:
We will look into a reset feature, however the avatar is not random. Not random at all. From what we've seen, not one person has actually figured out the real trick to getting the avatar. It may seem random, but it's not by any means. I think it's the only one we've ever really stumped people with. *cackle*
Aren't they awful? Would it kill them to tell us? Probably. Remember Bonju? Don't get me started on the Wishing Well. Anyways, they did install the reset feature and now you can start over if you feel you missed it somehow. Most people get it in Tournament 8-11. I have heard about people getting it in Tournament 3, but I assume this is very rare if it is true. Just play the game through normally and you will get it eventually.....hopefully. This is what you will see when you get it:

If my guide helped you get the avatar or a trophy or something, please let me know! My username is gjpugh.