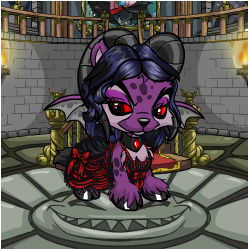 Aerote's Story
In the land where Aerote lives, Galea (ga-LAY-ah), everyone is able to perform a certain type of magic. Up until the age of twelve, their magic is general, but weak. They can perform many types of basic magic. On their 12th birthday, they go through a special ceremony. This ceremony specializes their magic into a specific catagory and makes it far more powerful.
The types of magic include healing, light, dark, earth, fire, water, air, and animal. Each has their own powers and looks different from all of the others. Their hair, eyes, and skin, are different colors depending on their type.
When a person is specialized, they leave home to learn more about their magic type in the specialty guilds. There is one guild for each type. The rarest and most feared specialty is darkness magic. There is a common taboo throughout Galea that all darkness mages are evil. Because of this, they are often shunned by the others.
Aerote and her friends waited with eagerness for their 12th birthdays and the specialty ceremony. For months before, each of them enthusiastically tried to guess what their specialty would be. Her friend, Sara, had her birthday just a few days before Aerote. She became a healing mage. Everyone cheered for her, and her friends embraced her as she hurriedly went to join the healing mages, who welcomed her with cheers and many pats on the back. Aerote hoped that she might also become a healing mage, so that she could study alongside her friend. However, any type would really be fine with her. All of the guilds got to visit each other after all. She looked eagerly forward to her own ceremony.
When the fateful day came, she bounded out of bed and got ready as quickly as she possibly could. In the Grand Meeting Hall, all of her friends and family gathered to see her be specialized. Surrounding a pedastal in the center of the room were small groups of representatives from each specialty guild. The animal mages, with their tawny hair, gold eyes, and tan skin, each had a creature of some kind with them, their own personal pets. She noticed one with a fox and another with an impressive, brightly colored snake. The blonde, pale, light mages glowed and smimmered slightly, gems and satin in their clothes reflecting the light from the windows. A few darkness mages sat in a shadowy corner, looking mysterious in black and purple robes, with black hair, green eyes, and purple skin. Many of the people gathered seemed to avoid their gazes, pretending not to notice them. Aerote thought they looked exotic.
Aerote was led by a wise-looking older woman onto the platform in the center. Excited, but nervous, she watched as all of the mages began to recite the powerful incantation which would reveal her magical specialty. Different colored lights came from each of the groups of mages, rising above the assembly and meeting in a blazing disk of swirling color above Aerote. She held her breath, waiting for the climactic moment. As the light swirled faster and brighter, it became impossible to look at without hurting her eyes. Then, she was lifted off of the floor and into the light. Suddenly, all of the light rushed into Aerote and caused her to glow so brightly that none of the crowd could look at her directly. As she slowly decended back to the ground, the magical light faded and the crowd fell silent. Whispers broke out and Aerote was concerned. Why were they not cheering? Had something gone wrong? She looked down at herself. Her hair had darkened to a blueish black, like raven's feathers, and her skin had turned bright purple. Most of the crowd looked lost for words, though the dark mages smiled mysteriously in welcome. After what seemed an eternity, but was actually only a minute or two, the crowd realised that they were being rude and began to smile and clap, though still not as loudly as for Sarah.
Aerote's friends looke nervous as they bid her farewell, wishing her good luck with furtive glances at the dark mages. The only one truly excited was her friend, Sara, who had recieved special permission to miss training in order to see the ceremony. "I admit I wanted you to be a healing mage, so we could study together, but I don't believe all those rumors about dark mages for a second. We'll get together over the very next break, okay?" Aerote's new green eyes teared up with gratitude, as she hugged her very best friend goodbye.
Come along, little one", a tall, quiet dark mage said. Aerote hadn't even seen her approach. She noticed that the dark mages were much more subtle with their affections than the others. Some may have taken them for cold, but Aerote began to notice small smiles and gestures of affection. They weren't cold, they just expressed themselves differently. They spoke quietly and moved with stealthy grace. She could see how others found them unnerving, but again, the word exotic seemed to fit better.
Aerote enjoyed her studies with the darkness mages. She learned to do things, like concealing herself in shadows and using moonbeams to play tricks on people's eyes. She could make people think that they were seeing things that weren't there. But she could do nice things, too. She was able to control shadows, which enabled her to put on fantastic shadow pupet shows for unbiased children. She and Sarah got together every chance they had, and stayed friends throughout their studies.
CSS by Nene
Fun Facts
-My whole family, including my grandmas, play neo! (although one of my grandmas just holds pets for me. She's nice like that. My hissis live with her.)
-I love pie and pudding! Never had a pie or pudding I didn't like!
-Most of my NC comes from birthay and Christmas presents because I'm too cheap to buy it myself.
Note- If you need to contact me, neomail Bekaree.