Pixel Tutorial (WIP)
Disclaimer: this is only a guide, and not a rulebook
Nothing here is finished yet!!! I've kept it up so I know which parts
I need to redo, and also because you might still find it helpful.
Frequently asked questions
What do you use to pixel?
Gimp 2.8 and a mouse. No need for any money to start pixelling, Gimp is free and comes with everything I need. Paint is still a fine tool to use, though there is no transparency or ability to animate in it.
Is digital art not pixel art? It's made of pixels.
Pixel art places an importance on the control and precision of pixels. The general consensus is that pixel art must be created without the brush tools. Brush tools blur the edges and create a high colour count which should have been controlled, and it is difficult to predict which pixels will change colour decreasing the precision of the lines.
Do you have any advice for pixelling?
Of course! I know the medium but unfortunately, I cannot help you with anything to do with anatomy, lightning, all that good stuff as I've never received any formal instruction on it. My neomail's always open, so flick me one and I'll try to reply ASAP!
Why should I trust your pixel advice?
I used to approve pixel art submissions; trust me, I know what pixel art is.
Lines
Lines in pixel art:
The best worst-kept secret in pixel art is to clean your lines.
Cleaning your lines consist of:
Making them increase sequentially.
Making sure the sides of the pixels don't touch.
On the left is Neopet's 8-bit Shoyru, on the right is my stab at it.
1. Let's talk about the green lines first. If you don't know your Roman numerals, here are the ones I've used: Ⅰ=1, Ⅱ=2, Ⅲ=3, Ⅳ=4
On the left, the lines do not increase sequentially: 1, 2, 1, ?, 2, ?
On the right they do increase sequentially: 1, 1, 1, 2, 2, 2, 3, 4
Look to the red, the line there does not increase sequentially: 2, 1, 3, 1, 4
Why does this look better? I suppose it's because it looks smoother. You might also see in nature that Fibonacci's spiral increases sequentially as well (0, 1, 1, 2, 3, 5, 8, 13, 21, 34).
2. Honestly, this may just be my own personal preference but making sure the sides of my pixels don't touch in the lineart is important to me.
The question marks (?) in the green lines indicate where the side of a pixel has touched the side of another. The other times only the corners of pixels touch.
There are exceptions, like where the arms join to the Shoyru's body but one a single line, only the corners should touch.
If you plan on getting rid of them with anti-aliasingA method to smooth lines, brush tools do this automatically. Also known as AA. then you might leave them in like I have done to the Shoyru's waist, but I prefer to do my AA with my shading.
Straight lines pose a different problem. I don't advise straight lines unless it's in isometric because they can take the focus away from your art by being an unnatural focus point.
1:1 line | 2:2 line
Here's how I line, I flip the pixel horizontally a lot to make sure it looks fine.
colour
What's not so important (because if you didn't want to pixel, you wouldn't do it) but deserves a mention; if you want to become good at something, keep at it!
labor omnia vincit | Hard work conquers all!
What do I do after I line the pixel?
Drag and Drop for full size.
I added a grey background (#808080). Not only is it easier to change the outline, but it's a neutral colour so your pixel will look better on a wider variety of background colours.
Flat coloured it and took note of the colour palette, reduced the color count from an heart-attack inducing 19 to a more acceptable 9.
The goal here is to reduce the number of colours you use in pixel art, the purple outline (#2f1c3a) of the shorts was too similar to the colour used in the eyes and mouth (#07232e), so I changed it to the purple (#2f1c3a). I chose the purple because variety in colour is always good, and purple is the darkest natural colour.
Then I shaded it in. Don't be afraid to leave blocks of pure colour, like the orange t-shirt.
how did i forget rampingA specific way to do colour palettes yooo was a thing??? RAMPING
This leads me to the next frequently asked question:
How can I shade well?
There are three things I use to shade: dithering, contrast, and colours.
What is dithering?
Oxford dictionaries define dithering in the context of pixel art as 'Displaying or printing (a colour image) in such a way that it appears to contain more colours than are really available'. Because pixel artists avoid the use of many colours, dithering is the way to give the appearance of a colour, such as purple from blue and red.
There are only two colours in this image.
How you dither is also important.
Different materials have different textures. omg i have to draw stuff for this ;-;
CONTRAST LEADS INTO NEXT TOPIC cause a big part of that is choosing right colours!!!
How do I choose good colours for pixel art?
Some pixel artists have palettes they've already made up and pick from there, but those palettes are suited to their own taste and may lack in say purples. There are a lot floating around, but I won't link them here for fear of improper crediting. Andrew Kensler, who works at Pixar wrote some code that maximised the difference in hue for 16 colours.

He also made one for 32 colours. I'd advise choosing your starting colours from one of these, then editing to your taste.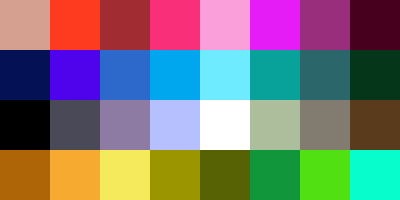 Some pixel artists advise to pixel in grayscale first so the values are right, and there is enough contrast. Personally I just pick and re-pick until the colours seem right; purple, the darkest natural colour at a value of 50 will seem darker than a yellow, the lightest natural colour.
image needed
270 is purple, 60 is yellow on the 'perfect' colour wheel
Go for neighbouring colours, something about less dark colours and more bright colours for details???
How do you pixel?
Line, clean, clean again, if I haven't already added grey background I do so now, colour, then shade.
How to animate
I use Gimp (I have version 2.8.14) if it's a different program you use I'm not sure If I can help, but gimp is free!
What happens is that different layers are different frames of the animation you want.
If you want to see what your animation looks like you go: Filter → Animation → Playback
It might be that the animation plays back in reverse order. If so just: Layer → Stack → Reverse Layer Order
As far as I'm concerned, Gimp does not allow you to give different values for each frame (e.g set frame/layer 1 to play for 5 seconds) so just duplicate each layer as many times as required.
When you export as GIF, a pop up comes on, click on: (save) as animation
The frame disposal values of replace and combine differ.
Combine stacks the layers (if there's a hand that sticks out, it stays there in later frames), replace treats each layer differently
Replace literally replaces each frame as it is displayed on the computer.
images to illustrate pl0x
Gimp automatically converts an animation to an indexed image after you save it, which may be why if you open it again you can't place a new colour in the animation, to reverse this: Image → Mode → RGB
Animating blinking
If you watch a slow motion of an eye blinking, you'll see that the motion of the eyelid going down is very quick, and then as the eyelid moves back up it's slower.
What is antialiasing? I need to link to different sections here
Notes on pixel art in general:

Sometimes, pixel artists will outline in black or white. White makes pixels look more 'kawaii'. Black makes a pixel look more cohesive. Sometimes I will do both, but change the colour of the inside lines from back to a lighter shade.

Please save pixels as a png or gif file. Jpg will reduce quality, make your pixel look spotty, and it will increase the number of colours on the pixel.
Some pixel artists will say to avoid 1:1 pixel lines + 2:2 things. I can't find the proof anymore, but I tend to avoid those out of habit.

There's a thing called dithering if you want to shade! Don't go overboard, and don't be afraid to go out. (should move down a topic, and should move shading up)image needed
Sometimes 'plagiarism' is inevitable, how many types of circles can you make out of a 3px by 3px pixel circle? That's about three-ish plus some odd ones.

For example: The font I generally use is either 3px by 5px or 3px by 3px, how are you supposed to say "I made this font!" when there were only like two possible combinations at the most? Extrapolate this to small buttons, arrows etc. Of course the larger the pixel, the more likely someone plagiarised you, be sure to report them!
Try a challenge?

Why not try for a very limited colour palette? The button I made for floral used three colours (#fef3bf, #f2a5a5 and #d182d9). This will help improve your colour palette picking ability.

Don't use brush/gradient tools if you want a real challenge! Using those tools are fine on Neopets, just don't expect to get a good reaction from 'purist' pixel artists! As a side note, I would have declined those submissions, so please don't get yourself roasted by purists. QAQ
add a glossary maybe
This section is a WIP :0 needs images to illustrate + feel free to neomail me if you need pixel help :)
Did I say I needed a glossary? I need a glossary.