Press Any Key To Continue...
A Typing Terror Guide by Endgame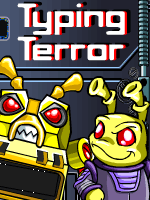 Author's Note: This was originally a submission for the Neopian Times, made specially for the Grundo Independence Day issue. (This isn't plagiarism because I was the one that submitted it, of course.) After being rejected, I figured that would make a much better petpage anyway. Their loss.

Section One: An ode to Typing Terror.

Just one more threat to the existence of cuddly space creatures everywhere... Menacing clockwork Grundos advance on your positon, grinning malignantly with secret knowledge that they may never make it home on your watch... One by one they fall in pieces and sputter smoke at the hands of your trusty keyboard, and you can never truly rest until they throw their hands in the air and run tail between their legs. Just the exhiliration of fingers dancing across the board, and the thrill of the next Clockwork Grundo rearing its ugly head compells you to move on in this game of swiftness and accuracy.

Welcome, to Typing Terror.

Section Two: Background to Typing Terror.

In Typing Terror, you play a role much like typing anywhere else...simply press the keys displayed on the Clockwork Grundo, and it will explode. (Note that I specify Clockwork Grundos...you play as a Grundo space station worker, and last time I checked fratricide was not looked up upon very much) However, you will find that, unlike typing anywhere else, these Clockwork Grundos often carry words that you would almost never find in ordinary online conversations. You can expect that of course...words are submitted through the dictionary, and nobody wants the game to be easier than it already is...er, can be.

That being said, you should expect a lot of words that you have never heard heads or tails of to appear emblazoned on the proud chests of these kamikaze Clockwork Grundos. This may or may not include several different spellings of the same word, depending on the letters per word (don't even get me started on yogurt...). As the levels fly by, the amount of words you need to type (and therefore the amount of Clockwork Grundos you need to destroy) will increase steadily, as will the amount of letters you need to type per word. All of this happens, of course, as the Grundos charge straight at you, with not a programmed thought in their 2-bit brains other than to destroy you.

Typing Terror is a mixture of luck, strategy, and performance, like most other games. In this guide, I shall describe a great way to make the best of all three of these attributes. Hopefully this will come a lot easier to you, and so you will not be stuck in front of the computer, typing through the mysteries of Typing Terror, in an effort to find out all its secrets.

Section Three: Performance in Typing Terror.

Performance is the backbone of making it as far as you can in Typing Terror. Without at least some experience in the fast-typing field today, you will find that in the later levels the Clockwork Grundos will be bearing down upon you with such menacing terms as "XELQUED" or "ZEPHIEA", or even the uber-dreaded "ENDGAME", and will quite literally spell out your doom. (Only the ENDGAME Clockwork Grundo will be all "tsk tsk...you should have read Endgame's guide!" and then blow you up.)

Fortunately, there is a relatively simple way to obtain adequate or even excellent speed and accuracy in defeating those pesky Clockwork Grundos...if you have played sports, you would know that practice is a very good way of building up your mastery of them. As well as the only one at this time...last time I checked you don't learn typing skills through the Lab Ray.

Practice can be very easy and fun, as well as something that you don't even realize you're doing. Go to a computer, place your fingers on the keyboard (home row would be preferable, though I have seen some people type over 75 gross words per minute with just their index fingers), and let them fly. It often helps to talk on message boards, do schoolwork, go code your lookup, or even write a Neopian Times article!

(It also helps to type fast without looking at the keyboard itself... You'll get a better feel for the keyboard, and you won't waste valuable time looking from the screen to the keyboard and back. This may cause the treacherous ENDGAME-bot to laugh with pity as it slams into the glass and cause a vacuum, which presumably is what costs you a life when it happens.)

I heard software programs that are designed to help you type fast and accurately will do the trick as well. Though that may just be a ploy by Sloth, to lure you in to a false sense of security...and then the ENDGAME-bot will laugh even harder.

When you can practically type out whatever you hear from your friends, the radio, or even your imagination on an invisible keyboard without even looking, you are most likely ready. In fact you will be more than ready, if you can do even that. Time to move on.

Section Four: Strategy in Typing Terror.

Typing Terror is more than just typing characters on the chests of the Clockwork Grundos to make them short-circuit and explode...although not much more. The meat of strategy in Typing Terror is knowing the different kinds of Clockwork Grundos, and the amount of Clockwork Grundos you need to destroy in each of the game's six levels.

Types of Clockwork Grundos:

Yellow Clockwork Grundo -- 5 points. These have plain, right-side-up text. Rightly so, they are also the most common. These should be your lowest priority when there are higher-rank Clockwork Grundos on the screen, unless they are but an inch away from you.




Red Clockwork Grundo -- 20 points. These have upside-down text, and so can be a huge pain in later levels when there are 5 or more characters per word. These should be destroyed first for the reason that they take longer to destroy in most cases, and so they take up valuable time.




Red/Purple Sparking Clockwork Grundo -- 100 points. These Clockwork Grundos cannot be missed, as they are pretty much self-explanatory. They also bear right-side-up text. Unless you know exactly how many Grundos there are left to destroy to advance to the next level, these should take precedence over other Clockwork Grundos in your path of destruction.





As well, at the end of each level you get 2x your typing accuracy (how many errors you didn't make would be a good description) as a bonus for the level.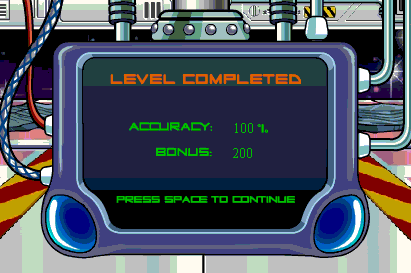 In the following paragraphs of this section I will show the specifications of each level and what strategy I would recommend. (UPDATE: By request, I have included some rough goals to aim for if you plan to get the avatar. It will work differently for every game, depending on which Clockwork Grundos appear. More on that in Section Five.)



=3600 points.



Level One -- Destroy 12 Clockwork Grundos to move on. (3 letters per Clockwork Grundo)

This level should be relatively easy, being the first level and all...which means that to the seasoned typist (if you an type out your thoughts on an invisible keyboard blindfolded, this should mean you), this should be more of a search for sparking and red Clockwork Grundos than anything else. Each Clockwork Grundo has only 3 letters, meaning they can be destroyed quickly. For this reason, you should let them get close and then destroy them. The purpose of this is to allow more Clockwork Grundos (and therefore more chances for a high level score) to appear behind it. Hopefully they will be out in the open, and so you can destroy them before the yellow Clockwork Grundos gain even more ground. On this level, getting a high accuracy rate should be no problem for even beginning contenders. If you are aiming for the Typing Terror avatar, I would go for anywhere from 350-500 points.

Level Two -- Destroy 14 Clockwork Grundos to move on. (4 letters per Clockwork Grundo)

This is another easy level. Be sure to follow the previous level's strategy, but to a slightly lesser extent. With the Clockwork Grundos housing four characters instead of three, they will be slightly wider, and so they will be able to cover up Clockwork Grundos behind them easier. For the avatar, I would suggest anywhere from 800-1000 points.

Level Three -- Destroy 16 Clockwork Grundos to move on. (5 letters per Clockwork Grundo)

This is where the difficulty picks up. Sparking Clockwork Grundos are a little bit easier to detect, for at this point they go from red to purple. (They still spark, however.) You should still have enough control to go for high-point Clockwork Grundos above others, though you should not let the lower-rank ones pile up. The time spent on each one adds up, and one of them is likely to penetrate your defenses. For the avatar, you should try for about 1400-1500 points.

Level Four -- Destroy 18 Clockwork Grundos to move on. (6 letters per Clockwork Grundo)

Here, you should be more worried about keeping up with the Clockwork Grundos than strategizing. Keep cool however, and your accuracy shouldn't falter. Go after whatever high-rank Clockwork Grundos you can, but pay specific attention to the multitude in general. This is especially true in faster computers that don't get choppy under so much explosions and whirrs, clicks and beeps. I would aim for about 2000 points, if you want the avatar.

Level Five -- Destroy 20 Clockwork Grundos to move on. (7 letters per Clockwork Grundo)

This is not the last level; however, in my opinion it is the hardest one. Protecting yourself should rank over collecting high-scoring Clockwork Grundos, which shouldn't be too difficult to deal with if you scored high enough in earlier levels when you could afford it. Remember your prior training, and you should be fine. Pay special attention to the plethora of words that can be made, which are excruciatingly hard to spell (remember XELQUED and ZEPHIEA? That's just the tip of the iceberg...). Speed should rank over accuracy here; whatever it takes to survive this level. Just one more thing; the ENDGAME-bot lurks here as well, come to check up on your skills. Be sure to destroy him first, lest he lecture you on your technique! You will need at least 2500 points at this point for the avatar, but every few points ahead of that will give you some leeway for the next level. (Unless you're a top-notch typist that never falters, you might need this.)

Boss Level -- Destroy the Boss Clockwork Grundo. (25 words, 8 letters per word)

This is a level that you can either grow to love or hate, depending on many factors. If you have a slow computer, oftentimes there is a lot of lag time between the completion of one word and the beginning of the next, which will cut down on your time. Oh yes, did I forget to mention that you were timed? 60 seconds, in fact. No pesky kamikaze Clockwork Grundos here; however, should you not make it in time, it's automatic Game Over for you! The good news is, each word counts as a Red Clockwork Grundo. Which means, doing the math, you can make 500 points just for defeating the Boss Clockwork Grundo! You will also receive 100 points for each life left on the counter (see why protection is high on the priority list?), and you will receive 3x the accuracy for the level back in points, instead of 2x. This means that there is a potential 1100 points to be had for the final level! (This is why you need at least 2500 points by the end of the fifth level: With a full 1100 points here you will make it to 3600 points, and receive the avatar.)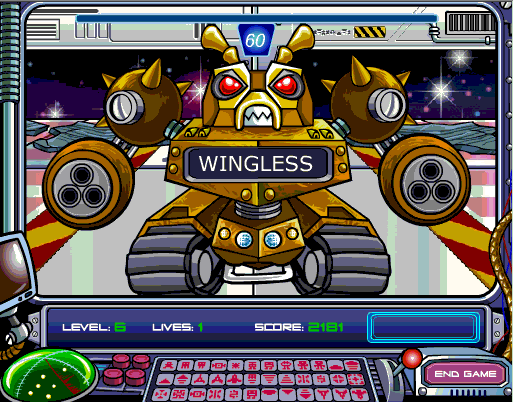 Section Five: Luck in Typing Terror

But of course, strategy can get you only so far. There is a fixed amount of levels in Typing Terror, and so how much you score plays a big part in your final outcome. You can't just keep going on and on and on, hoping that time spent will overcome your low score per level. That's what they have card games on Neopets for.

You see the high score chart? The gold rank trophies have over 4,000 points under their belt! How would that happen, you ask? I got pinpoint precision on every level, didn't lose a single life, and yet I am a thousand points behind even still? (This is a question asked by even me, for I don't even have a trophy for this game.)







There are two potential answers;

One, they know a cheat that they refuse to divulge. (Which would make even a little sense, with this being a game based on typing, and so it might have a type-in cheat code)

Or, more sensibly, they just happen to get lucky, and get more Sparking Clockwork Grundos than anybody else.

Different kinds of Clockwork Grundos seem to appear randomly, so what you get is not likely to be the result of them getting together last night to decide whether or not to frustrate you, but the random generations that the game's programming whips up from binary numbers and Faerie dust.

Stay with it, and try to maintain a sense of fun obtained from the game, so you don't break your keyboard in anguish when you miss a Sparking Clockwork Grundo because a yellow one crawled in front of it, and to destroy it would mean getting your level quota. What will you type with then?

Good luck, and remember the ENDGAME-bot is watching...
-------------------------------------



My thanks go out to:

My Chomby, for allowing me to host my Typing Terror guide on his webpage.

Neopets, for making Typing Terror in the first place.

Csshelp's petpage for helping out with HTML coding.

Grundo the Grundo, for supplying me with a model for the background.

My fingers, for winning World Challenges in this game.

And last but not least, I'd like to thank garmfay for hosting my guide on his Cybunny's petpage. (His name is My_First_Little_Pony.)