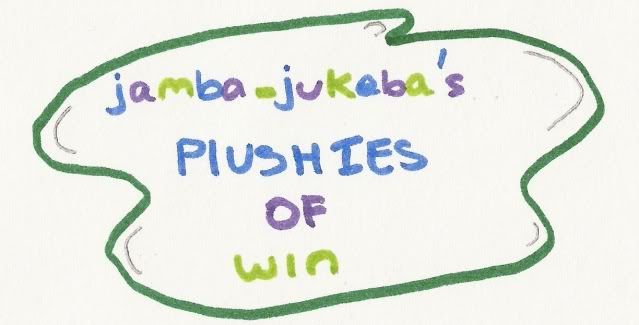 Nicknamed The Plushies of Win (thanks to a pragmatic1 for the name
and other users for making the name stick!)


2/24/11: My plushies have been featured in the Art Gallery #1401 Hooray!
3/10/11: My AAA plushie has been featured in the Art Gallery #1406. Sweetness...
11/23/11: My Garin plushie has been featured in the Art Gallery #1546...and that makes three!


Navigate:
The Faeries' Ruin
Other Plot Characters


Questions? Comments? Requests? Contact me.


About:
Hey, jukeba. I'm KB, but you can call me Jamba or
jamba_jukeba. Whatever you wish. I'm 20 years old,
and I love to crochet. I am one of the the first users (who has
a lot of time on their hands XP) to create a gallery of real-
life handmade plushies. I think crochet is a
lot easier. Plus, you can make much more projects with it.
The fabrics you can make with it are very durable, but soft.

Anyway, these plushies are all made with the same basic structure,
but with a twist in terms of clothing, and other species/character variations.
I use medium worsted weight yarn. Specifically,
Lion Brand: Vanna's Choice yarn. I use a 4mm crochet hook.
The stuffing is polyester fiberfill. Don't use cotton balls or anything! XD

Amigurumi, is the Japanese art of crocheting little dolls.
This is basically what I have done, but I like to call them
plushies just because I can. There is a book
called,"Tiny Yarn Animals" by Tamie Snow. I used this book
for inspiration. Thank you, Miss Snow!






Link Back



Thanks to jessiemarie89 for this button!




NEOPETS, characters, logos, names and all related indicia
are trademarks of Neopets, Inc., © 1999-2013.
® denotes Reg. US Pat. & TM Office. All rights reserved.
PRIVACY POLICY | Safety Tips | Contact Us | About Us | Press Kit
Use of this site signifies your acceptance of the Terms and Conditions