WOOSH! Your time machine finally comes to a stop after malfunctioning for ten minutes straight. Shaking your head, you slowly start to get up. Suddenly, you hear loud stomps outside, followed by screeching creatures. When the noise has gone by, you hesitantly swift open the door. Cautiously, you take your first step on the unfamiliar, sandy, and orange ground. I don't think we're in Neopia Central anymore, you say to yourself.

   Welcome to Ancient, a site made just for our beloved "prehistoric Neopian land" Tyrannia. We have our plushies, our greys, and faeries -- all with recognition and a page of their own. I believe it is time that these exotic pets and beautiful territories had a chance.

The site was found on March 9th, 2011 by me, Kelly - which was also the same date and time when I had received Alex. Alex the Tyrannian Draik, will be guiding you along the path of these ancient lands. He is an expert of these lands, and he is your only hope of returning to your time period ! I won't waste anymore of your time here; there is a lot to explore!


Featured Pet of the Month:
Quanteny
the Unconverted Tyrannian Techo
Cheery, Quanteny's owner, has done an amazing job with his personality, I believe. Everything about a Tyrannian Techo screams out cranky, and Cheery incorporated it into the most humorous, and fantastic tale. He's always been one of my favorites, so I thought he deserved to be shared in extra light. :D
» Click here to see past Featured Pets & Awards «
Featured Pets of the Ancient:
Awards:
These are ONLY for those who have had their pets featured for Pet of the Month, not for general pets in the directory. Thank you !
* Click buttons for their creators

D e c e m b e r
Quanteny
the Unconverted Tyrannian Techo
Cheery, Quanteny's owner, has done an amazing job with his personality, I believe. Everything about a Tyrannian Techo screams out cranky, and Cheery incorporated it into the most humorous, and fantastic tale. He's always been one of my favorites, so I thought he deserved to be shared in extra light. :D
Tyrannia
This prehistoric Neopian land was once miles beneath the Ice Caves... Go there for dung furniture, evil pterodactyls, rock concerts, and of course a giant omelette!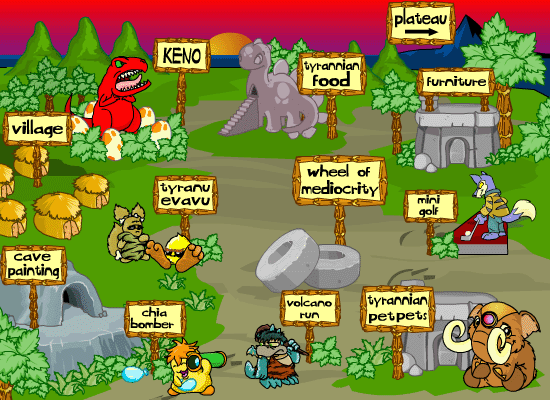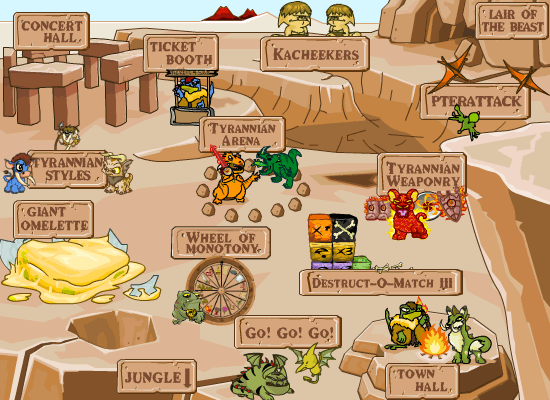 (Drag to URL view full size)
Ahhhh,
Tyrannia
. It is located north-east on the map of Neopia and consists of two major parts; the Plateau and the Jungle. Exclusive Info: There was once a third part to Tyrannia a long time ago. This third part was known as the Volcano. It offered some shops, and a quest hosted by a wocky-scientist that was lost in time. This quest was very similar to the Kitchen Quest offered in Mystery Island. But even without the volcano, there is lots to do at this wonderful place still. Nearly every game offers an avatar to obtain. (See Avatars section to view them.)
Tyrannia was first uncovered in 2001. It was found when a earthquake had hit Ice Caves; creating a mysterious crack. Curious as we were, the Neopians climbed down the opening and came to a halt when their view was blocked by roots, vines, and vegetation. A Chomby from the other side of this, then ate away the plants, allowing us into their world! Click here to see the event in flash.
Quickly proceeding the discovery was a plot known as The Tyrannian Invasion. Strange and scary objects were approaching Tyrannia and Neopians were at the edge of their seats! Neopians were called upon at the battledome to defeat these retread creatures, including the most famous; the Monoceraptor.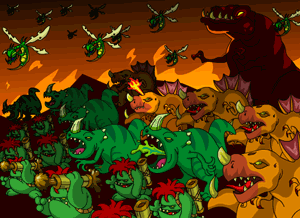 To the left is a picture of the war.
Those were the monsters that were invading Tyrannia!
Info from Neo-News: Every single person who participated in the Tyrannian Invasion by beating at least one enemy will be rewarded with 10,000 Neopoints, plus a medal that will always show on their User Lookup. In addition, the brave Lupe that dealt the killing blow will be rewarded with 1,000,000 Neopoints plus an item of his choice.
The following medal was awarded:


Pets & Petpets
There is currently a total of 44 Tyrannian pets and 67 petpets. Only 13 of the pets were kept unconverted - this means that pets painted now will look as the converted version, and never again can a UC Tyrannian be created. The species preserved are Blumaroo, Bori, Draik, Ixi, Kau, Krawk, Lenny, Mynci, Nimmo, Peophin, Quiggle, Skeith, and Techo. (Visit our Directory to get a glimpse at these rare pets!) There are various ways to obtain a converted Tyrannian Pet, as well as petpet.


How to Obtain a Tyrannian Pet

o.1) Paint using a
Tyrannian Paint Brush
. The brush costs around 130k - 200k. The price will probably not pass 250k because of the fact that they can be rewarded from
Keyquest
,
Wheel on Monotony
, and
The Phantom Painter
(RE). This is the best choice and safest option.

o.2) Zapping via
Secret Laboratory Ray
. The value of the lab set varies but it is usually under/around 1 mil. This option can be very risky because the lab ray can change species, color, gender, and more. It is not suggested if you are aiming for a specific pet to be Tyrannian.

o.3) Using a
Morphing Potion
. There are only six Tyrannian morphing potions as of yet (Bori, Flotsam, Gnorbu, JubJub, Nimmo, Usul). They are not very worth it unless you would like the morph on an already existing pet with a different species. I would refrain from these as some can be VERY costly.
Newest Tyrannian Pet:
Released on May 12, 2012 - Tyrannian Victory Day

Click here to view all Tyrannian Pets
How to Obtain a Tyrannian Petpet

o.1) Paint using a
Tyrannian Petpet Paint Brush
. This paint brush is buyable (99,999nps and under) and will make a very snazzy petpet! I personally think it's a great buy compared to some of the other priced Petpet Paint Brushes out there. *Cough* Faerie.

o.2) Lucky Zap from the
Petpet Laboratory Ray
. Again with the lab rays; very risky. The petpet map can only be obtained after completing the secret one. In addition, the Petpet Laboratory Map can make your petpet vannish into thin air. The Tyrannian Petpet Paint Brush is not very expensive nor hard to find. Zapping would create a Tyrannian randomly-specied petpet and leave a not-so-pleasant

sign.
Newest Tyrannian Petpet(s):
Both released on May 12, 2012 - Tyrannian Victory Day


Click here to view all Tyrannian Petpets
Tyrannian Games
Eleven wonderful games are found in Tyrannia. All of them are fairly easy (under 5 difficulty). Most of these games have an avatar challenge available; see Avatars section. Click the name of the game to Play Now! *Extra game not found directly in Tyrannia.



Chia Bomber 2
Difficulty: 4.0
This is the version 2 of Chia Bomber. The first version is no longer up for Neopians to play but this second version is just as fun, in my opinion. The game is rather face-paced and challenging.

Destruct-O-Match III
Difficulty: 4.4
This game is a classic! Now that is why there is a Destruct-O-Match III; there was too much fun to fit in just one.

Go! Go! Go!
Difficulty: 3.1
Ahh, this game is so! so! so! (see what I did thar? xD) easy to play and understand. It is fun, and quick. Plus, you can get
this
snazzy trophy out of it.

Kacheekers
Difficulty: n/a
Kacheekers is Neopets' version of the reknown classic game of checkers. There is no difficulty rating for this but the game is fairly easy.

Keno
Difficulty: 3.8
Keno is a luck game. I would compare it to
The Neopian Lottery
, except that the results are different for all individuals. Plus, it's much much faster; you get your number results in the click of a button.

Pterattack
Difficulty: 4.2
This is another game based on a classic arcade game; Meteor Blast. However, this version is much more enhanced. There are power-ups, distractions (annoying red grarrl), and many more obstacles.

Tyrannian Mini Golf
Difficulty: 3.9
Mini Golf! I'm sure you've played some type of golf before. If you're good with angles, this game is for you. Regardless of that, this game is very enjoyable and will have you hooked for a while.

Tyranu Evavu
Difficulty: 3.2
Higher or lower? -- That is the question to ask. I enjoy this game because it is quick and good for entertainment. However, losing at a high level may tick you off!

Volcano Run II
Difficulty: 4.6
Volcano Run is yet another version of a classic game; Helicopter. For this game, you must be attentive at all times. Focus and diligence is the key.

Wheel of Mediocrity
Difficulty: 3.1
What more can I say? It's a luck-kinda game.

Wheel of Monotony
Difficulty: 3.5
I don't play this game much, solely for the fact that I'm lazy. You can keep this open as another tab if you choose to try your luck for the grand prize.

Bouncy Supreme
*
Difficulty: 4.7
This game is not found directly in Tyrannia but I felt that it belonged within the category. The surrounding is in Tyrannia and the game features "The Beast".
Tyrannian Avatars
There are many avatars in Neopia that are Tyrannian-based and found in Tyrannia. Here they are:


Chia Bomber
This avatar is rewarded when scoring over 1300 in Chia Bomber II. Typing in geoffrey gives you an extra life.





Destruct-O-Match
Score over 2500 in Destruct-O-Match III to get this avatar. No known codes as of yet.


Grarrl
This avatar is a basic avatar that all players start out with. The avatar is auto-obtained.


Grarrl Keno
Gotten when having 4 out of 10 eggs correct in Keno. This may take a few tries.


Grarrl Warrior
Equip a Bony Grarrl Club onto your Grarrl. Note: This is the ONLY item that will work.


Groovy Chomby
View the band Chomby and the Fungus Balls in concert. This is a good guide for dates.


I Love My Rock
View the band Sticks N Stones in concert. This is a good guide for dates.


Jazzmosis Elephante
View the band Jazzmosis in concert. This is a good guide for dates.


JubJub - Tyrannian
Visit the page of a Tyrannian JubJub.


Mediocrity
Win 4,000 NPS on the Wheel of Mediocrity.


Niptor
Visit the page of a pet with a Niptor attached.


Stamp Collector - Tyrannia
Collect all the Tyrannian Stamps and have them in your Album. This provides a list.


Tyranu Evavu
Get a score of 15 or more in Tyranu Evavu.


Volcano Run
Get a score of 1500 or more in Volcano Run II. Typing in the code glubgar will give you an extra life.


Wheel of Monotony
A prize from the spinning the Wheel of Monotony.


Yes Boy Ice-Cream
View the band Yes Boy Ice-Cream in concert. This is a good guide for dates.
Battledome
The Tyrannian Battledome can be found in the center of the Tyrannian Plateau. It's not much, just the regular battledome with shades of orange and brown.
Battledome Challengers
Here are the current Tyrannian Battlers and the ways you can gain them as a challenger. There are currently
5
challengers available.

Cave Chia
Difficulty: 58
You can obtain him by refreshing at the second cave painting page.
Quick link
.

Giant Hungry Malevolent Chomby
Difficulty: 350
You can obtain him by refreshing at the Giant Omelette page.
Quick link
.

Grarrg
Difficulty: 100
You can obtain him by refreshing at the Tyrannian Town Hall.
Quick link
.

Magnus the Torch
Difficulty: 85
You can obtain him by visiting the Volcano.
Quick link
.

Sabre-X
Difficulty: 79
You can obtain him from a Random Event at the Plateau.
Quick link
.
These were the Battledome Challengers back in 2001 during
The Tyrannian Invasion
and are no longer available to battle.
Tyrannian Items
Tyrannian items are no-doubt the most unique items out there. Of course though, that is just my opinion, go see for yourself! Buy these items at a store near you!
Morphing Potions
Here are all the currently Tyrannian Morphing Potions. Hover for names!










Food

There's nothing more exotic than Tyrannian Food. Also, most foods are under just 100 nps!
Archaesaurus Tail
Bargasaurus Steak
Blue Oyster
Blue Toobers
Bronto Bite
Bud Bud
Buzz Honey
Cactopus
Cactus Blossom
Cactus Leaf
Chomby Head Cupcake
Citrus Squash
Coconut Juice Bowl
Crablett
Cracked Keno Egg
Dino Snapper
Eggs on Rock
Egg in Stone Cup
Evil Blancmagne
Farn Plant
Flaming Burnumup
Fried Trilo Bites
Fuzzly Pear
Gargaraptor Arm
Golden Ivy Leaves
Grapple
Grarrl Keno Negg
Gravel Cereal
Gummy Grensa
Hairy Rock BurgerHot Burnumup
Hot Tyrannian Pepper
Lean Meat Kebab
Meat A La Twig
Mild Burnumup
Mini Egg Taco
Minty Rock Ice Cream
Mollusc Surprise
Nautilus
Neosaurus Tail
Nerkin Leg
Phtlygon Wing
Pickled Keno Eggs
Plateau Berries
Primordial Thing
Purple Grasper
Ransaurus Steak
Raw Wartroot
Reptillian Arm
Reptillian Wing
Sack Plant
Soft Tyrannian Cheese and Crackers
Spindly Plant
Spine Cone
Spore Blossom
Sporkle Leg
Spung
Stick-O-Mynci
Stick-O-Sap
Stone Roasted Vegatables
Stone Veggie
Strawberry Stone Doughnuts
Stuffed Dorkle Pepper
Tangy Tyrannian Cheese and Crackers
Tentacle Sprout
Terry Berry
Trilo Bite
Tri-Nana
Tyrannian Cookies
Tyrannian Flat Bread
Tyrannian Goulash
Tyrannian Green Cheese and Crackers
Tyrannian Rockberries
Tyrannian Salad
Tyrannian Water Beans
Ugga Melon

Furniture
Stylish and always unique and original, hope you like 100% natural Tyrannian Furniture!
Bone Chair
Bone Dining Table
Bone Fireplace
Bone Shelves
Bone Writing Desk
Decorative Tyrannian Curtains
Dung Arm Chair
Dung Basket
Dung Bath Tub
Dung Bed
Dung Box
Dung Carpet
Dung Chair
Dung Fireplace
Dung Reclining Chair
Dung Shelf
Dung Sink
Dung Sofa
Dung Table
Dung Toilet
Elephante Tusk Candle Holder
Fake Grarrl Footprints
Fire Pit With a Spit
Fire Tapestry
Fluffy Gruslen Rug
Fur Wall Hanging
Furry Arm Chair
Furry Bath Tub
Furry Sink
Furry Sofa
Furry Table
Furry Toilet
Furry Wardrobe
Giant Leaf Curtains
Hewn Stone Bed
Hewn Stone Chair
Hewn Stone Desk
Hewn Stone Sofa
Hewn Stone Table
Pit of Fire
Potted Jungle Plant
Rock and Bone Sculpture
Rock Bin
Rock Chair
Rock Pillow
Rock Stairs
Small Stone Table
Solid Stone Fireplace
Stone Armchair
Stone Bedside Table
Stone Box
Stone Carpet
Stone Chair
Stone Cool Box Stone Drawer
Stone Kitchen Shelf Unit
Stone Pot
Stone Rug
Stone Shelves
Stone Side Table
Stone Sink
Stone Sofa
Stone Tablet
Stone Toilet
Stone Typists Chair
Stone Wardrobe
Straw Bed
Straw Chair
Straw Desk
Straw Sofa
Straw Sofa Chair
Straw Table
Tyrannian Coat Hanger
Tyrannian Fire Lamp
Tyrannian Fur Bed
Tyrannian Fur Cot
Tyrannian Fur Rug
Tyrannian Hammock
Tyrannian Rocking Chair
Tyrannian Stool
Volcanic Centrepiece
Woolypapith Bean Bag
Woolypapith Chair
Woolypapith Rug
Woolypapith Sofa

Weaponry

You'll sure do some damage with these weapons. Your opponent will never see what's coming!
Bone Breastplate
Bony Boomerang
Bony Bracers
Bottled Volcano Steam
Desctructo Shield
Egg Bomb
Egg Slingshot
Fiery Battle Carrot
Fiery Bone Bow
Fiery Spine of Death
Fiery Throwing Marble
Fiery Wand
Fire Ball
Fire Ball Staff
Fire Hammer
Fire Rock Helmet
Fire Rock Torso Shield
Fire Tipped Spear
Fire Utility Belt
Fire Walking Boots
Firebolas
Flaming Bow Of Fire
Flaming Catapult
Flaming Dagger Of Fire
Flaming Gauntlet
Flaming Rock Of Fire
Flaming Shield Of Fire
Fur Boots
Fur Lined Bracers
Glowing Fire Axe
Jagged Stone Spear
Jagged Stone Sword
Lair Beast Claw
Large Flaming Log
Lava Arrow
Mega Fire Shield
Million Degree Sword
Omelette Shield
Rings of Fire
Rock Potion
Rotten Egg Stink Bomb
Sharp Fire Disc
Stone Arm Shield
Stone Battle Helmet
Stone Boomerang
Stone Club
Stone Fire Body Basher
Stone Helmet
Tooth Necklace
Trilo Shield
Tyrannian Amulet
Tyrannian Lupe Tooth
Uncomfortably Large Rock of Pain
Volcanic Blow Gun
Ya Tchea Fruit Bomb
Fun Facts
I mean come on, who doesn't love a good fun fact? -- Am I right?

☼ May 12th is Tyrannian Victory Day!!! On this day, Tyrannia defeated the monsters (see the page Tyrannia) and gained their freedom.

☼ The Tyrannian Invasion was the first plot that incorporated the Battledome.
☼ The Chomby neopet originated from Tyrannia.
☼ Wanna see a cool on-site animation? Destruction of Tyrannia

☼ Pets that were painted using the Glass turned Tyrannian when the paint brush retired in 2002.
☼ The Giant Omelette has been serving free portions of omelette for 10 years!
☼ There are 29 different types of omelettes!

☼ Team Tyrannia is known for their Slushie Slinging skills.
☼ There was once a Crashed Time Machine; quest-like game in Tyrannia.
☼ There was once three parts to Tyrannia, the third included a Volcano.
☼ A Krawk is considered to be a Tyrannian petpet.
Pet Directory
Welcome one, welcome all. To the directory section of my guide. (: Take a look at these awesome pets, maybe you'll decide you want one yourself.
REMINDER:
None of these pets are UFA or UFT unless stated by the owner. Please do not bother them about that, thank you.
Last Pet-Check: May 6, 2012
See a pet that has became converted / frozen / BD ? Mail me !
Directory of Converted Tyrannian Pets
Also, it's not required, but it would be very nice if you'd put up a button on your neopet's pet description linking back to the page. It would really help us spread word of the site!
Submission Form:

No. of pets listed: 27
Most common species: Lupe, Kougra, Peophin (3)
Least common species: N/A
means pet has been frozen.
means pet has BD stats. (100HSD+)
Directory of Unconverted Tyrannian Pets
Here is our directory of UC Tyrannian pets. Have a pet to add to our list? Or perhaps your pet has been added by the previous owner but you'd like it removed? Use the form below. Please mail me by clicking the envelope on the right.
Also, it's not required, but it would be very nice if you'd put up a button on your neopet's pet description linking back to the page. It would really help us spread word of the site!
Submission Form:

No. of pets listed: 107
Most common species: Bori, Krawk (13)
Least common species: Quiggle (4)
means pet has been converted.
means pet has been frozen.
means pet has BD stats. (100HSD+)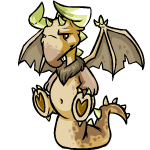 B l u m a r o o
☆
hapinezz
☆
Jaksyl
☆
LeuchtenderStern
☆
kalimirus
☆
xgothicxfaeriex
☆
_ProfessorQuirrel_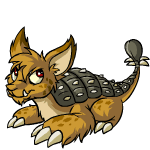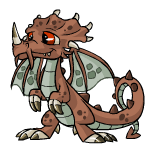 D r a i k
☆
_AL3X
☆
cookie_monster_80
☆
Draik14
☆
DraikMatic
☆
Elzechior
☆
JadedEmeraldKisses
☆
Neeces
☆
Nemorith
☆
RockyRufio
☆
Sans
☆
Thallir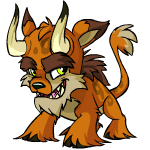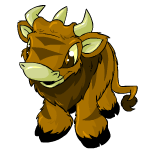 K a u
☆
Barmiella
☆
brusier120
☆
cowlily
☆
Hoofernz
☆
Horizontals
☆
Milkumms
☆
Rebmik
☆
Schlapperlino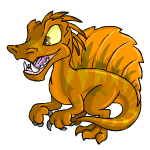 K r a w k
☆
Avec
☆
clatta
☆
Crettek
☆
Fire_Wire_Dire
☆
Geography
☆
hectichurricane
☆
Krawkiified
☆
krawkzei
☆
Odiamo
☆
Prince_Charl3s
☆
Seitekijin
☆
_SimpleAndClean_
☆
tabikooza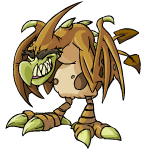 L e n n y
☆
Banana_Sundae17
☆
Dasinaru
☆
Knucklewing
☆
lennerpu
☆
Lyaz
☆
MargeretteOpal
☆
Pieodeathpet
☆
siorhe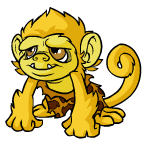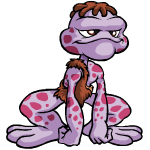 N i m m o
☆
Alneena
☆
Nimmarison
☆
Oogiuggaboogi
☆
Or_ez_tez
☆
peps
☆
SarahRStar
☆
WarderGinger
☆
Xuoiq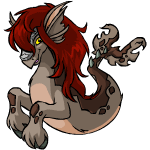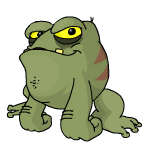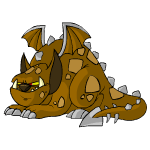 S k e i t h
☆
avatar_helper9
☆
_bubbles_505_
☆
Gingio
☆
Glumbog
☆
megastinkbeast
☆
Minaleeya
☆
skeithjs255
☆
x_it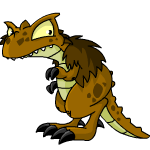 Extras
Here is a collection of buttons for your special Tyrannian pet. These are all done by myself, so please feel free to take one up! My requests are
open
, so just neomail away if you want a custom graphic (Note: I have the right to turn down any request I don't wish to make).
Rules of graphics use:
Leave the link back on the button ALWAYS and do not steal or redistribute them. Anyone and everyone may use these goodies. Just leave credit where credit is due.
Sitely
Affiliate requests are
open
. Also, hover on the buttons linked with credit and hover on reviews to see our score.
Link Back
Affiliates

Listed @



Reviews


Awards »  
The Font Barista
In need of a beautiful new font ? One that's got that creative spark ? Look no further than a click away at my new fonts site, The Font Barista. With loads to choose from, I'm sure you'll find one that suits you !



Previous Site Layouts
Ordered from newest to oldest. Hover on the layouts to see which months they were used!
Drag to URL bar to see layout in full size!
Ancient Fans
I love fans, they make my day; any day. Here are just some wonderful letters I've gotten; thanks guys!

Drag image to the URL bar to see message in full size.
Credits
♦ Layout Background via [Bedazzled]
♦ Resources via [Foomanshu], [Peach-Pit], and [Dark Light]
♦ Counters via boingdragon and who.amung.us
♦ Content by [Kelly]
Awards Cabinet