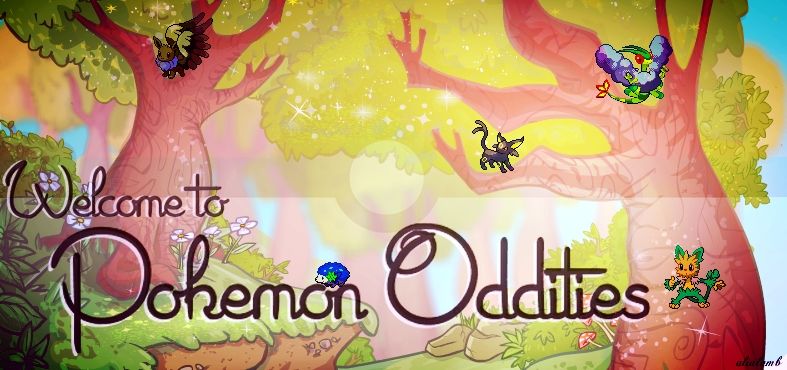 Here at Pokemon Oddities, we capture and study rare new breeds of Pokemon. Some are combinations of existing breeds, some simply have odd colors. Now that we have gotten to know them better, you can take one home!

New breeds are discovered often, so check back from time to time.
---
Requests

If you want to request a pokemon sprite, this is the place. The rules for requesting vary somewhat depending on what exactly you want. Look through this section for the one matching your request.
*~UNALTERED POKEMON~*
I would be perfectly happy to put up unaltered sprites for you. I get these sprites from a few sites that take them straight from the games themselves (With the exception of 2D Kalos sprites, as these do not exist in the games).

Limitations: These sprites can be animated and have transparent backgrounds.
They can now be both shiny and animated.
Special forms of Kalos pokemon will have 3D sprites, normal Kalos pokemon and any pokemon from the other gens can be 3D or 2D (2D if not otherwise stated).

To request an unaltered pokemon, fill out the form below and neomail it to me here.

*~ALTERED POKEMON~*
Altered pokemon are the sprites that I have taken into paint and changed. These sprites are often put up for others to adopt as well. These take a bit longer than unaltered sprites to put together.

Limitations: These sprites cannot be animated but can now have transparent backgrounds.
Sprites involving special forms of Kalos pokemon will require me to use 3D sprites, otherwise I can use 3D or 2D sprites (2D if not otherwise stated).

To request an altered pokemon, fill out the form below and neomail it to me here.

---
Pokemorphs
Abpard

Artichoo

Artichoo 2

Bulbatales

Charinape

Chartini

Eevdra

Espebreon

Flaluv

Flytaria

Floreefli

Floreefli 2

Frotwo

Gallucha

Glaceafeon

Glacuno

Haxochomp

Lillisage

Moltales

Mudper

Pikagarde

Pikarior

Pipeary

Pony-Oh

Sandachi

Sanichu

Syvulair

Throar

Vapogong

Xernegarde

Yvegarde

Yvelachu

Zoruvee
---
Recolors
| | | | |
| --- | --- | --- | --- |
| Cresselia | Dialga | Eevee | Fennekin |
| Fennekin 2 | Glaceon | Latias | Leafeon |
| Lopunny | Lugia | Lugia 2 | Mew |
| Moltres | Ninetales | Ninetales 2 | Ninetales 3 |
| Nidoran F | Nidoran M | Shaymin | Shaymin Sky |
| Vaporeon | Volcarona | Vulpix | Zangoose |
---
Wingeds
Eevee

Glaceon

Meowstic F

Meowstic M

Purrloin
---
Request Pickup
Note: I will take these down after awhile, if you need the code for yours again for any reason, neomail me and I'll put it back up.